It's grilling season! Take your chicken to a new level with an amazing marinade and a flavorful spread of accompaniments (including my favorite – feta!).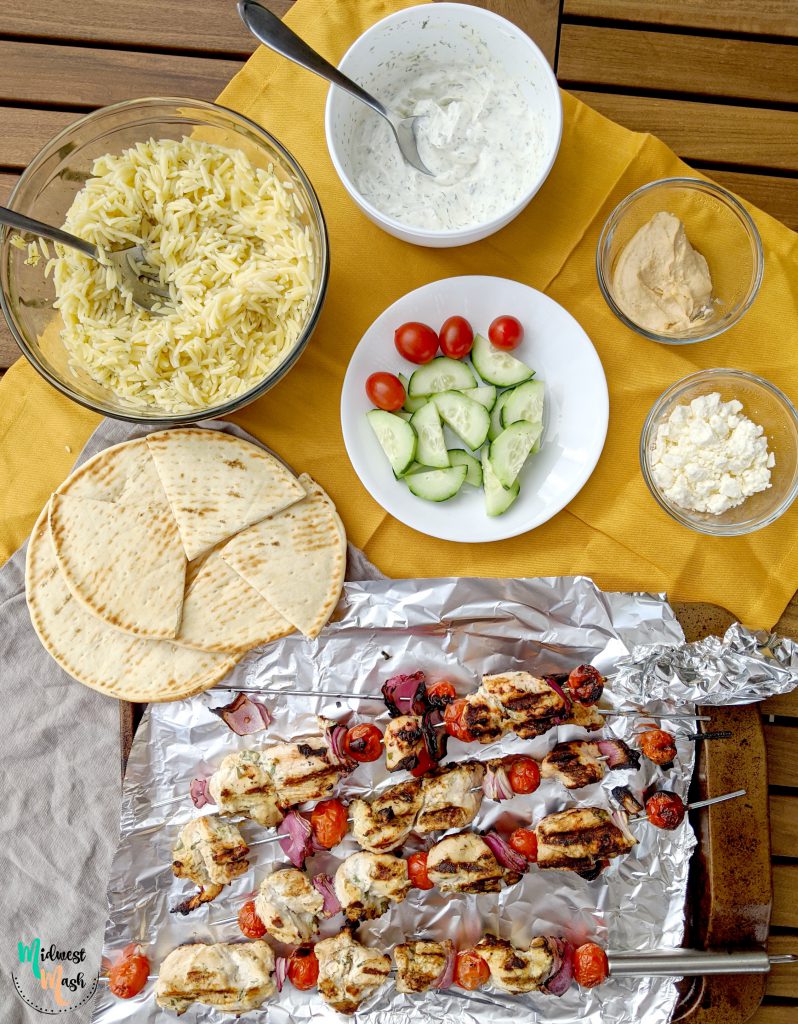 I love the transition into spring because not only does it bring green to the landscape, but we get to pull the cover off the grill and my husband gets to take the reigns with cooking occasionally. Friendly PSA in regards to grilling: if you have a gas grill, remember to clean out your drip tray before the season. Ours was FULL last year, and we're lucky it didn't start a fire! Yikes!
Anyway, back to the amazing spread you see above. The chicken is marinated in a creamy yogurt sauce then skewered with onions and tomatoes before it's grilled. Then it is placed on top of a bed of zippy lemon dill orzo. Layer on the fixin's: hummus, feta, tzatziki, cucumber, tomatoes. Find some naan or flatbread to scoop up the perfection that fills your bowl. Man, I already want to make this again. Next time, I'll have to remember to make sure my skewers are heat proof – the ones I used for the picture above apparently are not grill safe (but they were part of my husband's grill set!), and there was plastic that held the handles on. Needless to say it melted off – no food was harmed in this faux pas.
You can buy tzatziki sauce from the store pre-made or you can use my recipe to make your own HERE (so easy, and you already have the ingredients for these bowls).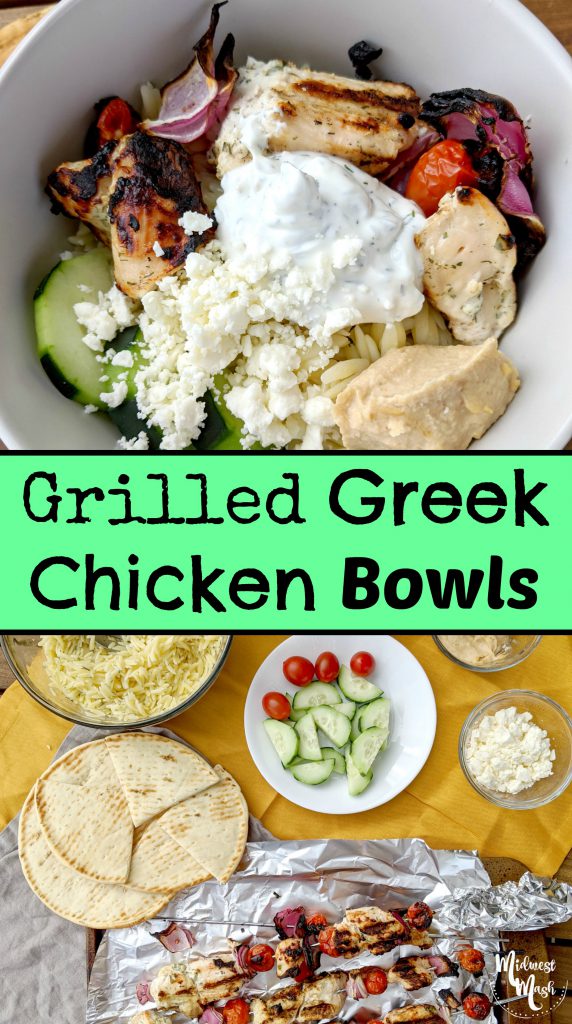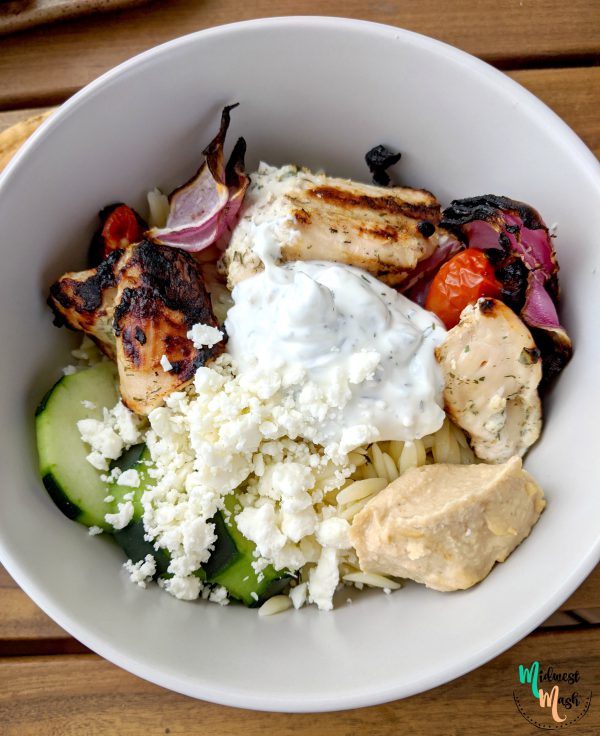 | | |
| --- | --- |
| | |
Cut chicken breasts into large chunks and place in a gallon Ziploc bag.

Mix the marinade in a small bowl: yogurt, dill, lemon juice, cilantro, salt, and pepper. Pour over the chicken, zip the bag, and mix until coated.

Let chicken marinate in the refrigerator for 1-3 hours.

Cut onion into large chunks.

Using grilling skewers, alternate chicken, onion, and tomato pieces until skewer is full.

Grill over a medium heat grill until cooked through flipping occasionally.
Cook orzo according to package instructions. Drain and place in a medium bowl.

Stir in the lemon juice, olive oil, and dill. Done!
Place orzo in a bowl, top with chicken skewer pieces and then whatever other toppings listed above you would like. I highly recommend all of them!
You can easily add other veggies to your skewers for more variety, or you can do all chicken if you would rather skip the veg!
I make my tzatziki ahead of time and let the flavors combine in the refrigerator for a few hours while the chicken marinates.