This hearty and healthy bowl is my take on one of my favorite takeout grain bowls. It's full of protein, grains, and vegetables. I make a big batch and eat it all week!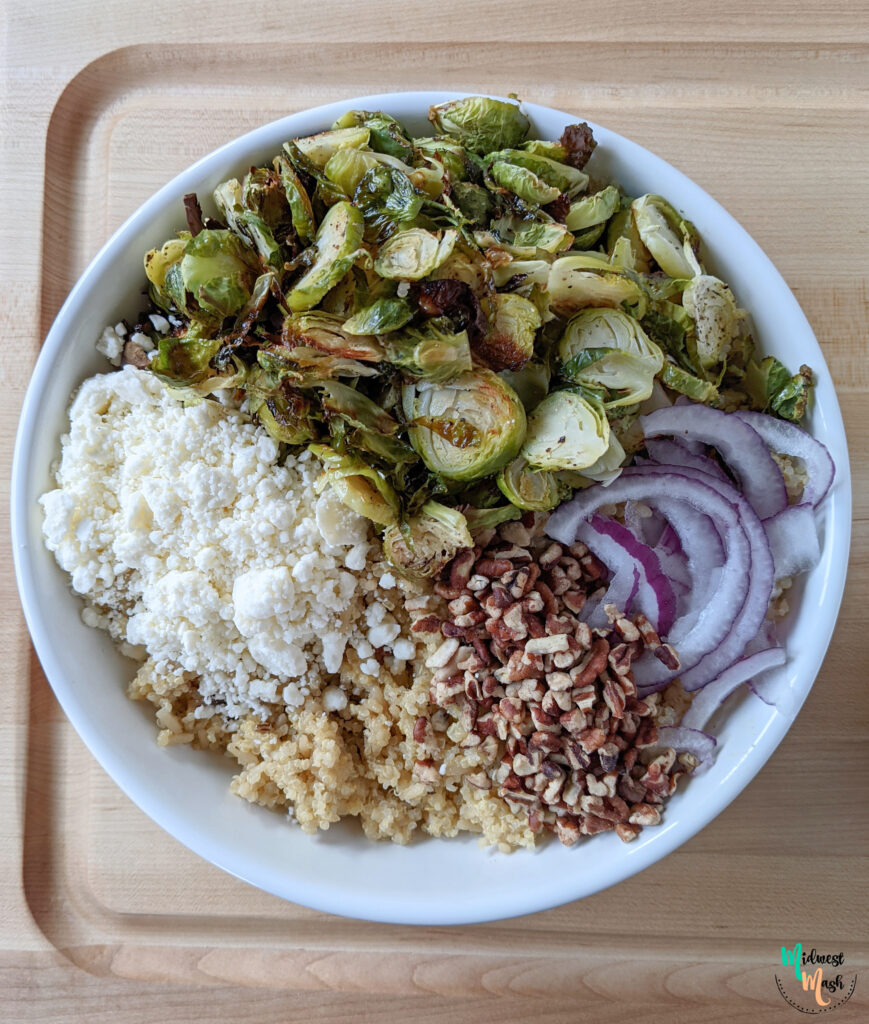 Like most people, this past year my husband and I have been drawn to restaurants and casual takeout places that either have a drive thru or excel at carryout. One of our favorite places when we've craving a salad is Mad Greens, mostly because they are a salad place that has a drive thru – who knew that existed!
I stumbled upon their Belgium Bowl because I love roasted brussels sprouts, and I knew I had to recreate it at home because as much as a I hate to say this, we can't eat out all the time. I am so very glad I did replicate it in my own kitchen because when I was grabbing a quick dinner from there the other day, they told me they no longer have it on their menu! Ugh. I was just having this conversation with my husband and mom the other day – I must pick the crazy food things to fall in love with because everything I become attached to gets taken off the menu/shelves. Does anybody remember the vanilla yogurt Cheerios? Yeah, probably not because they were only around for a short while. Or Lays' Lattice Cut Aged Cheddar and Black Pepper chips? Also got the heave-ho. Anyway, if you were one of the few who loved this grain bowl, now you can make it at home.
This salad bowl would make an amazing on-the-go lunch for work or a picnic. It's vegetarian but still loaded with protein in the form of quinoa and pecans. Plus brussels sprouts are a good source of fiber and a great source of Vitamins C and K. The original salad has goat cheese, but you know my love for feta so I had to do a swap, and I am definitely not sorry. The feta holds up way better than goat cheese, especially if you are planning on eating this salad throughout the week.
Giving this salad a try? Let me know how it goes! Also, I would love to hear your favorite salad places, what your go-to order is, or your favorite salad to make at home.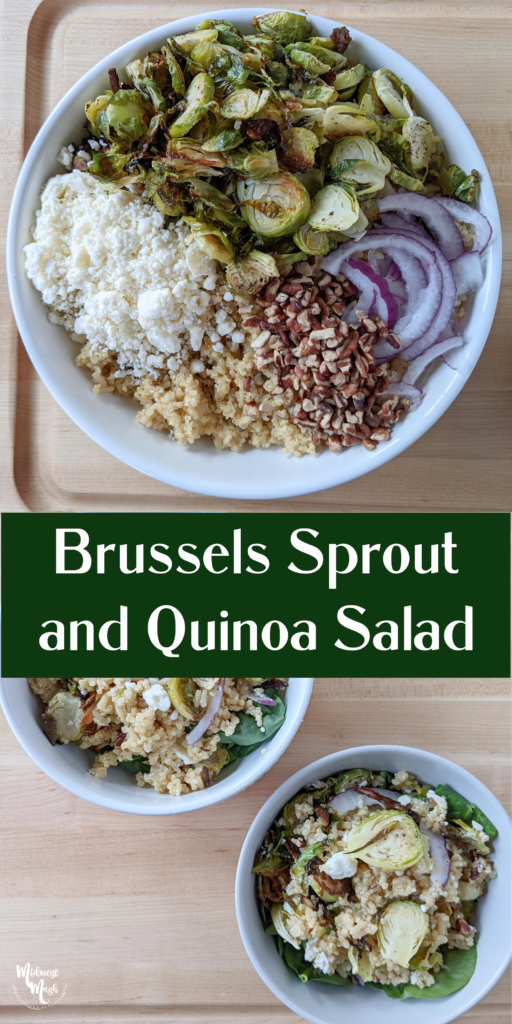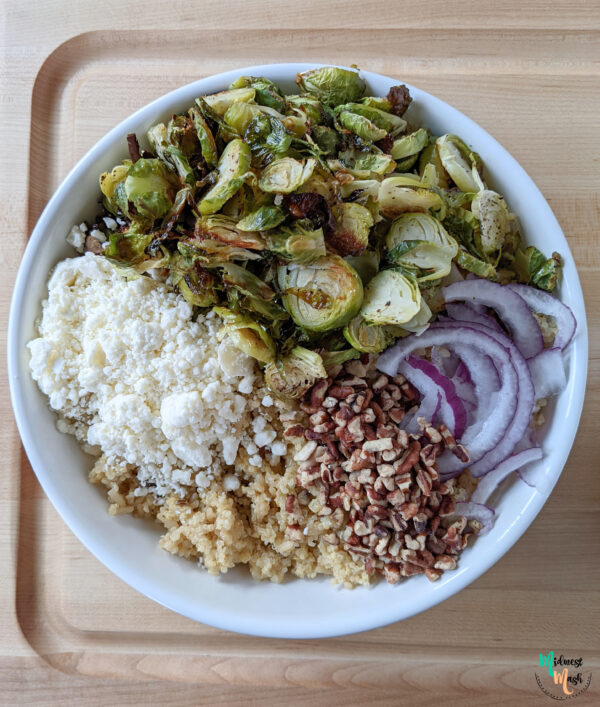 | | |
| --- | --- |
| | |
Preheat oven to 400 degrees. Thinly slice the brussels sprouts. Drizzle olive oil on a sheet pan then toss the sliced brussels sprouts in it. Season with salt and pepper. Roast in the oven for 20-30 minutes or until roasted to your desired crispiness.(I prefer mine on the crispier side.)

While the brussels sprouts are roasting, cook the quinoa according to package directions. Also, cook the wild rice blend - go for easy on this part, Uncle Ben's and Seeds of Change both make good microwaveable options.

Prep the rest of your ingredients while you wait.

Once everything is cooked, put the quinoa, rice, and pecans in a large bowl and stir in the honey mustard. Then mix in the brussels sprouts, feta, and onion.

Serve on a bed of fresh spinach. If you are storing the rest to eat later, don't put it with the spinach until you are ready to eat it to avoid wilting.
You can change up the ratio of ingredients if you wish. I prefer heavy on the feta and brussels sprouts compared to onion and pecans personally.
Not a fan of spinach? Kale or arugula would both be great substitutes.