If Spring were a dessert, it would be these bars. Fruity, crunchy, and simple, they will grace your dessert table at the next gathering. I love that the mixing is minimal. The hardest part it the waiting for them to cool!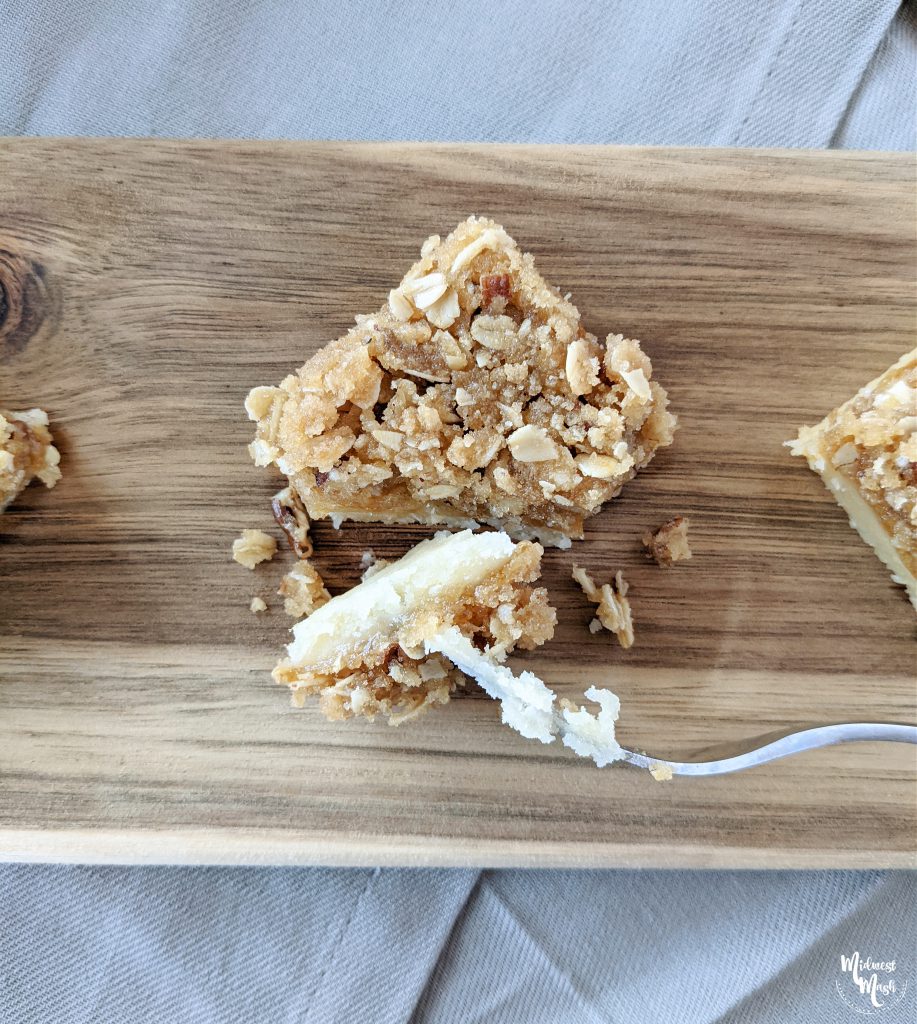 You know those cherry crumble bars that are always on the table at potlucks? Well, this is my version of those – sub in a tangy apricot jam and a crunchy streusel topping for the ultimate bite sized dessert. I love apricot jam. It's not too sweet, and I think the orange color brightens up anything it is used in. Plus if my kids eat one of these and get some on themselves, it won't stain their shirts like a red or purple jam would – win!
These bars are really simple to make. There are three layers, but one of those layers is apricot jam from a jar so all you need to do is pull a spatula from your drawer. One of my good friends has a son who is allergic to eggs, and this is the perfect dessert for them because guess what – no eggs! So if you have any friends in need of egg free desserts, add this one to your list. It can also be nut free if you omit the pecans from the topping.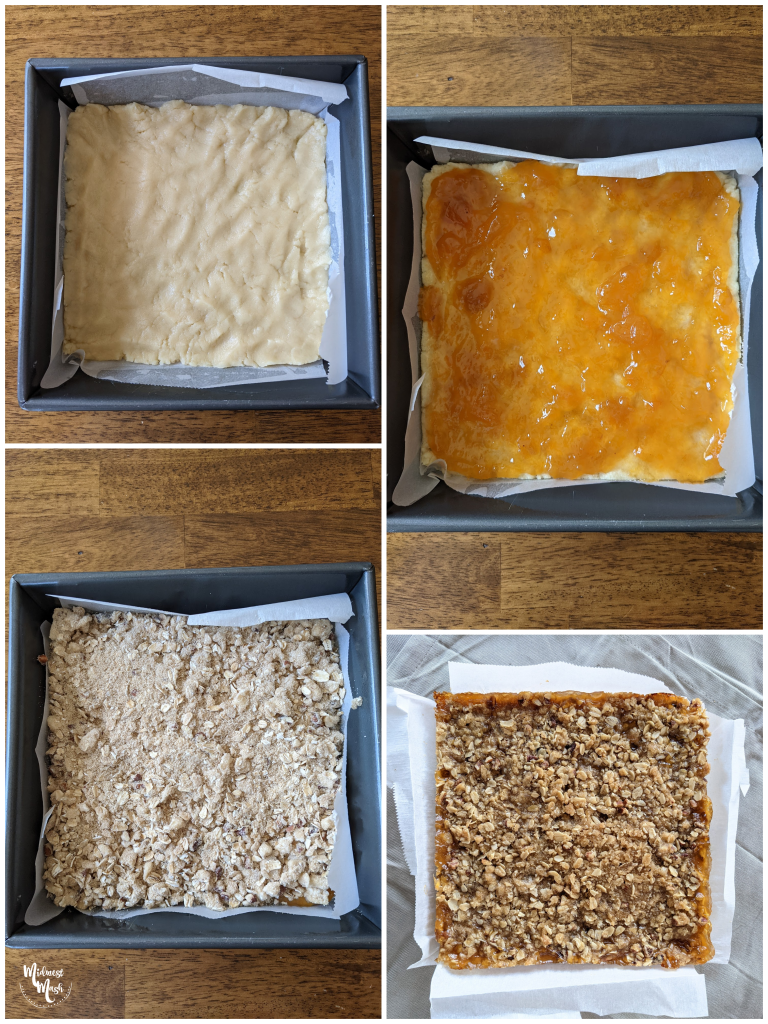 Now, if apricots aren't your jam (see what I did there), you can absolutely sub it with your favorite flavor, but I would highly recommend giving it a try with the apricot first. Make sure whatever you choose to use is a preserve or no sugar added jam because the crust and topping are enough sugar already so you don't want any extra in your fruity layer.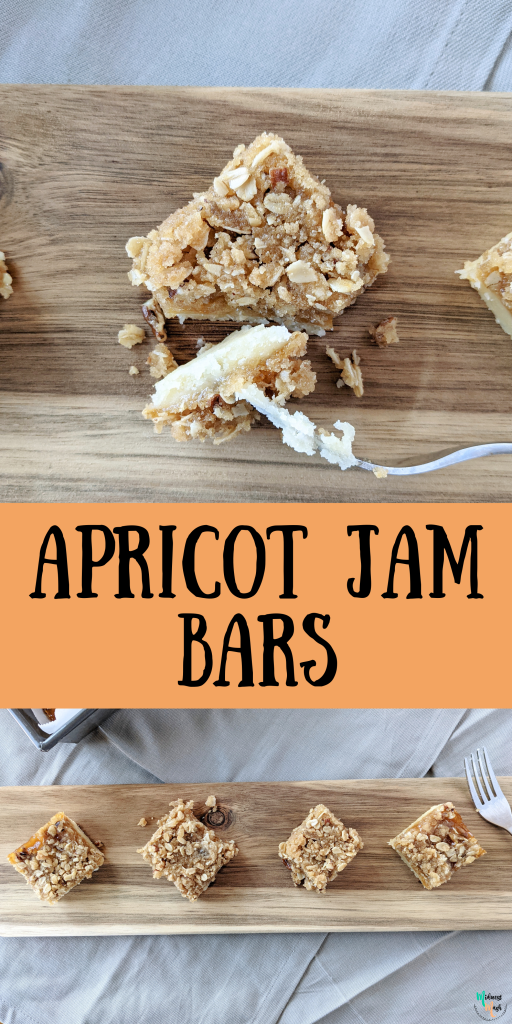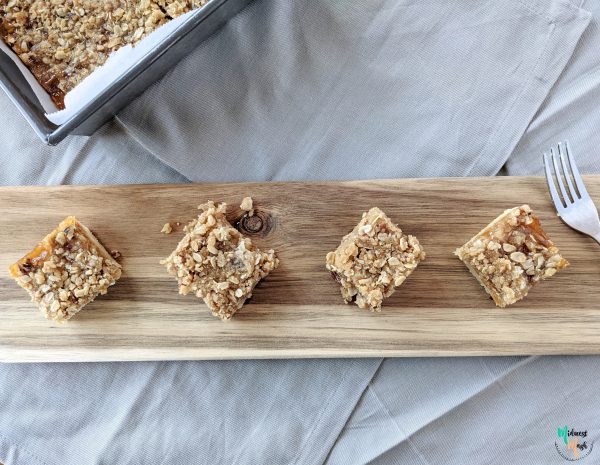 | | |
| --- | --- |
| | |
Preheat oven to 350 degrees. Prepare an 8x8" baking pan by lining with parchment paper.

In a small bowl, mix together the crust ingredients - sugar, flour, melted butter, and vanilla. It will still be moderately crumbly. Press it into the prepared baking pan and use your fingers or the back of a spoon to press it down into an even layer. Bake for 15 minutes.

While the crust is cooking, prepare your topping by mixing together the oats, brown sugar, flour, and pecans in a bowl. Cut in the cubed butter with a pastry blender or the back of a fork until the mixture is crumbly and the butter is well distributed.

Remove the crust from the oven and immediately spread the apricot preserves on top.

Sprinkle on the topping you prepared. It will appear to be a very thick layer, but it will cook down as the butter melts. Bake for an additional 35-40 minutes or until the toppings just starts to brown.

Remove from the oven and let cool completely before removing from the pan and cutting.
You can substitute any type of preserves or low sugar jam.
If you have a nut allergy, just omit the pecans from the topping.