Sous Vide cooking is simple and efficient! Make incredibly tender meat that can be made ahead of time and used for a variety of recipes throughout the week. Today, I'm sharing an easy chicken breast recipe and two ways to use it!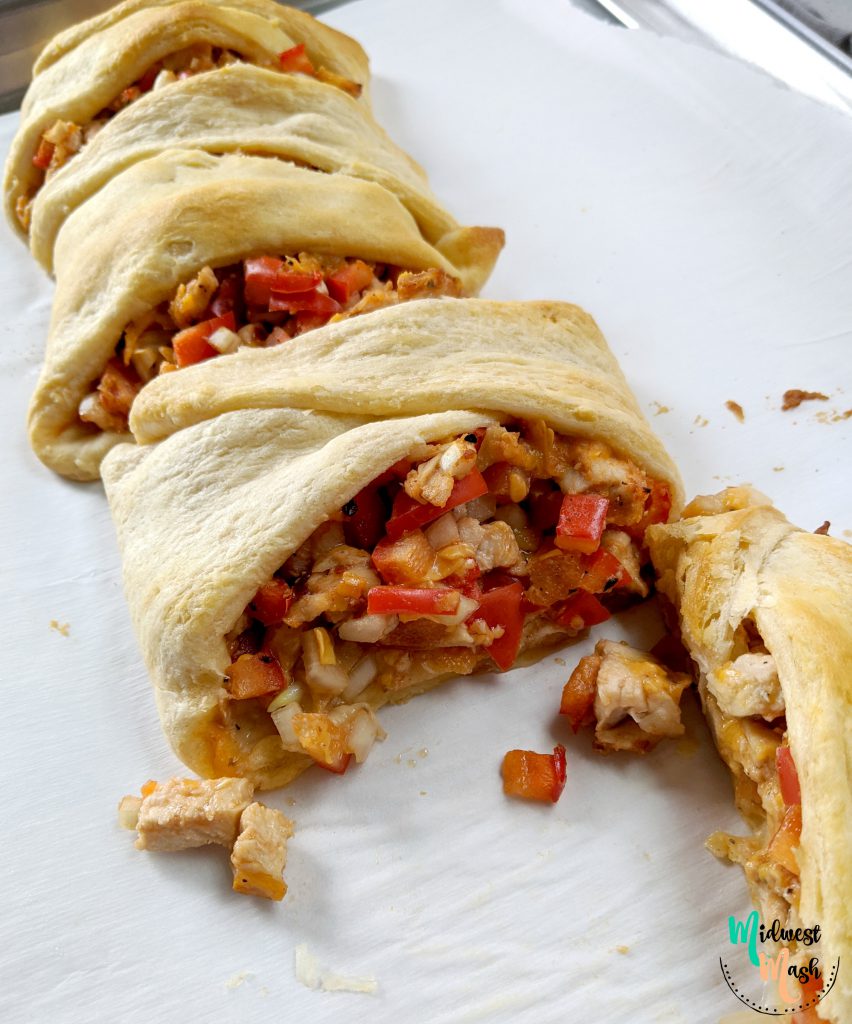 Multipurpose recipes are my favorite, hands down. If I can cook once (at least one part of the meal) and eat twice, I will gravitate toward that recipe every. single. time. I've recently started using my sous vide to help me achieve this, and it is wonderful! I cooked 2 large chicken breasts barbecue style in my sous vide earlier this week, and then I used them to make dinner one night and a ramped up lunch the next day (see yummy picture above.) Once I have the meat done for a meal I feel like the rest is all downhill, so why not knock that part out early in the week and save myself some gray hairs midweek.
I could go all Bubba from Forrest Gump on you and list ALL the ways you could use this Sous Vide BBQ Chicken, but for now I'm sharing two easy peasy ones: BBQ Chicken Nachos and Red Pepper Chicken Crescent Roll Bake. I've also used it to make BBQ chicken flatbread pizzas and my blog favorite BBQ Chicken Bacon Ranch Roll Ups.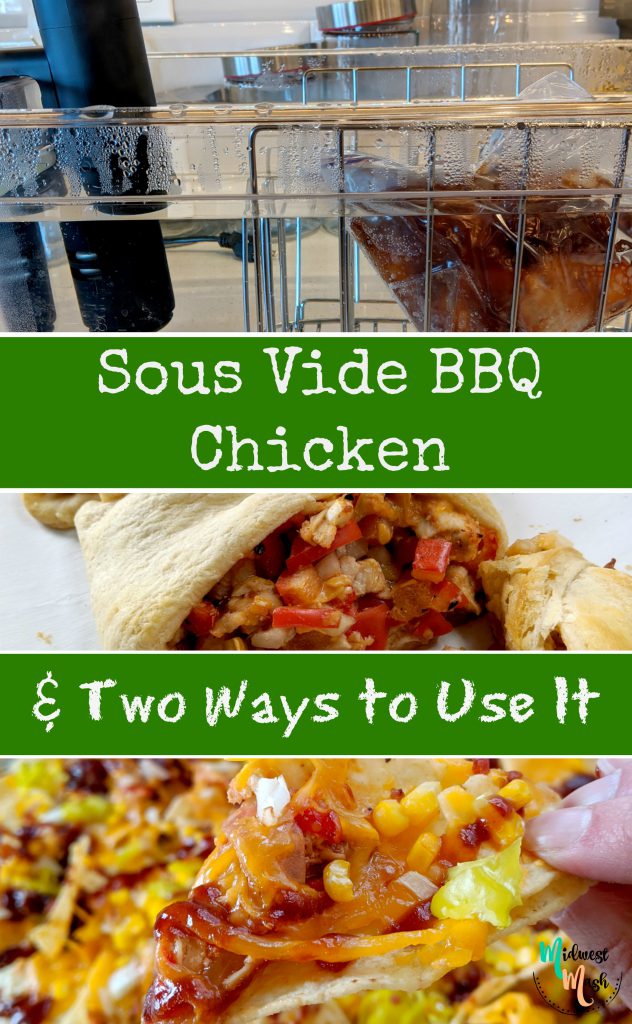 If you use this easy sous vide recipe in a different way, let me know by posting on my Facebook page, Midwest Mash or tagging me on Instagram!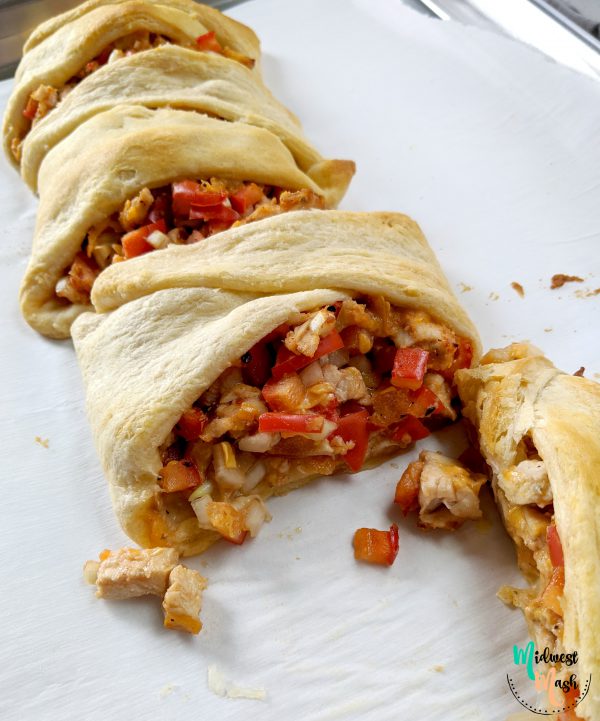 Red Pepper Chicken Crescent Roll Bake
| | |
| --- | --- |
| Red Pepper Chicken Crescent Roll Bake | |
Thaw chicken breasts. Place 1 chicken breast each into a quart size freezer bag or vacuum seal bag. Add 1/4 cup barbecue sauce and 1/4 tsp red pepper flakes to each chicken breast. Seal each one fully (no air should remain in the bag). To achieve this with a Ziploc bag, submerge the partially open bag seal side up into water to push the air out and then seal it once all the air has left - do not let any water into the bag. Side note: I ALWAYS double bag my Ziploc bags to avoid any leaking into the sous vide tank.

Use your sous vide to bring the water temperature in your container of choice up to 160 degrees Fahrenheit. Then submerge the chicken breasts. Cook at 160 degrees for 1.5-2 hours. Remove and use immediately, or store in the refrigerator for 2-3 days, reheating before using.
Red Pepper Chicken Crescent Roll Bake
Preheat oven to 350 degrees.

Unroll your crescent rolls from the package (of 8). Place them on a parchment paper lined baking sheet in the following formation: Line up 2 crescent triangles with the long sides toward the middle (this should look like a diamond). Repeat making 3 additional diamonds. Each diamond should slightly overlap so you have a nice line of crescent roll down the middle to lay your filling on.

In a bowl, mix together the chopped chicken breast, red pepper, onion, cheese, BBQ sauce, parsley, and salt & pepper. Spoon the mixture onto the center of the crescent roll line. You want to keep it in the middle, and it will be quite tall.

Once the filling is on, wrap the outer points of the crescent rolls on top of the filling all the way down.

Bake for 25-30 minutes or until golden brown on top.
Preheat oven to 350 degrees. Shred chicken and cook refried beans.

Line a baking sheet with parchment paper. Spread out half of the chips you will be using onto the baking sheet. Top with chicken, beans, cheese, onion, and corn. Top this layer with the other half of chips. Top these chips with chicken, beans, cheese, onion, and corn.

Bake in oven for 10 minutes or until cheese is fully melted. Remove from oven and drizzle on the barbecue sauce and top with pepperoncini peppers.
For the nachos, feel free to use any toppings you like or have on hand. I personally love the combo of corn with sweet bbq sauce and spicy peppers, but you could substitute with whatever your family prefers.