The leftover episode part 2 is here! Have you made the Crock Pot Chipotle Chicken nachos and now you have half the chicken leftover? Well make these enchiladas. Please! You will not be disappointed. These enchiladas definitely make my top 5, that's right – TOP 5, list of leftovers I will gladly eat cold, hot, for breakfast, for lunch, for a snack, etc. They are that good and so easy – only 5 ingredients (plus your favorite toppings).
On another note, my husband and I had our first overnight trip without the baby. I don't think I've ever organized things more in my whole life than I did to prepare for my parents' babysitting him. I made meal lists, food prepped (left them a container of Crock Pot Pulled Pork) emergency contact lists (for the baby and the animals), routine lists, suggestions for how to get the kid to go.to.sleep. The struggle is real sometimes people. All in all he survived, we survived, I think Grandma and Grandpa survived. We went to the Cub's spring training in Arizona, and I think we thought we could go to dinner after 8 p.m. (the rebelliousness I tell ya) and sleep in. Well, my husband went to bed at 9 pm the first night and slept until 9 am. Me on the other hand – I couldn't fall asleep until 10 pm and then of course I had to get up to pump at 6 am anyway and then I couldn't go back to sleep. SMH. At least my alarm clock was internal and not a crying baby.
It was nice to be home though and to have some easy meal ideas in my back pocket. These enchiladas take < 10 minutes to prep and < 15 minutes to cook due to using leftover chicken. You can also definitely make this with fresh Crock Pot Chipotle Chicken and save the nachos for another day! Also, add another freezer friendly meal to your list (yessss) to save yourself even more time in the future. Go to this link to get the recipe for the Crock Pot Chipotle Chicken.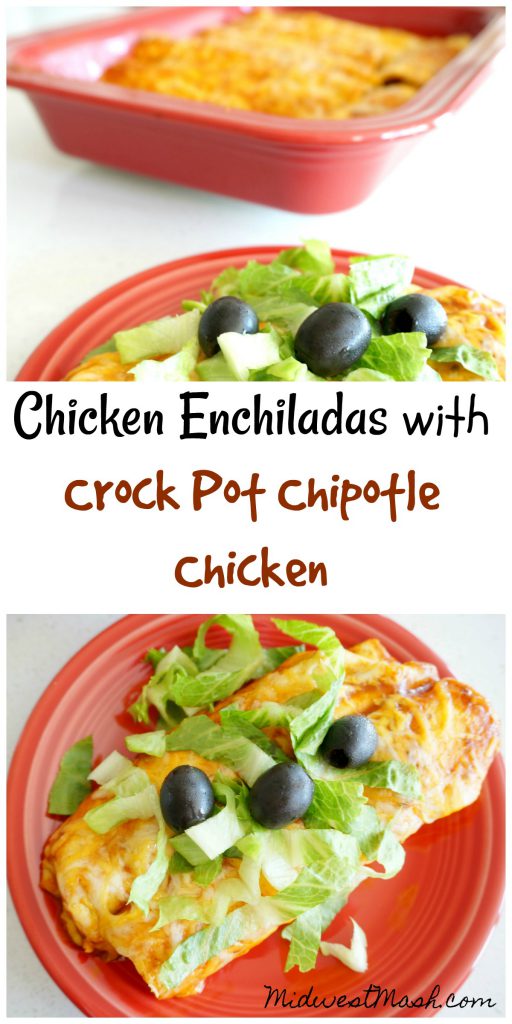 Preheat oven to 350 degrees.

In a medium bowl, stir together the chicken (cold is fine), taco sauce, and 1 cup of the cheese.

In the bottom of a 9 x 13 pan, spread 2-3 Tbsp of enchilada sauce around to coat the bottom.

Dollop about 2 Tbsp of chicken mixture onto the middle of a tortilla shell and then roll up the tortilla. Place seam side down into the 9 x 13 pan. Repeat this process with remaining 11 tortillas and line them up in the pan. Go ahead, squeeze 'em in!.

Pour the remaining enchilada sauce over the enchiladas and spread evenly (make sure they are all covered). Sprinkle remaining 1 cup of cheese over the enchiladas.

Cover pan with foil and bake for 10 minutes. Uncover and bake for an additional 5 minutes or until sides are bubbling.

Top with toppings of your choice. I prefer going the simple route with olives and lettuce but tomatoes, sour cream, onions would also be good!