How's everyone doing in 2018 so far? New Year's resolutions going well? Keep at 'em, you can do it! I've learned that if I call them "goals" instead of "resolutions" I'm much more likely to succeed. There's just something about being able to check off a goal as completed that makes me feel like the "throwing money in the air" meme. I've also started semi-bullet journaling this year – I call it semi because let's be honest, I will never be as talented or artistic as the examples you see on Pinterest. (If you don't know what I'm talking about, Google it. Seriously, it's impressive) So far it has been helpful, and not just for my yearly goals but for keeping track of how often you do certain things. For example, I'm trying to keep track of how often I change my contacts – if you're an optometrist please don't get mad – but I'm pretty sure I have been wearing this pair for > 6 months. No wonder I never run out.
On another note, how about that Superbowl? In full transparency, I didn't watch much of it because we had some friends over who brought their 9 month old, and I spent most of my time trying to keep my kid from using his friend's foot as a chew toy. What do I even do with a 7 month old who has 6 teeth? All of my pre-baby reading about "what to expect your first year" did not prepare me for this stage this early.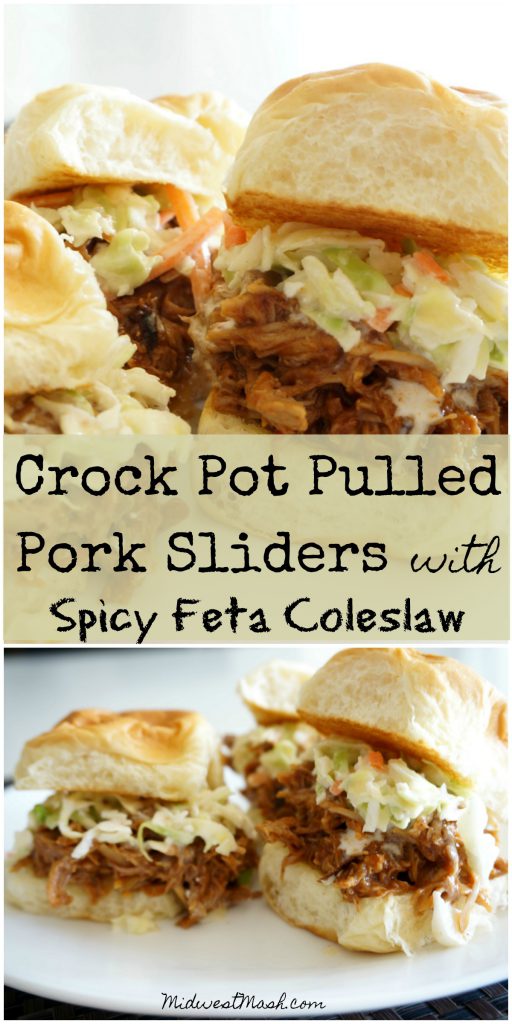 Speaking of biting and chewing, I made this amazing pulled pork for the big game, and it totally turned out better than I expected. I was literally eating it by the forkfuls cold this morning. The spicy coleslaw paired so well with it too. If you aren't into breaking out of the traditional coleslaw mold, your good old-fashioned picnic slaw would be great also!
Just a little PSA prior to giving you the recipe: if you have time to toast your buns – do it. Buttery toasted Hawaiian rolls + saucy pulled pork + crisp, spicy slaw = Par-tay! You won't regret it.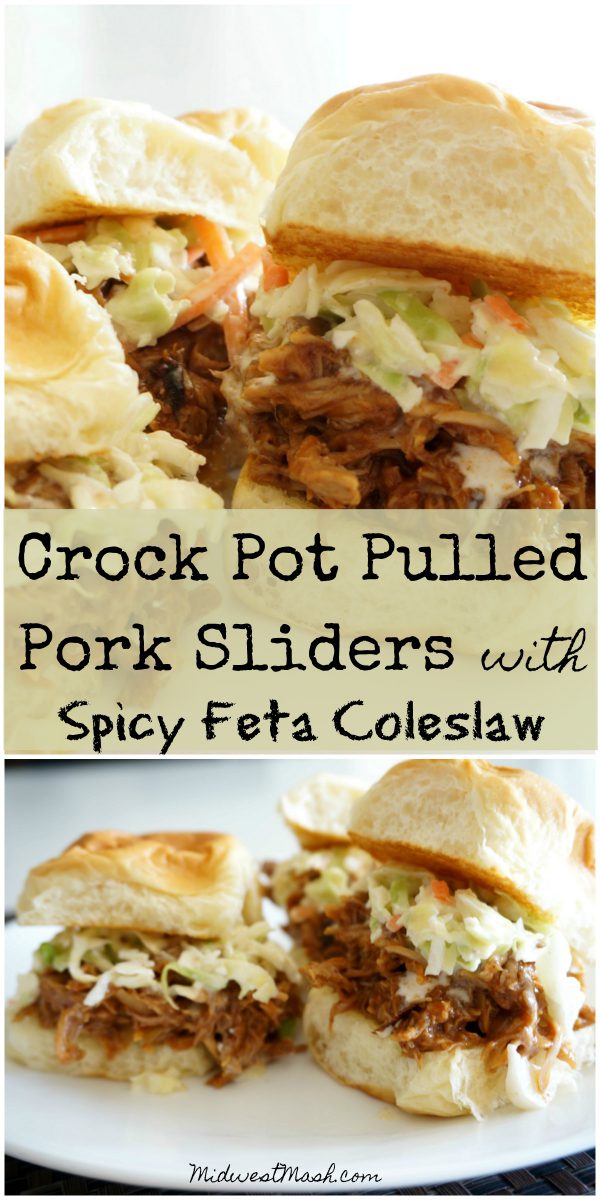 | | |
| --- | --- |
| | |
Thaw pork and trim of excess fat.

Slice onion and place in bottom of Crock Pot (I used a 6 qt).

Place roast on top of onion and pour 1/2 can pop over the meat.

Cook on low for 7-8 hours or until cooked through.

Remove meat from Crock Pot and shred. Remove all but 3/4-1 cup of liquid from Crock Pot and return shredded meat to it. Pour desired amount of BBQ sauce in, and mix well.

Cook on low for an additional 1-2 hours.
In a bowl, mix together mayonnaise, sour cream, vinegar, sugar, and seasonings. TASTE it at this point and adjust the seasoning for your dressing as desired!

Pour dressing over coleslaw mix and mix together. Fold in feta cheese. Let your coleslaw rest in the refrigerator for 30-60 minutes to combine the flavors.

To serve your sandwiches: bun + meat + coleslaw! Done!
This pulled pork is also wonderful on its own, on nachos, on pizza, etc! It is freezer friendly with appropriate storage in a container or Ziploc bag. I really wish I would've made this to throw in the freezer before my son was born!