There is nothing that will make your house smell more like the holidays than molasses cookies. Something about that cinnamon, ginger, and cloves makes you want to sing Jingle Bells.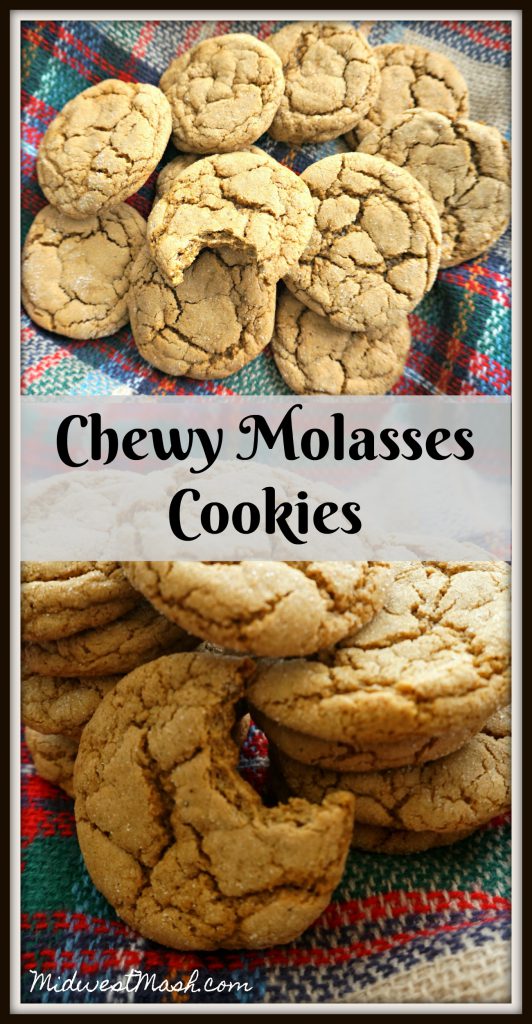 Every year I swear I am going to start my shopping early, make cookies and freeze them, and wrap presents while the babe is sleeping. All I can say is oops! Sigh. I think I secretly get an adrenaline rush from approaching the Christmas deadline in a scramble. I still have 5 treats on my list to make before Christmas, BUT my shopping is done! Hallelujah! I attempted wrapping presents in the middle of the afternoon yesterday and this is what happened: the baby decided to roll circles around the room to make his way over to tear wrapping paper and eat cardboard boxes while the dog followed him to lick up drool; the cat secretly sat in the corner and chewed on ribbon as I yelled at her every couple of minutes; in the meantime, I cut pieces of wrapping paper too small for the packages I was wrapping and had to do major patch work. Is R too young for me to blame bad wrapping on him? Ugh, probably. Sorry family!
Please enjoy these molasses cookies. I adapted a recipe from Taste of Home to adjust the spices, and my husband now swears by these cookies. I will be the first to admit that I kind of despise molasses cookies – they would rank around #162 on my "Cookies I Would Choose to Eat" list, but in all honesty – I had a couple of these and I would eat them again. I promised the husband I would make one treat a week if we both started working out at least 2 days a week (bribery will get you everywhere), and this is what he chose! I'm making Scotcheroo Bites for my choice next week mmhmm.

Preheat oven to 350 degrees.

With stand or hand mixer: cream butter and sugar until light and fluffy.

Beat in eggs and molasses until combined.

Combine the dry ingredients and then gradually incorporate into wet mixture.

Shape into ping pong size balls (or use a cookie scoop) and roll into sugar. Place on baking sheet and bake for 13-15 minutes or until top just starts to show cracks. Cool on cooling rack.