How do you feel about leftovers? I am an appreciate-r usually, I mean it's one less meal I have to put thought into preparing. There are many times though when I make something and either don't want to eat it as a leftover (some things just don't taste as good on day 2, am I right?) or really wish I could do something different with it. Lately I've been experimenting with cooking a protein in the crock pot and then using it for a variety of meals throughout the week. To be honest, I make a lot of nachos because 1 – I love (insert heart emoji x 10) nachos and 2 – I usually have some conglomeration of ingredients to make them even if they become pulled pork + bbq + ranch + taco toppings nachos (actually those were REALLY good – I'll have to share another time).
If you keep up with my blog or Instagram, I am kind of in love with my Crock Pot lately. I go in spurts, and right now I'm in a "I found this shirt at the bottom of my dresser that I forgot I bought and it's like Christmas" kind of love with my Crock Pot. This chicken recipe isn't for you non-spicy eaters out there. There are a couple of ways to tone it down a little bit (see notes below the recipe) but it will still have a mild-moderate kick. It is so easy though. A true set it and forget it recipe.
Let's talk about nachos for a second: the key to truly scrumptious nachos is a sheet pan and layering. Every chip has something on it and it's heavenly. See the recipe for details about how to assemble.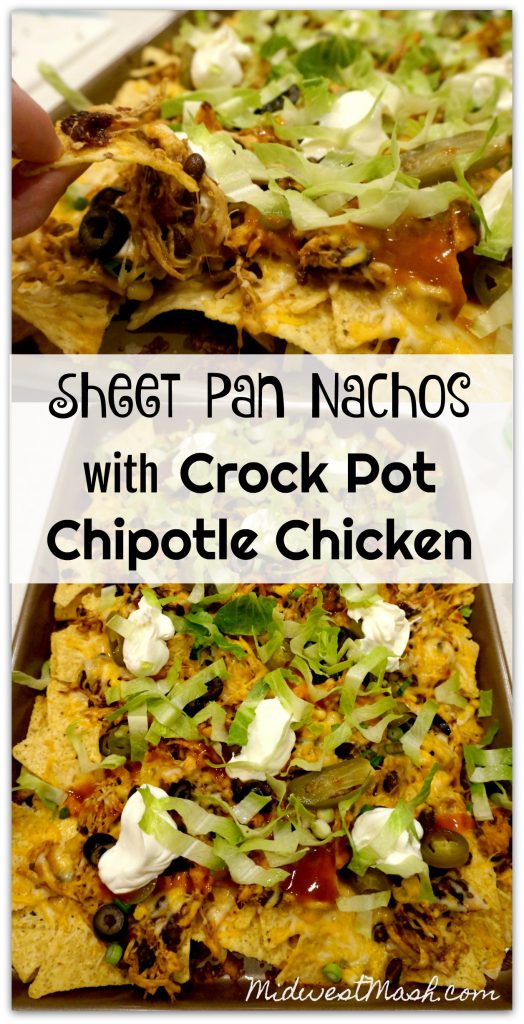 Come back soon for Crock Pot Chipotle Chicken Part 2: Enchiladas. They were so good that I had them as an "appetizer" while I was making dinner the next night (aka I took a bite between every veggie I cut up, you know, as a reward).
Enjoy! I would love to hear of any other ways you used this chicken. P.S. it's freezer friendly!

Crock Pot Chipotle Chicken
Crock Pot Chipotle Chicken
Place chicken breasts in bottom of crock pot.

Pour in chipotle chiles, including all juices. Make sure chicken breasts are covered with the chiles.

Pour black beans over chicken as well.

Cook on low for 6-6.5 hours or until chicken cooked through.

Remove chicken and chiles from crock pot. Shred both (make sure chiles are shredded into small pieces!) and return to crock pot. Give it a stir and cook on low for an additional 30 minutes.
Preheat oven to 350 degrees.

Get out a large sheet pan and place a single layer of tortilla chips on it. Sprinkle these chips with half of the cheese and a good amount of the chipotle chicken (you decide!).

Add another layer or tortilla chips on top of the first layer then repeat cheese and chipotle chicken layer.

Cook in oven for 10-12 minutes or until cheese is melted. I would recommend keeping a close eye on them as some chips and cheeses cook at different rates.

As the nachos are cooking, heat up frozen corn in a small skillet over medium heat with a little bit of butter - add some spices if you like ( I used Tony Chacheres)

Remove from oven and sprinkle on olives, taco sauce, jalapenos, corn, lettuce, and sour cream.
To make it less spicy:
 Use plain black beans instead of black beans + jalapenos
Remove the chipotle chile pieces from the crock pot after the chicken is cooked instead of shredding them with the chicken
Omit jalapenos from the nacho toppings
Feel free to add or subtract any nacho toppings!