This recipe has been a family favorite for 3 generations. We could always smell that it was 'runza night' in my house growing up by the aroma of sauerkraut and homemade bread. It has been so fun to watch my kids enjoy them now too.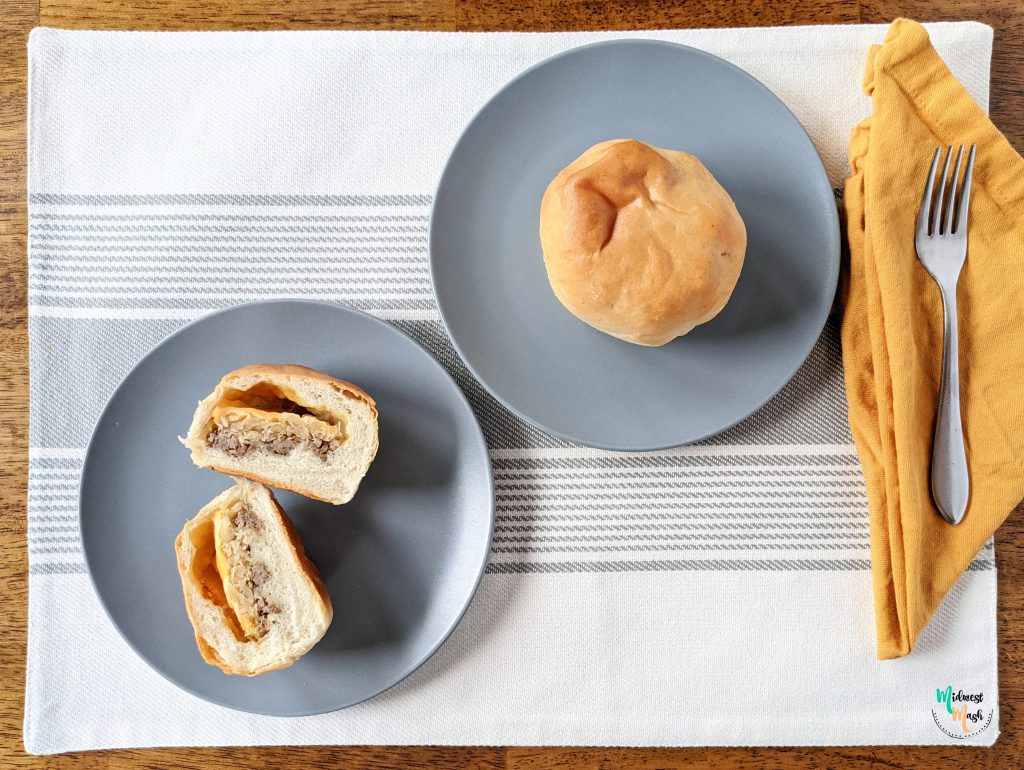 If you are from the Midwest, when you hear the word "runza" your mind probably immediately goes to the fast food chain. If you are not from the Midwest, you probably have no idea what these are. It is such a pleasure to introduce friends who are from different parts of the country to food that I grew up with.
Runzas, or bierocks as they are traditionally known, have German-Russian origins, and they eventually found their way here through generations of families immigrating to the heart of the country. A quintessential handheld food, they were (and still are) perfect to take to farmers in the field. These days my family eats them at the dinner table, but I know my sons will love them in their lunchboxes some day, with a side of ketchup of course.
If you are going the traditional route with making them, you stuff them with ground beef that is cooked with onions and heavily seasoned with salt and pepper, shredded cheese, and sauerkraut or cabbage. I've never made them with cabbage because my family loves sauerkraut so much, but if you do go that route, cook the cabbage along with the ground beef and onion.
What family recipes do you now make for your own family? Let me know if you try these by tagging me on Instagram (@midwest.mash) or leaving me a comment below!
This is a recipe that probably made its way over from Europe many years ago, and it has now been passed through my family for at least three generations. It's a bread pocket stuffed with meat, cheese, and sauerkraut - a power lunch at its finest.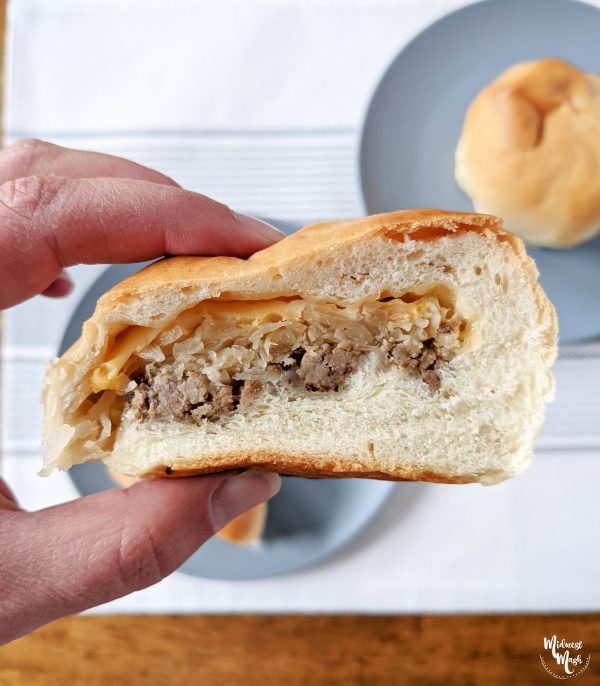 | | |
| --- | --- |
| | |
In a large bowl or stand mixer (I'm going to give the instructions in relation to hand mixing) stir the yeast, warm water, and sugar together. Let sit for 3-5 minutes or until foamy.

Stir in the lard, salt, and 2 cups of flour, mixing until a thick paste is formed. Don't worry about chunks of lard - they will get incorporated as you knead later.

Continue to add in remaining flour 1 cup at a time until all 6 cups are added. Dough will still be sticky at this point.

Turn out onto a floured surface and knead for 10-15 minutes or until your dough can form a smooth ball.

Place in a bowl sprayed with cooking spray. Cover and let rise for about an hour or until doubled.
In a large skillet, brown the ground beef with the onion, salt, and pepper. Once cooked, drain of excess fat (I pour the meat onto a paper towel lined plate) and set aside.

Drain your can of sauerkraut and shred your cheese (I personally think freshly shredded cheese works better than pre-shredded bagged, but either will work!). Mix your two types of cheeses together in a bowl to get a blend.

Preheat oven to 400 degrees and line a large cookie sheet with parchment paper. These will need to cook in two batches or you can use two pans.
Grab a piece of dough about the size of your palm and stretch it out using your hands until it resembles a ~6-7 inch circle.

Place 1 heaping Tbsp cheese in the middle of the dough. Follow that with a similar amount of sauerkraut, and follow that with a similar amount of the ground beef mixture.

Pull the edges of the dough up and around the filling, pinching closed at the center. Make sure there are no holes.

Place on baking sheet, seam side down and continue making 14 more! Roughly 6-8 will fit on one pan so you'll have to do these in batches.

Bake for 20 minutes or until the tops are very golden brown. Remove from oven and rub the tops with butter. Enjoy!
If you would like to, you can use 1 - 1.5 cups of freshly shredded cabbage instead of sauerkraut. Cook it with the ground beef and onion mixture. 
Some pointers for bread making: *The dough should be very sticky when you begin to knead it. If it sticks to your hands, that is just fine! It will come together after kneading for a few minutes, and then it won't be sticky. *Get you dough as thin as possible without holes before adding the filling. *If you happen to run out of filling with some dough left over, make the remaining dough into dinner rolls - bake at the same temperature for 20-25 minutes or until golden. 
These are wonderful freezer food. Once cooled, package them in freezer bags; pop them in the microwave for 1.5 - 2 minutes when you are ready to eat them. 
(Bread recipe adapted from AllRecipes.)
(History tidbits adapted from whatscookingamerica.net)