This is the time of year for an abundance of garden crops here in Colorado, so use that zucchini up in the yummiest way possible: cake!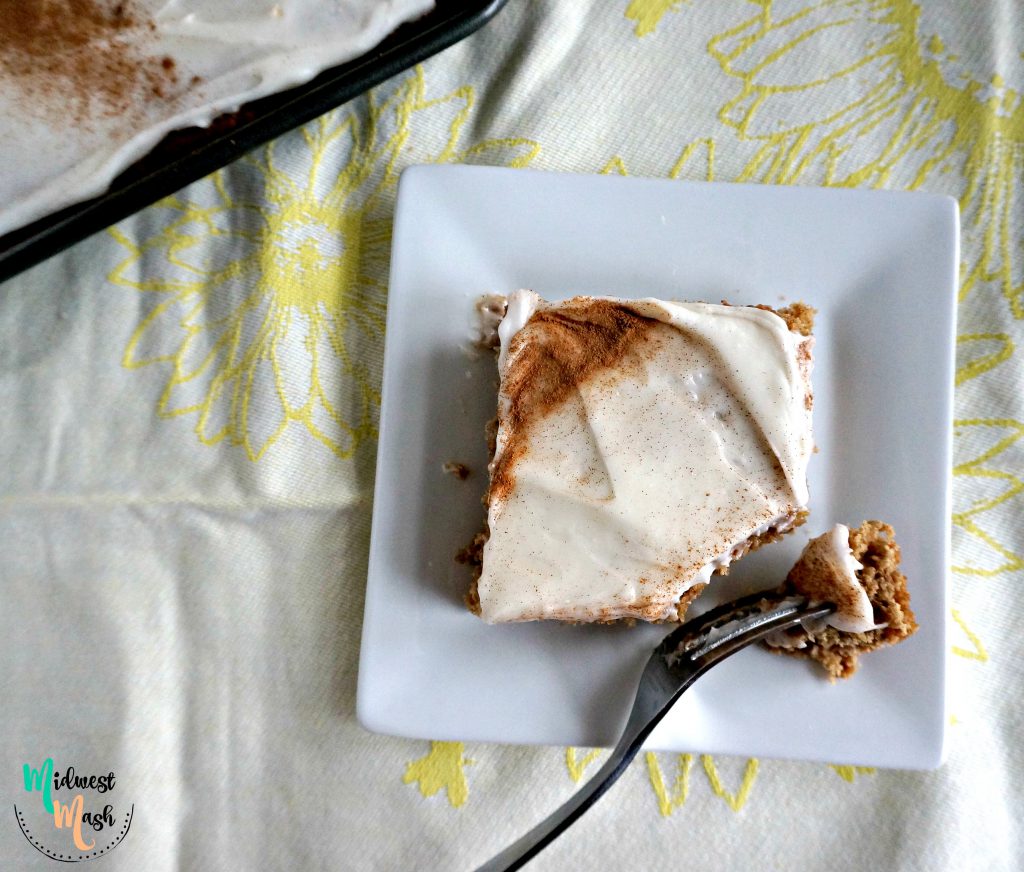 I love this cake. ← That statement right there means everything coming from me because I will take a chocolate dessert over every other dessert 99% of the time. This cake though…it will win some battles against those chocolate sweets. It's light, moist, and full of flavor; paired with a luscious cream cheese frosting it's a top contender in my book.
Like I've said before, this blog is about sharing recipes from my Midwest roots and current recipes that my family loves. I think I first made this cake for 4-H in 4th or 5th grade. It was my first time taking a baked good to the county fair, and all I remember is the judge telling me that it probably wasn't a good idea to bring a dessert with cream cheese frosting in the middle of summer. Fair enough. You win some, you lose some.
I have made this many times over the years, and tweaked it to just my liking. My current cake uses applesauce and zucchini for an extra moist crumb – yum! Cream cheese frosting is the most important piece though, and I'm not just saying that because it gives me an excuse to lick a batter full of frosting every time I make it. You really need to make this cake! I get asked for this recipe all. the. time. You'll be the talk of your next potluck (and if you're not, then more for you to take home 😀). Enjoy!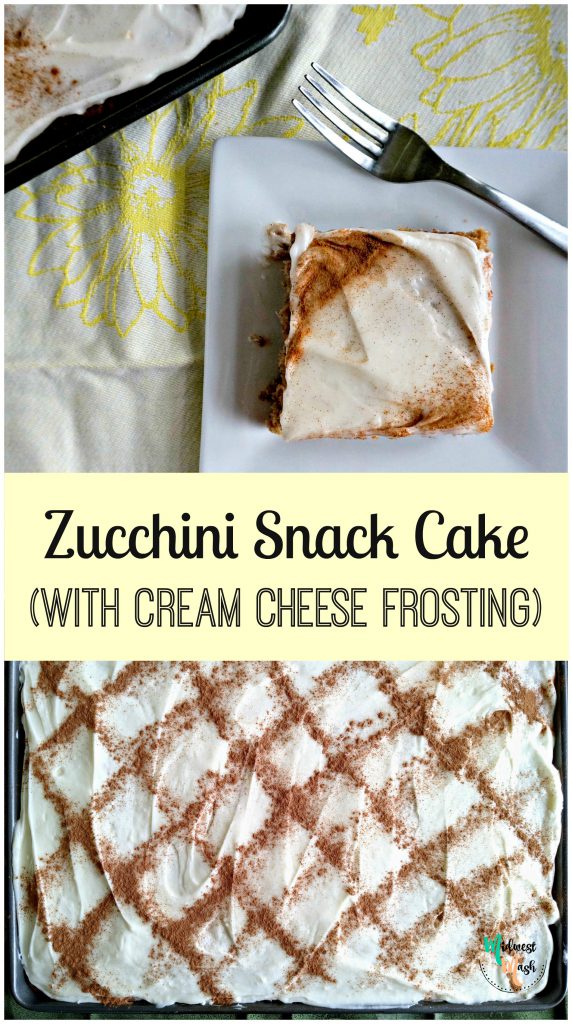 | | |
| --- | --- |
| | |
Preheat oven to 350 degrees. Grease a sheet cake pan (I used a 17 x 12 inch pan).

Grate your zucchini using a food processor, grater, or by hand if you are brave!

Mix together the applesauce, eggs, vanilla, and sugar.

Add in the dry ingredients: flour, baking soda, baking powder, cinnamon, and salt. Mix well.

Stir in the grated zucchini.

Pour into the greased pan. Bake for 18-23 minutes or until a toothpick comes out clean. Keep a close eye on it as it gets close to done!

Let cool completely and then frost (See frosting instructions below).
In a mixer, cream two packages of cream cheese until smooth. (You can also do this by hand if you have the muscle💪🏻)

Pour in 1 tsp of vanilla and incorporate.

Gradually add in 3-4 cups of powdered sugar until the frosting is the taste and consistency you desire. (If your frosting gets too thick you can add a splash of milk to thin it out) I prefer a thinner than normal frosting for this cake.

Use a flat spatula to slowly spread onto cake careful not to pull up the top layer of the cake.
*Note: I live at high altitude (5300 sq ft) so baker beware that recipe may turn out slightly different at lower elevations*