It's hard to believe it's only 2 and 1/2 weeks until Labor Day! My Facebook and Instagram feeds were full of "1st day of — grade" pictures today, and even though I don't have kids in school yet and my profession doesn't let me have a "summer", there's always this feeling of family and fun during those summer months. That being said, I'm a little bit in love with fall. The cool weather, pretty leaves, football, and pumpkins. Not to mention, this will be my son's first Halloween which means coming up with an adorable costume – hello Pinterest. There's always a big Halloween party at my husband's work, and it is full of "family costumes" – and dogs are usually included in this so I have to step up my game this year since we have a puppy and a baby.
Enough talk about fall. After all, it is still August. I love a fun, refreshing drink in the summer, and since I haven't been able to enjoy a crisp cocktail or cold glass of wine like I usually would, I came up with a spunky lemonade. After I made this, I realized that many fast food restaurants have also made a version of it – sorry, I've been hibernating with an infant all summer. Mine contains REAL fruit – I mean, I actually keep the blended fruit in it, giving it a slushy vibe. Who doesn't love slushies? C'mon. Another reason to make this drink is to use up that other half of watermelon that you have in your fridge that you swore you would eat (guilty!) but it's still there a week later (yeah, this happens to me after every grocery store trip – I just can't pass up those juicy watermelons!)
Enjoy the last few weeks of official summer on your patio with this drink – please feel free to add a shot of gin or a splash of sparkling wine if you choose! Pin it, share it, like it!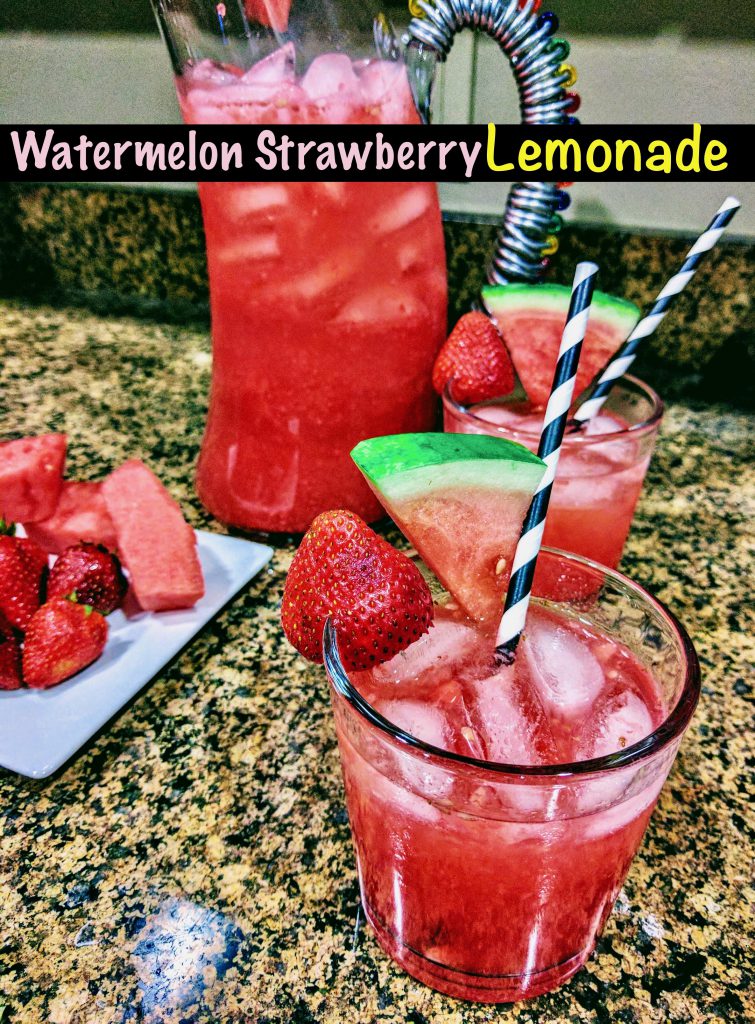 Make lemonade - I realize this step is very vague. You can either make homemade lemonade or from a mix (I used Country Time).

Puree watermelon and strawberries in a food processor or blender. Make sure you remove all strawberry tops and watermelon seeds first.

Add pureed fruit to the lemonade.
This lemonade will have pureed fruit in it, but that's what makes it great! You get all of the flavor of the fruit with the added bonus of the nutrients as well. Yum!