Need a quick lunch idea to feed a crowd? These buttery, cheesy sliders will do just the trick – set them out with a nice pasta salad or a bowl of your favorite chips and your hosting duties are done!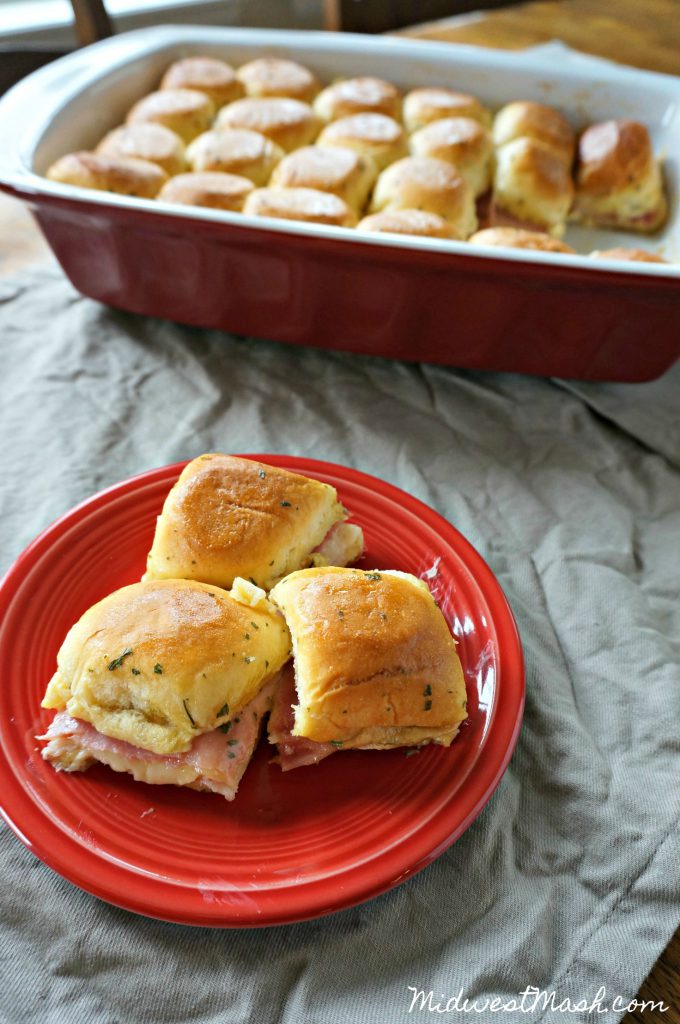 Summer is officially over so put away those white pants and kiddie pools. Just kidding! It's still been in the 90s around here (with the exception of a wonderfully crisp 72 degrees today) which means it's still summer, right?!
Well, we officially survived moving into our new house – phew! It is wonderful and spacious and new – meaning I cringe every time something gets dropped on the hardwood floors or someone accidentally hits the wall with a box. I'm sure with a dog and a baby I will get over that quickly. Have you ever had to move with a newborn? Wow, definitely don't even try to make a to do list or a schedule because, well, it's pointless. I feel like I contributed very little besides holding the baby, wearing the baby, entertaining the baby, or feeding the baby in between pointing to boxes and doing a lot of "no that goes in there". The bonus – extra cuddle time with the little guy while everyone else did most of the hard work. Biggest regret – not doing more squats and core exercises prior to this move! Yikes – I didn't realize carrying my 14 pound baby (yes, he is big for his age) in a carrier for 2-3 hours would be so killer on my back, but he sleeps like a baby (literally) in it so WIN for me. Speaking of the baby – I am already starting to have the "my baby is growing up too fast" sadness. He's almost 11 weeks old, and I feel like I am almost to the point of having to say "he's ___ months old" instead of "he's ___ weeks old" which is making me oddly teary-eyed. My only saving grace is that he is starting to talk all the time, and his baby jibber jabber momentarily sweeps away any of my mommy emotions because it is so darn cute.
With all of the chaos of moving, it was nice to get a little bit settled into the house the past few days and actually MAKE food here as opposed to "hey let's just get insert quick sub, fast food, pizza place here". Needless to say, it's nice to have some quick and easy recipes up my sleeve that allow for leftovers and little clean up. Sliders have been making the circuit for awhile now, so I started making my own version with ingredients I always have on hand – hello turkey + cheese + ranch = winner! If you're feeling even more daring you could toss on some bacon. These are also good cold the next day, and they are the perfect size when you are trying to multi-task (i.e. unpack with baby on the hip). For those of you with kiddos in school, these are a great after school snack to give them a little bit of protein to tide them over until supper.
Happy unofficial start of fall everyone! FYI – I heard that Starbucks PSL came out today 🙂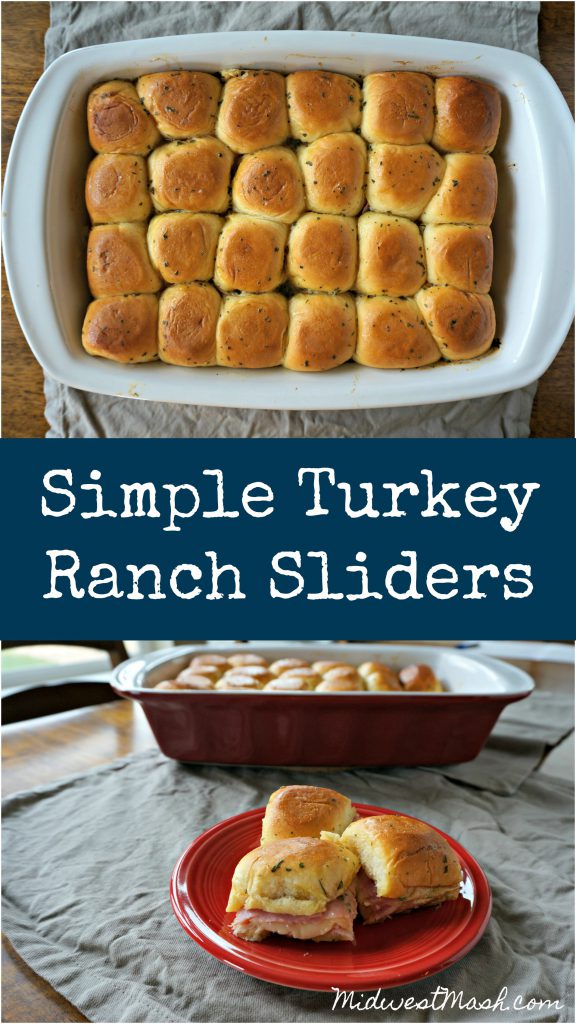 Preheat oven to 350 degrees.

Slice the entire slab of rolls in half (do NOT take them apart; just slice them all together) using a serrated bread knife. Set top slab aside for now.

Place bottom bun slab into a 13 x 9" baking pan.

Layer turkey in a single layer on bottom buns. Follow this with a layer of cheese, and then another layer of turkey.

Place the top bun slab on top of the sandwiches.

Melt stick of butter. Add Worcestershire and ranch seasoning to the butter. Brush or pour over the sandwiches, making sure that every bit of the top buns is covered. It's okay if there are some small clumps of ranch - this makes it more tasty!

Cover with aluminum foil and bake for 20 minutes. Remove foil and bake for an additional 5-7 minutes or until the buns start to turn golden and most of the butter is absorbed.
These are great hot, reheated, or cold! You can substitute a different cheese if you would like - I would recommend something mild and similar to Havarti such as swiss.