Today I would like to talk about something that has been plaguing me for quite some time now. Actually it's been about a year since it started, and I think it has gradually gotten worse. Don't worry, it's not life threatening nor is it generally even harmful. Let's discuss my official diagnosis of baby brain (or pregnancy brain or mommy brain or WHATEVER you want to call this crazy phenomenon). Seriously though, the. struggle. is. real. I noticed it during my pregnancy, and I generally just blamed it on fatigue, but now looking back I know that that time that I tried to put the laundry hamper in the kitchen was definitely the result of my very confused brain. I really hate to admit that it has gotten a little worse since the little man was born. Example (I'm cringing already) – I was trying out a curry chicken dish the other day, and I marinated the chicken in some curry powder, olive oil, etc. As I went to make the dish later in the evening, I was sauteeing the veggies and as I went to sprinkle on some curry powder I realized IT WASN'T CURRY POWDER, it was CUMIN. Ugh! Not only did I put cumin on the veggies, I had also marinated the chicken in cumin. So what does any logical person do? I sprinkled some actual curry powder on top, served the dish anyway, and didn't tell my husband 🙂
Needless to say, it tasted a little weird, and I will need to try that recipe again. Lesson of the day: read the darn label closer.
On that note, I am sharing a simple three ingredient appetizer that even I can't screw up. Let me just say that this will for sure be a crowd pleaser and people will think you put a huge amount of effort into them! I love mini sweet peppers, and I'm always looking for a fun way to use them. This recipe is great because not only does it include melted cheese (hello!) but the peppers get a lovely, flavorful char on them.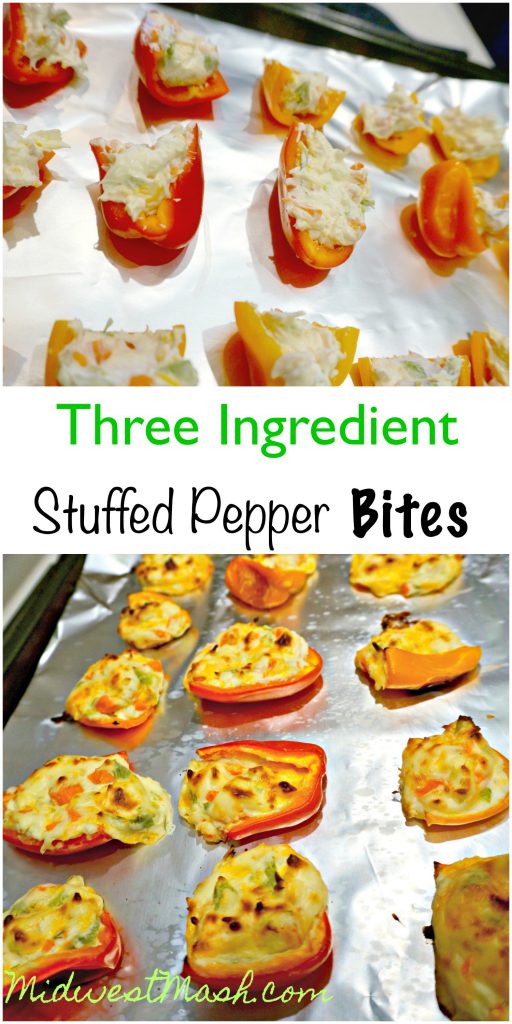 Preheat oven to 350 degrees. Line a baking sheet with aluminum foil (for easy clean up).

Cut sweet peppers in half. Remove seeds and veins.

Transfer half the tub of garden vegetable cream cheese to a bowl, and stir in shredded cheese. NOTE: I made my own veggie cream cheese by adding minced carrots, green pepper, green onion, and dill to a tub of cream cheese, but store bought pre-made would work great also!

Scoop a spoonful of cream cheese mix onto each half of pepper.

Bake for 15 minutes at 350 degrees, then turn on the broiler to low and broil for 2-3 minutes or until the cheese starts to brown. Remove from oven and enjoy!
You can increase or decrease the number of peppers for your desired crowd. A tub of cream cheese should do about 40-50 appetizers!