I feel like since having a baby my daily/weekly/monthly goals that I set for myself have become a wee bit simple. It went from "I'm going to meal plan, meal prep, work out 3 days, and write a blog post this week" to "I am going to shower today" and "I am not going to eat cereal for supper…again". Since I am 13 weeks postpartum I think it's time to eat consistent, well-rounded meals, and actually make an effort to get my daily servings of fruits and veggies. Sigh. Don't get me wrong, I have been trying to eat healthy since I've been breastfeeding, but now that my little man is getting bigger, he requires more milk, so I need to start eating more, quit skipping meals, and make sure that the calories I do put in are for the most part healthy. (It all sounds sooo easy, doesn't it?!)
It's unfortunate that summer is gone because that means less fresh produce, but thankfully we live in an area of Colorado that has great grocery store variety and large produce sections. This simple Greek salad is a wonderful way to get veggies in (and some feta cheese). Speaking of which, I love feta cheese. I don't know how this started. Where I grew up, we were more of a meat and potatoes crowd, and I don't even think I knew what feta was until I went to Europe, had a gyro, and knew this cheese and I would be BFFs. I think I just wrote an ode to feta, but it deserves it.
If you haven't tried making homemade dressings, you should start now. I was always intimidated by it, but it is truly very simple, especially vinaigrettes: oil + something acidic (i.e. citrus juice or vinegar) + any other herbs or flavors you want. Oregano gives this one a little punch, and it is a traditional Greek flavor. (Plus I added some sugar to balance using two acids)
P.S. Try the vinaigrette on a lettuce salad or pasta salad. Yum.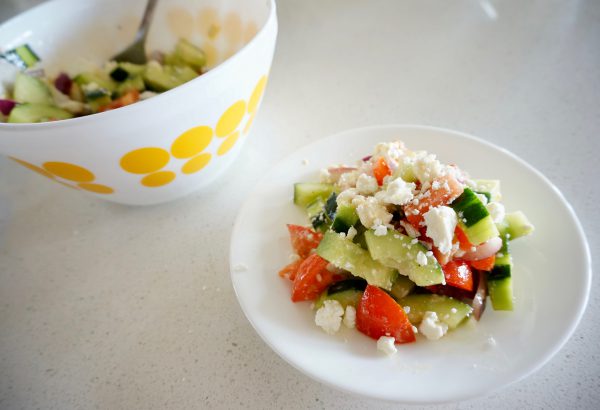 Lemon Oregano Vinaigrette
| | |
| --- | --- |
| Lemon Oregano Vinaigrette | |
Chop all of the vegetables and put into a medium sized bowl.

Put dressing ingredients into a bowl or jar (jar works better if you are saving some for later) and stir until combined.

Pour the dressing over the vegetables. Cover the salad and let marinate in the refrigerator for 10 minutes (you can skip this step if you are in a hurry).

Remove from the refrigerator, and add the feta cheese. Give it a quick stir to combine, and enjoy!
This amount of dressing would make double the salad, so I would start with only using half and add more if you need it. You can change the amounts in the salad to suit your needs! It would also be good with kalamata olives added.
Thanks for reading! Please feel free to share, like, pin. Follow me on instagram (see feed below) or pinterest!