A delightful sweet baked breakfast to wow your family or your guests. Perfect for potlucks, meal trains, or even a friendly gift for your neighbor.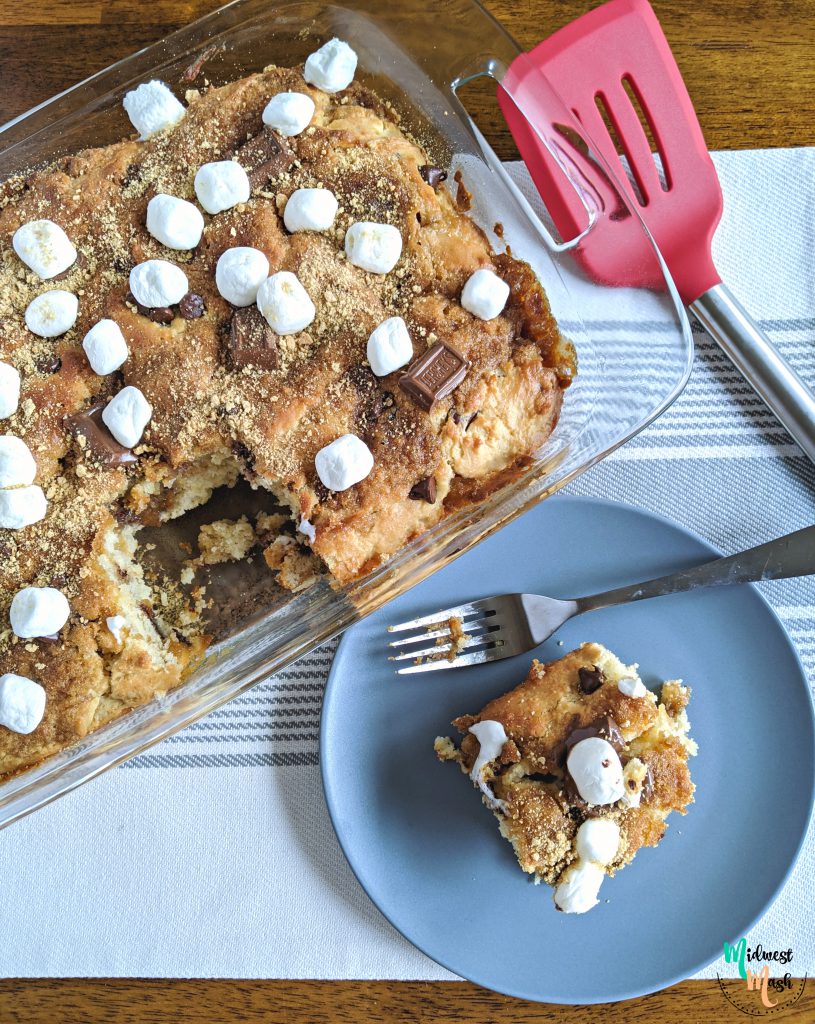 There's just something about a soft but crumbly cake intermingled with a gooey layer of butter and sugar topped with a little crunch. I'm all for traditional cinnamon streusel coffee cake, but to be honest, I always want chocolate. Chocolate in the morning, chocolate in the evening, chocolate at supper time. (If you know, you know.) The flavors in s'mores are always winner in my book, so why not find a way to sneak that into "breakfast"? (Not in the form of PopTarts.)
I made this yesterday afternoon, and I had a lovely plate with a square of coffee cake and two slices of bacon in front of me for breakfast this morning. Then I looked up and saw my two kids staring at me, I mean glaring at me as they realized I was eating some version of cake and they had scrambled eggs. Tantrums and negotiations quickly followed. Note to self: eat in private.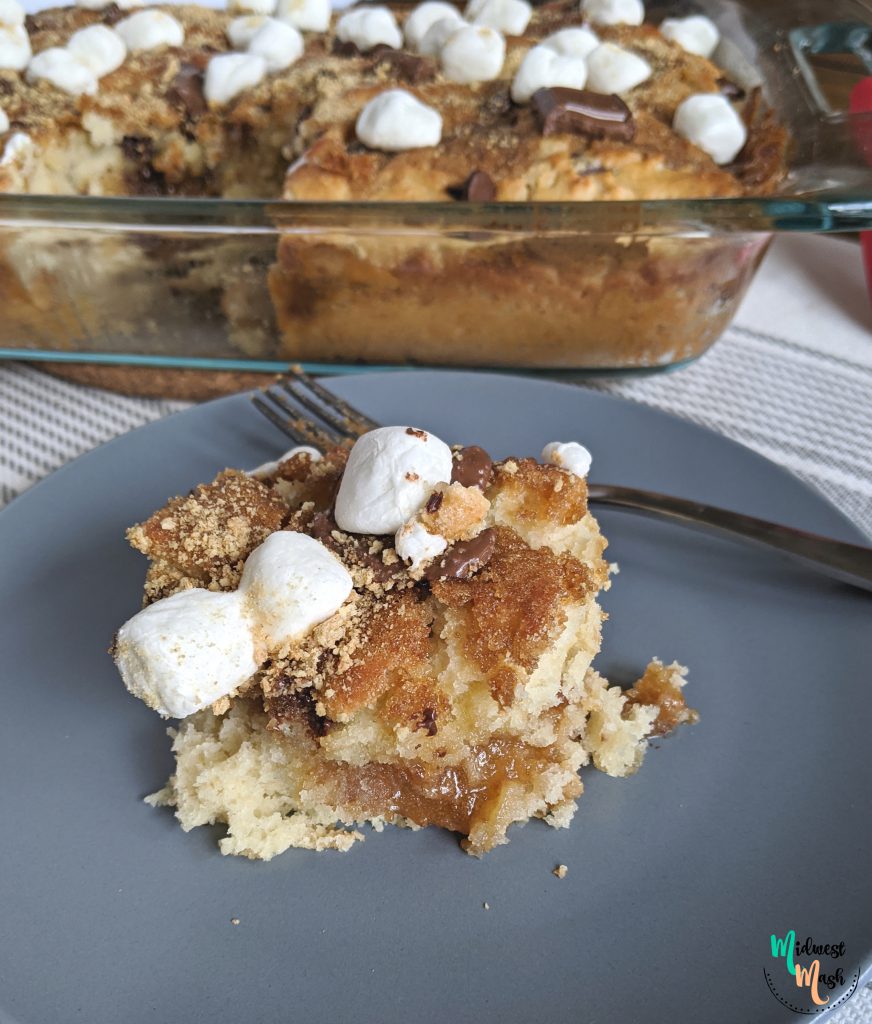 In all honesty, this is one of the best things I have come up with and baked ever. I did a lot of research into different coffee cake recipes, and finally settled on a happy medium between them that didn't have TOO much fat (I was able to sub some of the fat for applesauce). I used combinations of base recipes from Lil' Luna, Taste of Home, and The Salty Marshmallow along with many other variations. The s'mores adornments and streusel layer were original to me 🙂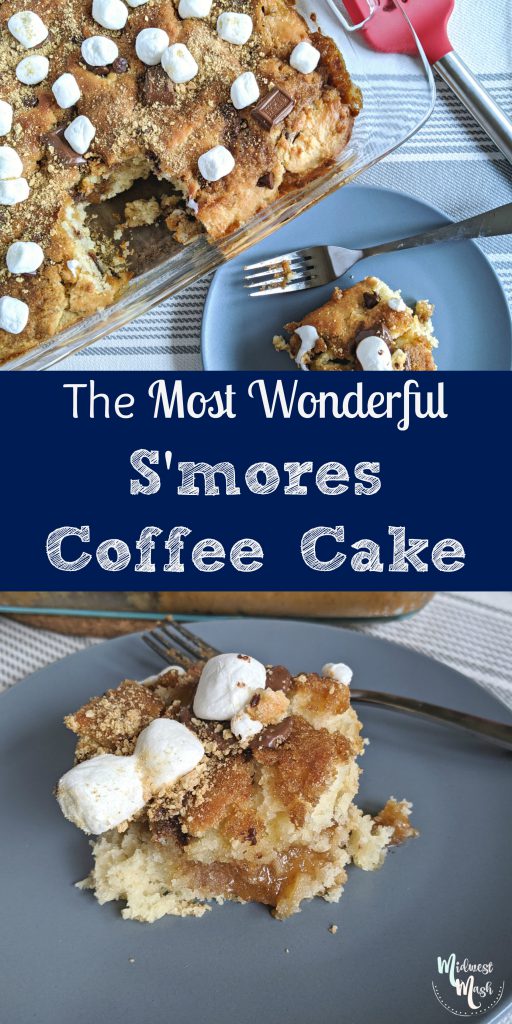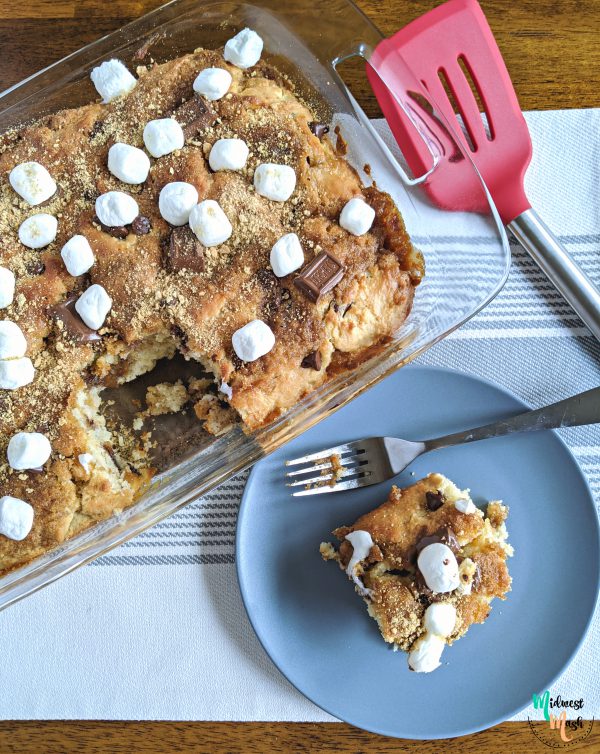 | | |
| --- | --- |
| | |
Preheat oven to 350 degrees and lightly grease a 9 x 13" pan.

In a stand mixer (or by hand), beat the eggs then add in the room temperature butter. Mix until combined.

Mix in the applesauce, sour cream, and milk as well as the vanilla. Mix on medium-low speed for 1-2 minutes or until smooth.

In a separate bowl, stir together the dry ingredients: flour, sugar, baking powder, and salt.

Add the dry ingredients to the wet ingredients in thirds, combining between each addition. Mix just until incorporated.

By hand, gently stir in 1/3 cup of chocolate chips. *Make streusel. See below.*

Spread HALF of the cake batter into the bottom of your 9 x 13 pan until an even layer is formed.

Dollop HALF of your streusel mixture on top of the initial layer of cake batter, spreading it out the best you can without stirring it in.

Top the layer of streusel with the remaining cake batter, spreading into an even layer and covering the streusel.

Dollop the remaining streusel over the second layer of cake batter, again spreading into an even layer the best you can. Sprinkle a tablespoon or two of chocolate chips on top.

Bake for 30-35 minutes or until toothpick comes out clean.

Once cooked, turn off oven, remove cake from oven and top with marshmallows, graham crackers crumbs, and Hershey bars. Return to the turned off oven for 2-3 minutes to melt the toppings.
Stir together the brown sugar, graham cracker crumbs, and melted butter.