Cook once, eat twice. Doesn't that sound like the best idea ever? This shredded pork will give you just that – two (or more) meals in one. Just a few ingredients and you have tender, flavorful meat that is good with just about any Mexican inspired dish.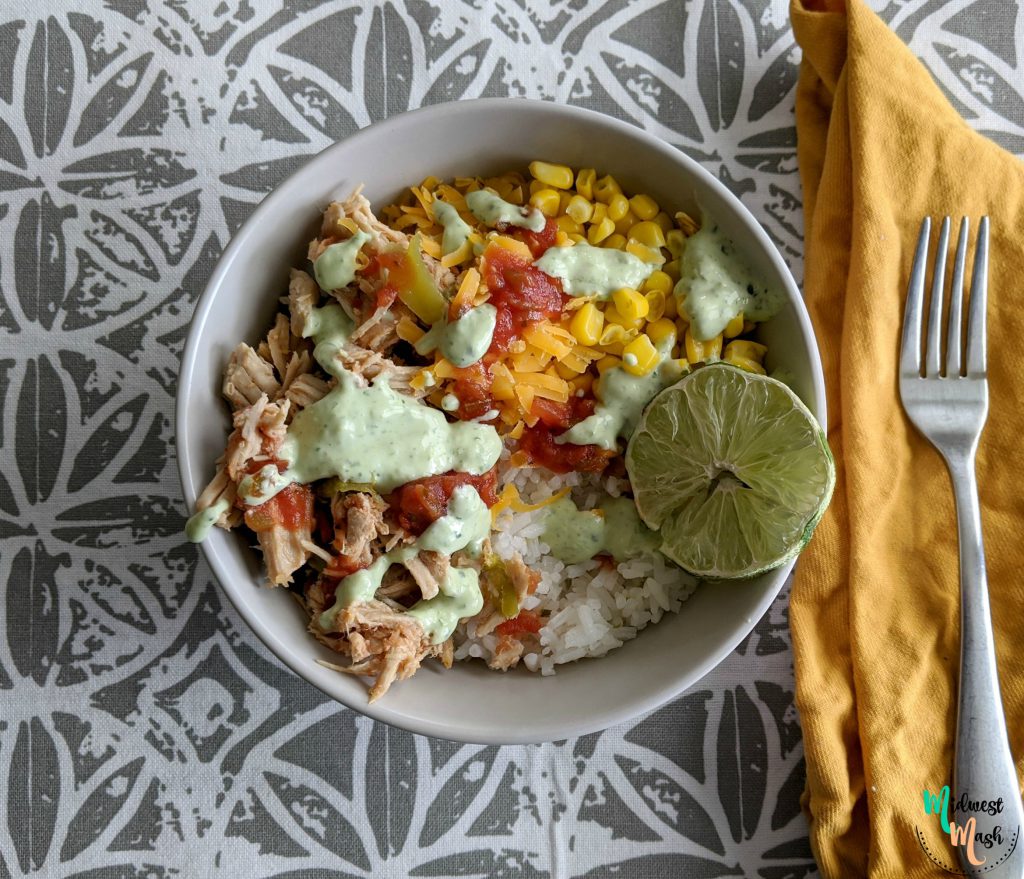 I'm all about getting dinner ready before the 5:00 rush at our house, and if there's a way I can basically skip prepping altogether I'll take it! This Crock Pot Salsa Shredded Pork does that for me (and you too!). By using a 2-3 lb pork loin, you'll have PLENTY of leftovers to repurpose the next day. This time, I used mine for burrito bowls (as seen above) one night, and for Chipotle-inspired burritos the next day. It would also be great in enchiladas or in migas if you need a breakfast idea. I could go on and on with ideas for using this pork, like Bubba in Forrest Gump but I'll keep the list to myself and let you figure out what makes your family the happiest.
I'll admit that one of the main reasons I made this this week was because we finally broke down and bought the Cilantro Lime Crema double pack at Costco so now it's my secret (not so secret) mission to find ALL the ways I can use it. Hence, the copious amounts on my burrito bowl above. I maybe could've made it a little bit more attractive for its photo shoot, but let's be honest, I also eat the fruits of my labor so taste > looks for this one. It's so good that I would consider dipping my Chick Fil-A nuggets in it instead of Chick Fil-A Sauce which is borderline traitorous in my book.
Give it a go this week, and let your Crock Pot do the dirty work for you for 1, 2, or even 3 days worth of meals. I'd love to see the ways that you cook once and eat twice with this one! Tag me on Instagram (@midwest.mash) or post on my Facebook Page (Midwest Mash). ❤️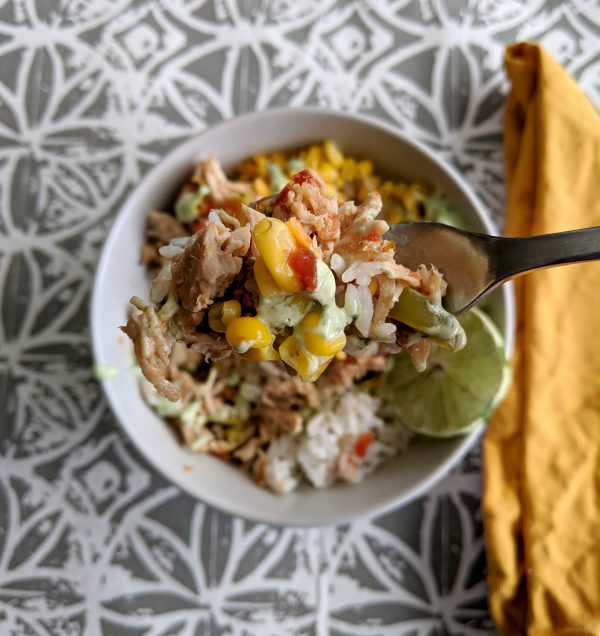 | | |
| --- | --- |
| | |
Trim pork loin of excess fat. Place in Crock Pot, sprinkle with taco seasoning. Pour salsa over loin.

Cook on low for 6-8 hours or high for 4 hours.

During the last hour of cooking, shred the pork and then add the sliced green pepper and red onion to the Crock Pot with the pork.

It's done once the vegetables are tender. Enjoy in burrito bowls, in burritos, as the protein in enchiladas, or any other way you want to use it.

To use again the next day, store in the refrigerator until ready to use and then reheat in microwave, on stovetop on low, or back in the Crock Pot until warmed through. This would also freeze well with the same reheating instructions.
I recommend using this as burrito bowls. I made mine with rice, corn, shredded cheese, salsa, Cilantro Lime Crema, and a squirt of lime juice.
To make the burritos shown above, mix warm pork, rice, corn, salsa, cheese, and crema in a bowl then roll up in tortilla shell.