I love a savory breakfast, and these biscuits are the perfect addition. Subtle flavor but big textures due to the soft interior and crunchy exterior. These are the perfect base for biscuits and gravy too!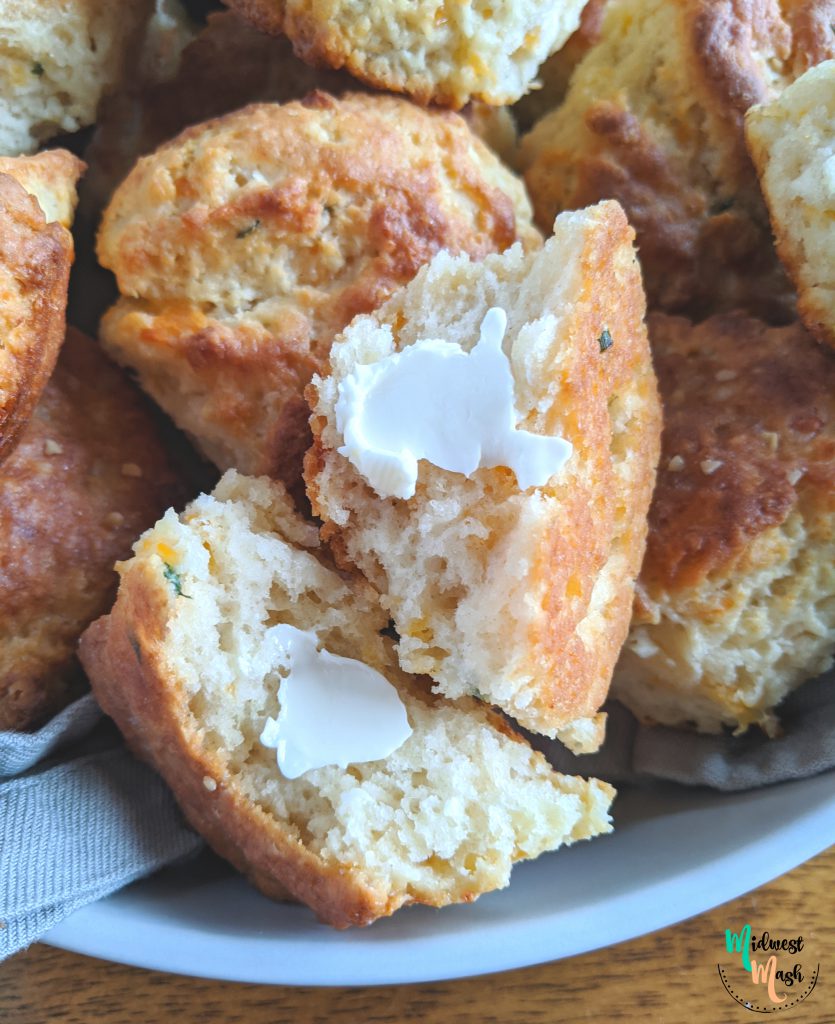 I've been wanting to make flavorful, homemade biscuits for awhile now, but I kept forgetting to add buttermilk to our once-every-two-weeks grocery haul. I finally remembered! (It's the small victories these days.) I grabbed some chives from my patio, shredded some cheese, and whipped up these amazing savory biscuits to go with my old-fashioned sausage gravy. They did not disappoint – crunchy on the outside from the excess butter in the pan as well as the cheese; fluffy on the inside from pockets of melted butter exploding while cooking. The creme de la creme – garlic butter brushed over the tops as soon as they exit the oven so they absorb every last ounce of it.
Why make homemade biscuits when you can use a mix? I'll be the first to admit, 90% of the time when I make biscuits, they are from a mix because it's easy. I can't change the easiness factor; the homemade ones do take a little bit of work, but they are better – oh so much better. Plus I can add fillings and flavors as well as have way more control over what goes into them. I feel like that's a huge part of why I make things from scratch is because I have 100% control over the ingredients. Can't beat that.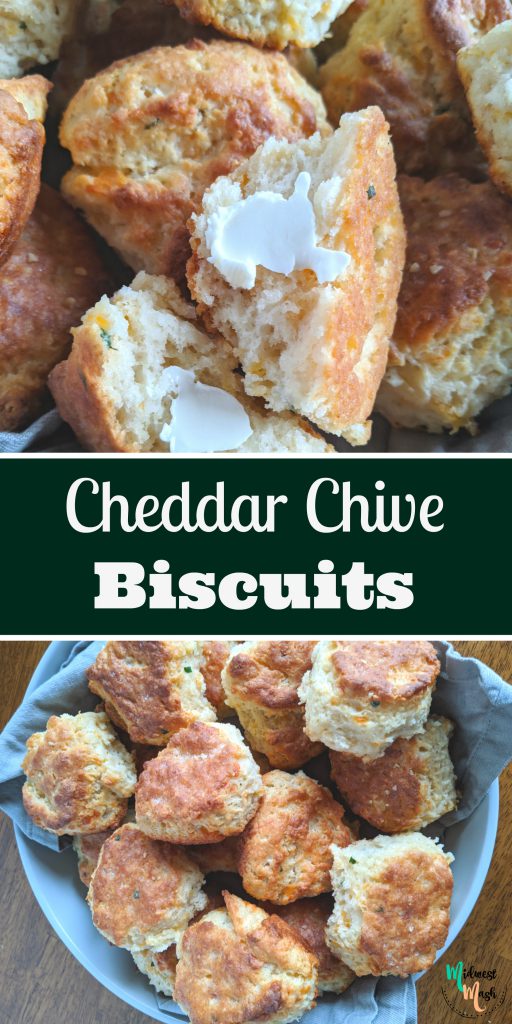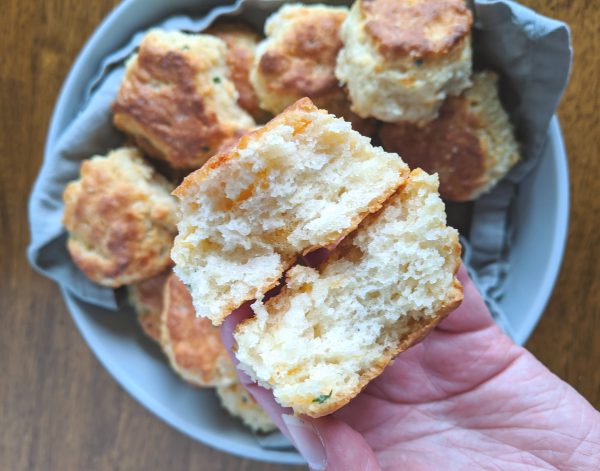 | | |
| --- | --- |
| | |
Preheat oven to 425 degrees.

Use 1 Tbsp of the butter and heavily butter two 8" round cake pans - get sides and bottom very good. Keep spreading around until all the butter is used.

With the remaining 10 Tbsp of butter, cut into small cubes and freeze for 15 minutes.

In a mixing bowl, whisk together the flour, baking soda, baking powder, salt, and sugar.

Toss in the frozen butter and use a fork or pastry blender to break the butter up until it is in pea size pieces.

Gently mix in the cheese and chives.

Pour in the buttermilk and stir just until there are no flour pockets left (all flour should be moist) but don't over mix.

Dump onto a floured surface, and form into a rectangle. Gently press down then do a book fold once. Gently press down again.

Rotate 90 degrees and do one more book fold. Gently press down one more time, fold in half, and then roll with a rolling pin to 3/4" thickness.

Use a 2 1/2 - 3" biscuit cutter if you have one, or just freehand circles with a knife to make 16 biscuits. You may have to re-roll the dough after the first set of biscuits to be able to make 16.

Place 8 into each buttered round pan. They should be touching.

Place the two round pans on a large cookie sheet. Bake on the cookie sheet for 20-25 minutes or until tops are very golden brown.

While the biscuits are cooking, melt 1/4 cup salted butter in the microwave, then stir in 1/4 tsp minced garlic.

Remove biscuits from oven and from cookie sheet. Immediately brush with all of the butter. Allow to cool for 10 minutes, and then remove from the round pans to a cooling rack. Best served immediately but you can store them on the counter in a sealed container.