Thought of the Week: It's a beautiful day. The sun is shining intensely, the birds are chirping and fighting at my neighbor's bird feeder, and I have the sound of rushing water at my feet as I fill the kiddie pool. For a brief second I forgot that the big scary world existed. I've reached the point in this isolation where it's easy to only exist in my own bubble. The Zoom calls with friends have slowly faded as everyone either gets burnt out on it or has started to re-enter life outside their homes. Sometimes the text message that you read but forgot to respond to prolongs a simple conversation over days which feels a little disconnected even with your best of friends. I try to get on here and write even if it's something I'm not going to publish, but to be honest, it's hard to get a creative flow going when there's no outside experience to feed on.
My husband and I did emerge from our house to pick up food on our anniversary, and I do think it's interesting (but also frustrating) observing how people react to the progression of re-opening things. Here in Colorado, we switched from a Stay At Home order to a Safer At Home order a couple of weeks ago. Workforces can slowly return to work but at limited capacity. Stores can start to reopen but again at a reduced capacity and respect to social distancing. Some outdoor activities such as campgrounds can reopen, but you are not supposed to travel greater than 10 miles for recreation. In my county a mask is mandatory in any business and in any location where social distancing is difficult. I bet you can imagine that most of those rules were not followed over a holiday weekend, especially the recreation piece. I get it, we live close but not 10 miles close to the mountains, and it's natural to want to migrate to higher elevations on a long weekend. The virus doesn't care about a holiday weekend though.
We drove to pick up some to-go ice cream on our anniversary at one of our favorite local places, and they have a grassy pavilion out front for people to hang out during a normal summer. It's supposed to be closed due to restaurants not having dining open. It was crowded. No respect for social distancing was taking place. Less than 10% of people wearing masks, and hanging around closely with large groups of people. It made me really sad because I realized that even if things technically start to reopen, am I going to feel safe enough to take my kids anywhere all summer when no one is respecting the rules or everyone else's safety?
That went off on a tangent I wasn't intending, but it feels important to write about these things because it's what my family is experiencing, and I know so many others are too. It will be so interesting to read this in 5-10 years, and relive the feelings and experience, for better or for worse.
Activity of the Week: This topic seems a little bit unnecessary because our activities consist of playing inside, playing outside, and eating. If you follow me on Instagram you know that my biggest accomplishment on the activity front is setting up a rock painting station for my toddler that kept him entertained for 30 minutes. We did however have a smoothie picnic the other day, and my kids LOVED it. It was totally messy, and I think I spent more time preparing beforehand and doing laundry afterwards than they did actually enjoying the smoothie bowls, but it was a wonderful break from the norm. Here's another lame, but effective hack: add dish soap to your water table before filling it. You will have mountains of bubbles, and my kids stay entertained forever either eating the bubbles (yes, it's fine, I read the label), making bubble beards, or washing things.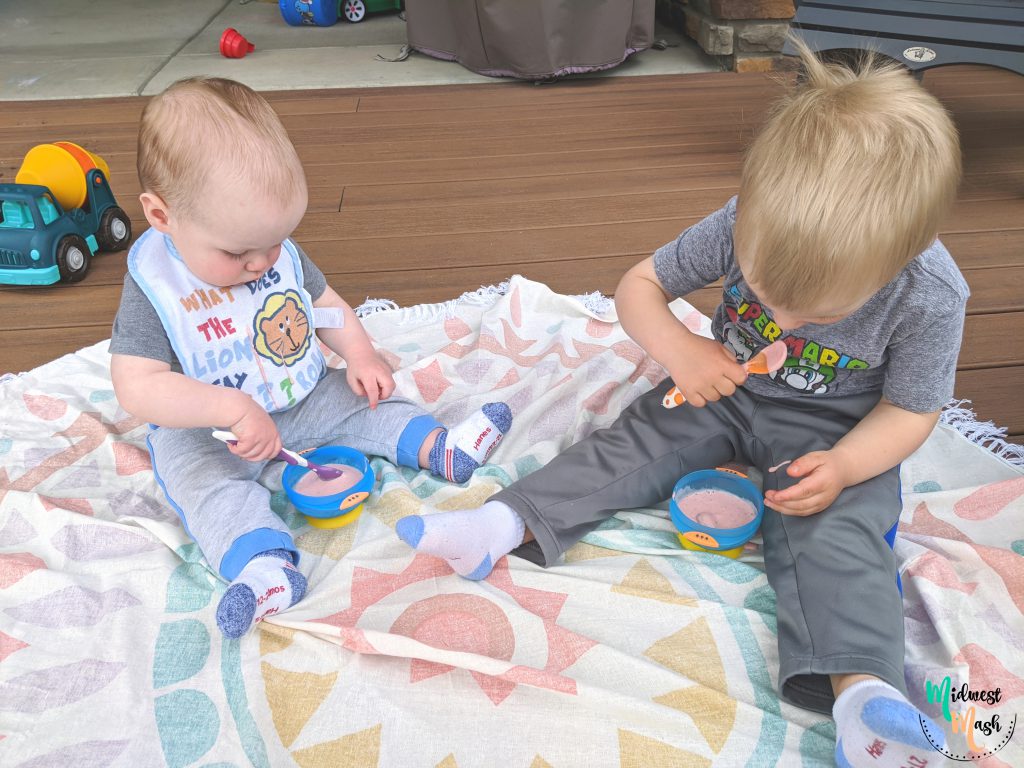 Sorry, that's all I've got for you today on the activity front. I'll try harder next week, or maybe not. We ordered a new kiddie pool that has a slide, and we just got a playhouse today so that will probably be our "activity" for next week. If we can't go to the parks all summer we have to bring the park to us – mainly to give them variety and make sure they are still exploring, learning, and using their little bodies.
Favorite Things: I was going to post the pool I got the kids, but apparently it's already sold out on Amazon. It was so hard to find one at a normal price! Yikes! I'll keep checking, and if it comes back in stock I'll make sure to let you all know. With a lot of summer birthdays coming up, I thought it would be fun to post a book that my kids both love. My one year old and my almost three year old both equally go after this book almost daily. Have you heard of Poke A Dot books? They are interactive, encourage counting (or some other skill), and they make a fun noise. What's not to love? We have the under the sea one, but there are SO many on Amazon, and I'll definitely be snagging another one for my boys.