This side dish will give you a break from the mayo-based "salads" this summer. Easy ingredients and a simple dressing – you'll make it again and again!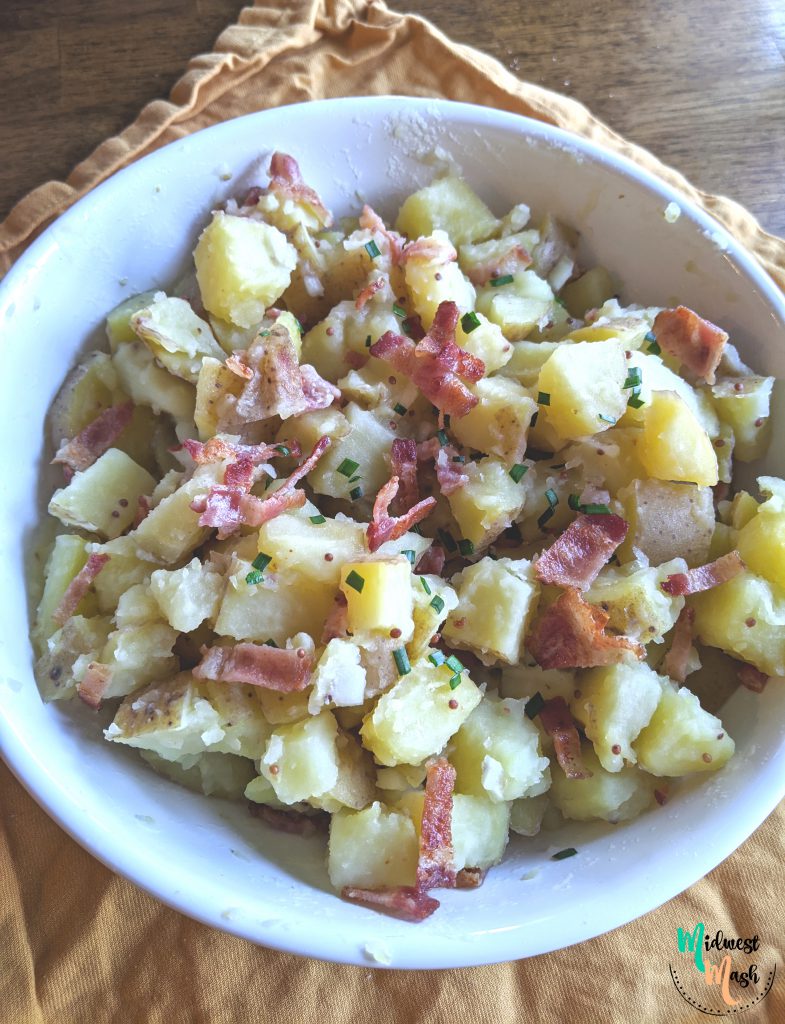 Summer side dishes are great because you can usually just throw them together, toss them in the refrigerator, and bring them out ready to serve. I would be lying though if I said I didn't get tired of all of the variations of potato salad that are bogged down with mayo. Don't get me wrong, I will put a heaping scoop of macaroni salad on my plate at every BBQ I go to, but at home I like to mix it up! Hence, German Potato Salad. Best served warm. Good quality gold potatoes soaked in a sweet vinegar dressing and topped with bacon. Perfect alongside a grilled pork chop or brat or burger or whatever meat you have left in your freezer at this point in the pandemic. Now German potato salad is not a new thing, but there are so many different variations. I love mine because the extra mustard gives it a nice zing!
My Father-in-Law despises potato salad, but I haven't made this one for him before. Maybe I'll try to sneak it on the table at our next meal together! As always with my blog, this recipe has been tested on my hubby, 2 year old, and 1 year old, and they all left me a glowing review of a clean plate. On a side note: I thought there wasn't a food my toddler disliked but apparently he doesn't care for hummus. He will eat sauerkraut straight off a fork, but he won't dip a cucumber in hummus. He is for sure my husband's son some days.
Give this potato salad a go your next time grilling out and let me know what you think!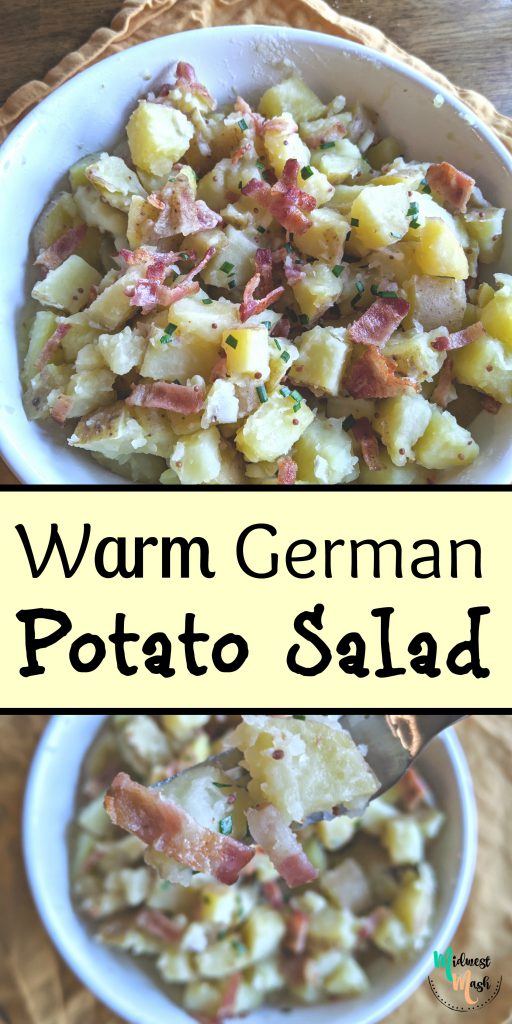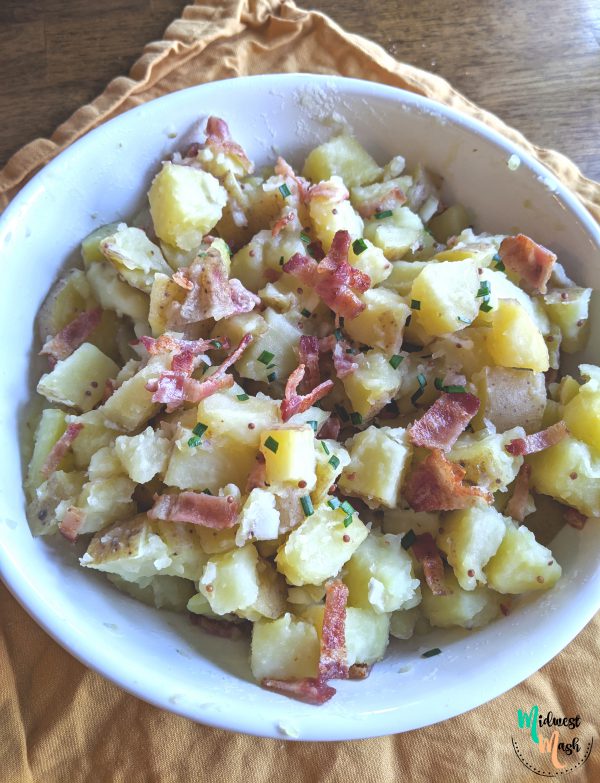 | | |
| --- | --- |
| | |
Clean and quarter potatoes. I like to leave the skins on, but if you don't prefer this you can remove them.

Boil potatoes until fork tender. While the potatoes are boiling, mince the onion and place in the bottom of a serving bowl.

Drain and cut the potatoes into bite sized pieces. (I leave them in bigger chunks for boiling because I feel like them break apart less this way). Add the potatoes to the onion then sprinkle with the salt. The onion will soften a bit from the warm potatoes on top of them.

In a small mixing bowl, stir together the vinegar, sugar, water, and mustards until sugar is dissolved. Pour over the potatoes. Stir thoroughly without smashing the potatoes until the dressing is absorbed by the potatoes.

Stir in the bacon and then sprinkle with chives before serving.
You can sub gold potatoes for red potatoes. I wouldn't recommend russets because they break apart so easily.
If you don't have Old Style mustard you can sub it for another teaspoon of dijon or a teaspoon of regular yellow mustard.
Leftovers: Store in the refrigerator and eat cold or heat in the microwave the next day.