Are you a Coloradan and ready to take part in Level 3: Safer at Home and in the Vast, Great Outdoors? Recently our Safer At Home order shifted from recommendations for recreation no greater than 10 miles from your home to being able to enjoy our great state responsibly as you see fit.
We left our community bubble last weekend for the first time in 3 months to head to the mountains. Fresh air, hiking, and quality family time in a different setting were much needed. We love the national park, and we have held an annual pass since we moved to Colorado, so it's not new to us, but we were still a little unsure of what to expect. 
The park just opened up last week after being closed for a couple of months due to the coronavirus, and the biggest change in place is now the use of a timed reservation system to even gain entrance to the park. Go to the Rocky Mountain National Park information page here to find the latest information about the park, and to get a link to recreation.gov which is where the actual reservations are made. To skip a step, just click here to go straight to buying a ticket at reservation.gov. If you hold a park pass that is up to date, the ticket is technically free, but there is a $2.00 processing fee you will have to pay at the time of "buying" the ticket. (Have your park pass handy because you will have to input the number.) Once you've bought the ticket, they will email it to you where you can either print it off, or you can pull it up on your phone upon entrance to the park. 
So, numbers are always fun. It looked like they were letting in roughly 400-600 cars every two hours with their reservation system (tapered to allow more during the busier time slots and less as the day progressed). The 8 AM and 10 AM time slots were almost completely sold out when I bought our ticket 2 days before we planned on going. I looked at weekdays, and there were still hundreds of tickets available for every time. 
You have a ticket! Great! You technically have two hours from the time listed on your ticket to enter the park. It was my understanding that you can not enter earlier than that time, and if you try to get in two hours after your ticketed time you will also not be allowed to enter. There were rangers pre-checking your ticket before you even got to the entrance gate so that people who didn't have one could turn around without holding things up too much. 
We bought a ticket for 8 AM on Sunday, and we didn't end up getting there until 9:45 AM. We had no problem getting in, and the car line was maybe 8 cars deep. We went through the Beaver Meadows entrance on the East side, and we decided to head for Bear Lake. The parking lot was full, and they were actually running the shuttle bus (shuttle bus parking lots were almost full too). We did not attempt to go there because it was beyond our comfort level in regards to social distancing for this trip. We then tried Sprague Lake which is an amazing small hike for kids, but that parking lot was also full with people waiting on people to leave to get spots. Again, not in our plan for the day. We ventured back up the road and found Hollowell Park picnic area and trailhead. It had a small parking lot that wasn't full, picnic tables, and plenty of space for people to do their own thing. We hiked for about an hour out and back, and our almost 3 year old was able to hike that distance himself. The hike took you up to a creek that had some cool rapids as it was coming down the mountain. If we would've kept hiking, we would've eventually reached a lake, but that was about 3.5 miles out I believe. (too much for little legs)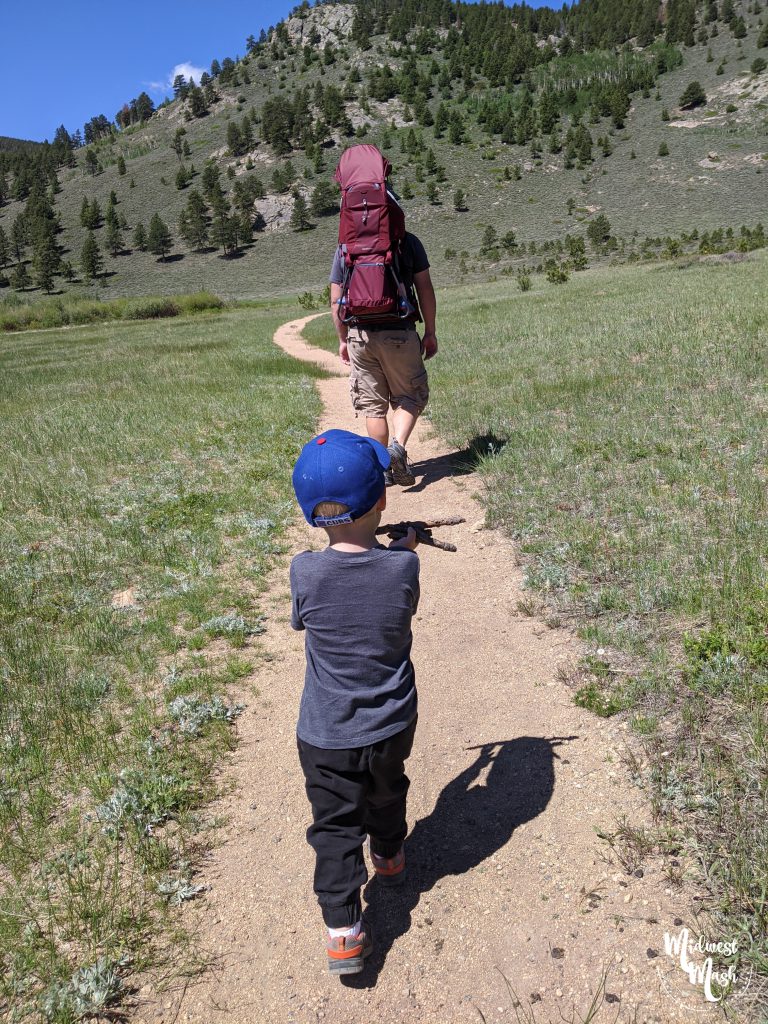 For lunch, we were one of only two families eating, so we were definitely able to have our space. There was also plenty of flat ground to lay down a picnic blanket if you would rather do that too. (Just a small mom win I need to share – we haven't really been anywhere since my toddler has been fully potty trained so I was nervous about this trip, but we took our small potty with us and he was totally cool with using it!) For the adult bathroom situation, Hollowell Park's bathrooms were open. Single person bathrooms, and they were fully stocked with hand sanitizer. 
We hit up Sprague Lake again on our way out of the park because we know our kids enjoy it so much, and there were plenty of parking spots at that time. People-wise it was more crowded than Hollowell Park, but easy to step aside to provide social distancing, and me and my husband wore masks when passing others. I would say that there were surprisingly quite a few out of state vehicles at Sprague Lake, so not everyone was aware of mask recommendations for the state of Colorado. If you are traveling this summer, do your research about where you're going and what is recommended for public safety.
Speaking of that, when we left the park, we drove through Estes Park on our way home, and it was CROWDED. I think my jaw was almost on the floor the entire way through town. People shoulder to shoulder on the sidewalks, and probably less than half wearing masks. I was grateful we had no need to stop in town for anything. Like I said, we are still strongly practicing social distancing for a variety of personal reasons, so seeing that made my anxiety shoot through the roof. If you are in the same mindset that we are in regards to precautions you are taking, I would strongly discourage stopping in town. Bring everything you need with you, including gas as the gas stations were overflowing as well. 
Here's a little summary because that was long: 
You have to make a reservation by buying a ticket until at least July 31. You can do that here. 
Prepare for the popular places to be almost as crowded as usual. Maybe do some research to have a backup plan in case you are unable to hike/picnic where you normally do. 
Bring wipes and hand sanitizer if you are worried about bathrooms, picnic tables, etc. 
Go early and leave early. The line to get in was MUCH worse at 1:00 when we left the park than it was at 10:00 when we got there. 
Some trails are challenging to provide the full 6 feet between you and fellow hikers. In my opinion, it is courteous to wear a mask when passing people for your safety and theirs. 
——————————————————————————
I want to continue writing about food, family, and motherhood on my blog. It's the core of what Midwest Mash was built on, it's my hobby, and it's my journal. That doesn't mean that I am ignoring the issues going on in the world. In reality and in the 99% of my life you don't see on this blog, I am listening, learning, petitioning, donating, and teaching my kids anti-racism. They are 1 and 2, so we have talks, but the biggest, best way for me to relay those messages right now is to allow them to see the world and experience people, cultures, and all aspects of society. I will continue to seek out resources for myself, and share those resources with others on my Instagram stories as so many others are doing.