Recipes that are loaded with good stuff but also allergy friendly can be hard to find! This skillet is so customizable that it will fit your family's needs – whatever they may be!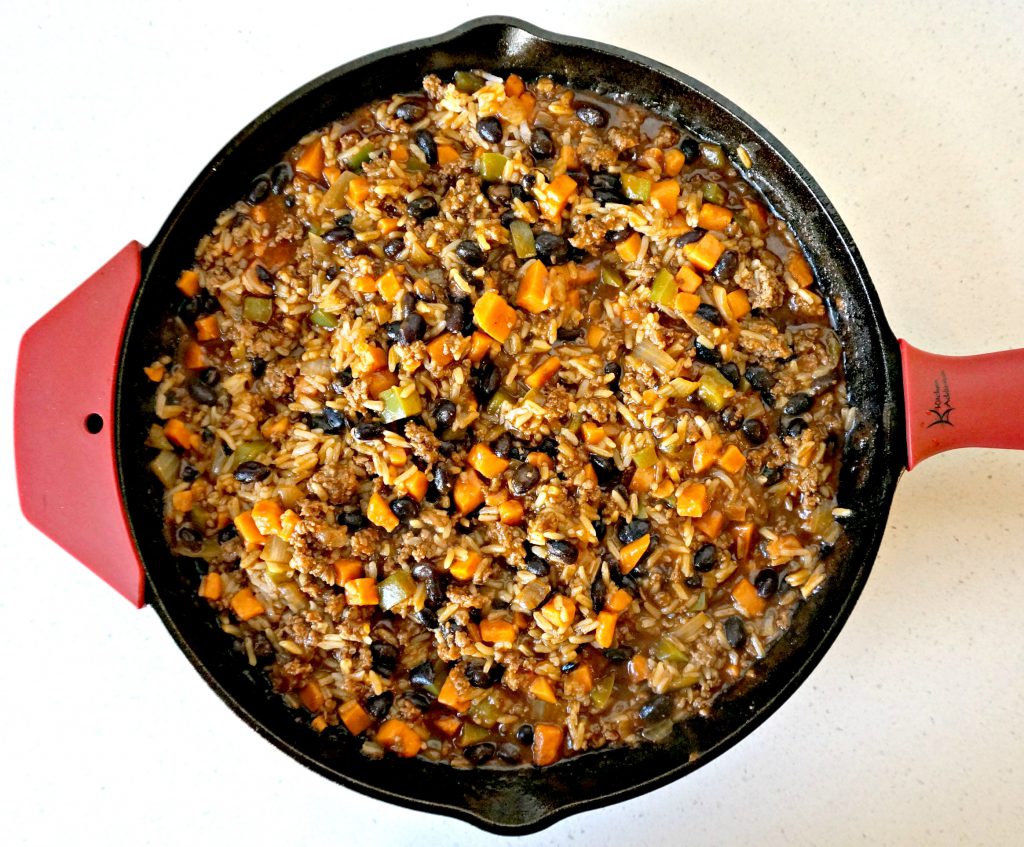 I feel fortunate to have zero food allergies to contend with in my household (so far!), unless you count peaches giving my toddler extreme diaper rash. I can't even imagine how hard it must be to constantly have to think about what you are buying, cooking, and eating. I have so many friends that have allergies themselves or have kiddos with them, and I am excited to start developing recipes to meet some of those needs.
One of the awesome things about this Sweet Potato Enchilada Skillet is that the base of it (seen above) is free from all of the allergens I listed. Although I have been told to watch out for canned goods, especially enchilada sauce as they try to sneak in things occasionally! The skillet is wonderful just as it is, but you can fancy it up if you wish – we love to add cheese, sour cream, and torn up tortillas to ours, but green onions, olives, and jalapenos would also be great.
I made this with ground beef because that brings the most flavor in my opinion but you could use ground turkey or ground chicken instead!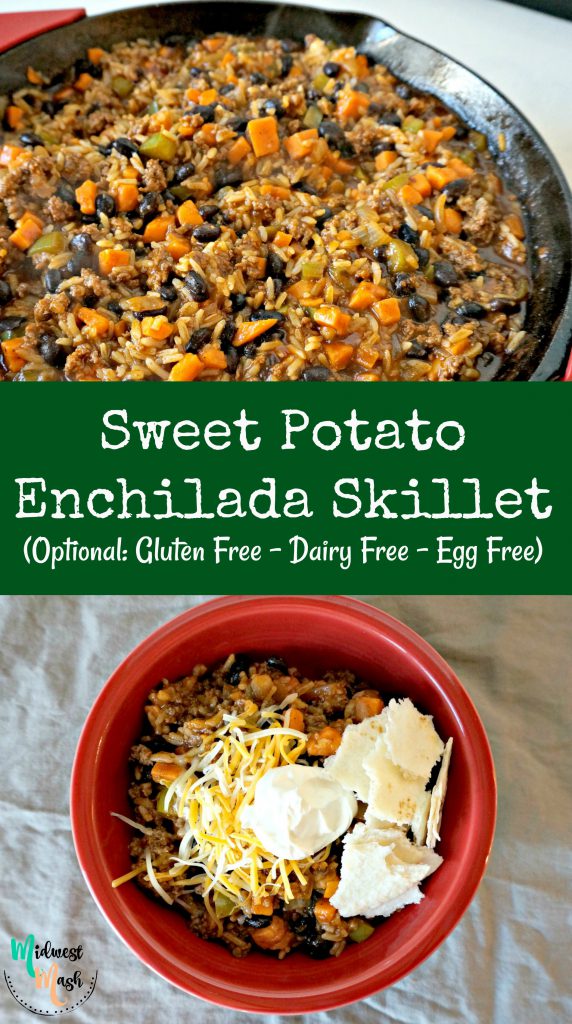 Cook rice according to package instructions.

In a large skillet (I used Cast Iron), heat 1 Tbsp Olive Oil over medium-high heat then add sweet potato cubes. Cook for 5-7 minutes or until sweet potatoes just start to soften. Add in the diced green pepper and cook for an additional 2-3 minutes.

Add the ground beef and diced onion to the skillet with the sweet potato and green pepper. Sprinkle on the cumin, chili powder, salt, and pepper. Cook until ground beef is cooked through.

Pour the two cans of enchilada sauce and the can of black beans into the ground beef and vegetable mixture. Let simmer for 5-7 minutes.

Stir cooked rice into skillet mixture and let cook for 2-3 minutes. Spoon into bowls and top with desired toppings (cheese, sour cream, torn tortillas, green onion, etc).
Note: adding toppings will add possible allergens.