When it's almost 100 degrees outside, a quick and fresh dinner using summer ingredients sounds like perfection! These simple flatbreads are full of flavor without the fuss of a huge meal. Need an app for when we can actually see friends again? Southwest Shrimp Flatbread for the win!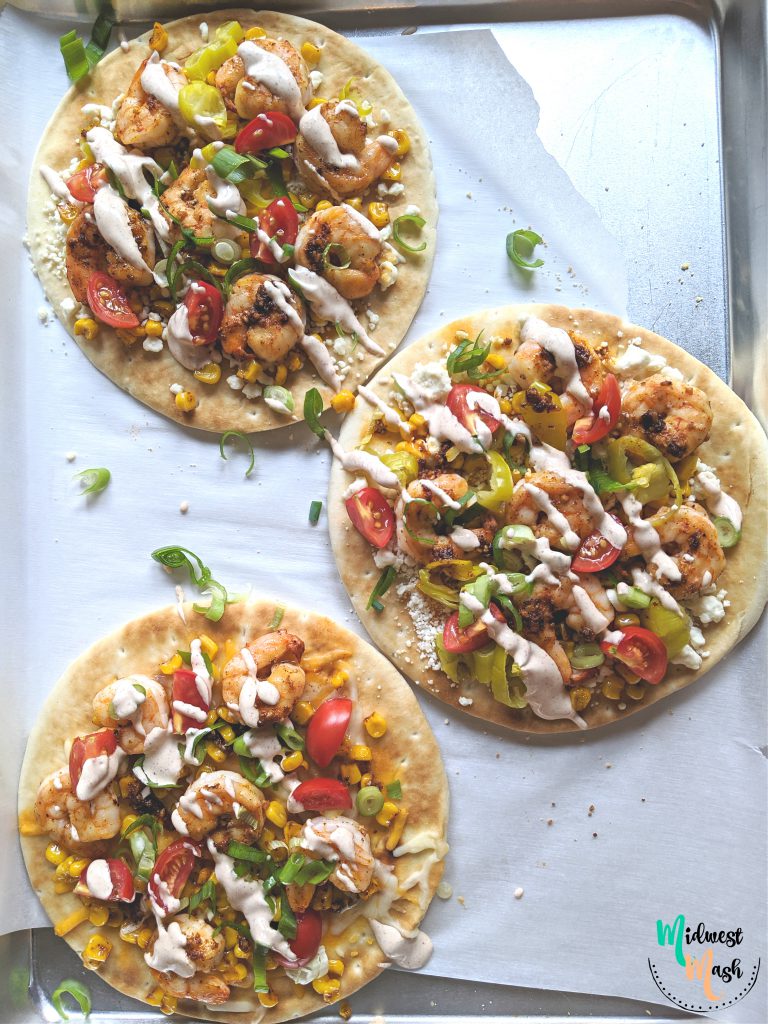 Summer is winding down, so it's time to soak in all the fresh ingredients you can. I picked some cherry tomatoes from the pots I had outside my back door, and I needed a new way to use them that wasn't in the form of a salad (don't get me wrong, I love a crisp, cold salad in the summer too!). I think I wrote a few months ago, maybe even a year, that we were trying to reduce the amount of red meat we are eating. It's going….okay. Ground beef is just so easy to use. We have, however, eaten way more fish which is awesome, and my kids love it (usually). I'd like to say I feel healthier, but quarantine + eating healthier has pretty much had a net zero effect on my waistline.
Back to the task at hand: Southwest Shrimp Flatbreads. We made our every 3 month Costco haul the other day and came home with a huge pack of their "Papa Pita Greek Pitas" aka flatbreads. They are so soft and pillowy, and are perfect when plopped on the grill for a couple minutes. You get about a zillion of them though, so do yourself a favor and toss half in the freezer right away. You need shrimp, corn, feta cheese, tomatoes, green onions, and pepperocinis as the main cast of these flatbreads, and I whipped up an easy homemade southwest sauce to drizzle on top. It adds a pop of coolness and zip. (Recipe included below).
Give this a go the next time a casserole sounds too heavy for the end of August (or it's December and you're wishing it was August). Tag me on Instagram @midwest.mash. I would LOVE to see your pretty creations!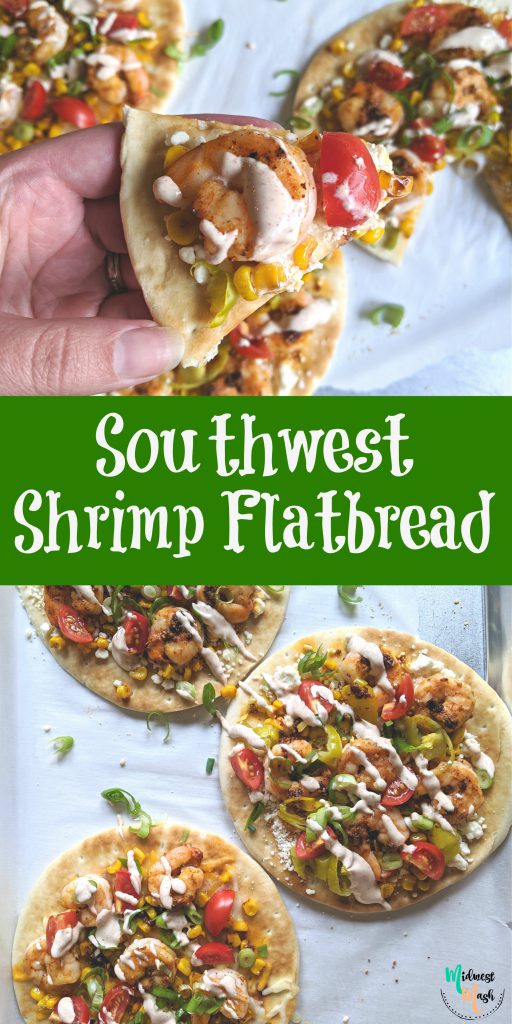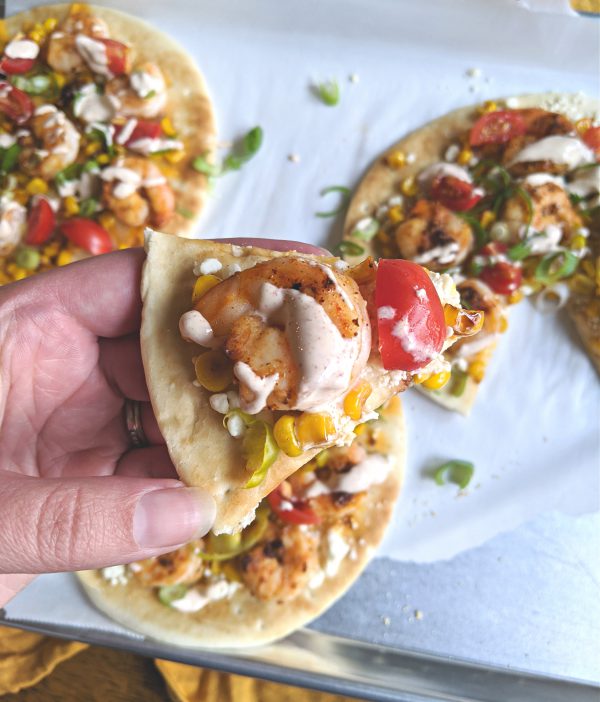 Shrimp + Flatbread Toppings
| | |
| --- | --- |
| Shrimp + Flatbread Toppings | |
Shrimp + Flatbread Toppings
Preheat oven to 400 degrees. Thaw the shrimp and remove tails.

In a medium skillet, heat the olive oil over medium heat. Stir in the chili powder and garlic, cooking for 30 seconds. Add the shrimp to the skillet. Cook until you can start seeing white on one side them flip over. Cook for just another 30-60 seconds then remove from the pan.

In a small skillet, cook corn over medium heat seasoning with salt and pepper until just starting to brown (when about 1/4 of the kernels are roasted) then remove from the pan.

To assemble flatbreads: place flatbreads on a cookie sheet or sheets. Evenly distribute the feta over the 3 flatbreads.

Next place the shrimp on top of the feta (about 6 on each). You should have some olive oil/chili powder/garlic mixture left in your shrimp pan. Drizzle this over the flatbreads (yum!).

Bake in the oven for 5-7 minutes or until the edges of the flatbread are just starting to get hard.

Remove from the oven and top with tomatoes, pepperocini peppers, green onion, and southwest sauce. Cut into wedges and enjoy!
In a small bowl, stir together the mayonnaise, sour cream (or Greek yogurt), chili powder, paprika, cumin, salt, and lime juice. Refrigerate until ready to use.
You can double this recipe if you need to feed more people. These 3 flatbreads fed 2 adults + 2 small kids. As an appetizer, expect to get about 18 pieces.
If you love a little more spice, some diced jalapeno would be GREAT on these! Or a drizzle of siracha.