Sous what? Sous vide means "under vacuum" in French. It is actually way less complicated than it might sound. Vacuum seal some meat in a bag, use a sous vide to set the temperature of a water bath to exactly what you want, and submerge the meat until it is done. In this rib recipe, come back 72 hours later and you have 'fall off the bone' perfect ribs.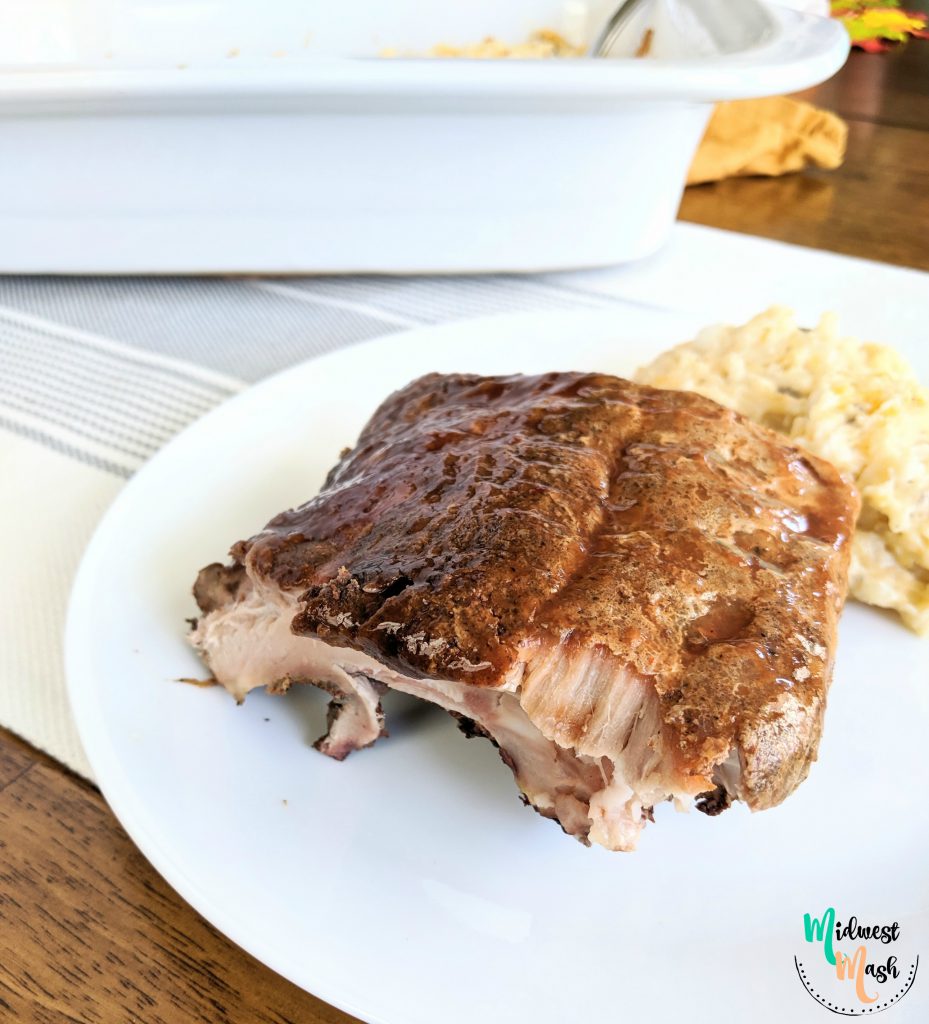 I had never heard of a sous vide until some of our good friends made us steaks in one. They were the best piece of meat I have ever eaten – I was sold! They also made us these ribs at another gathering, and I don't usually like ribs but these were like butter. You could barely pick one up without it falling off the bone. A good piece of sous vide meat usually gets finished with a sear, broil, or some sort of quick browning. Our friends used a blow torch for these ribs 😬. We don't have that kind of equipment at our house, so I use a broiler and it works great!
A sous vide is actually a simple yet elevated piece of kitchen equipment. When you buy a sous vide, it is just comes as a device that you clip onto the side of a pot or container that will hold enough water to submerge your bags of food in. I use the Anova Culinary Sous Vide Cooker Nano, and it can actually be run through an app on your phone. So you clip the sous vide to the side of a container, fill the container with water, and set your sous vide to the desired temperature (ie. for medium steaks, 140 degrees) and let the water come up to that temperature before you add your food. Then leave the meat in the water for the recipe stated time. The app that goes with the Anova has a handy guide in it too, but you can easily find most guidelines by googling it.
You can use a fancy vacuum sealer to put your food in, or you can double up on Ziploc bags (get all the air out though). I'll link my sous vide and accessories below if you are interested! It's a great gift if you have a foodie in your life because it is just as easy as a slow cooker, but way more precise.
These are good products to get you started. As I write more sous vide recipes, I will link more accessories. The lid isn't 100% necessary but it is helpful to keep the heat in, and to secure your bags.
Anova Culinary Sous Vide Cooker Nano: Click Here ➡️ Anova Culinary Sous Vide Precision Cooker Nano | Bluetooth | 750W | Anova App Included
Lipavi Sous Vide Container: Click Here ➡️ LIPAVI Sous Vide Container – Model C20 – 26 Quarts – 21 x 12.8 inch – Strong & Clear See-thought Polycarbonate – Matching L20 Rack and Tailored Lids for virtually every circulator sold separately.
Sous Vide Container Lid (Will fit the container above): Click Here ➡️ Wellborn Sous Vide Container Lid (WHL-26) for WHC-26 also fits to Lipavi C20, Strong & Durable Lid for Anova Culinary Precision Cooker & Anova Pro & Anova Nano, Polycarbonate Clear, NSF Approved (Lid Only)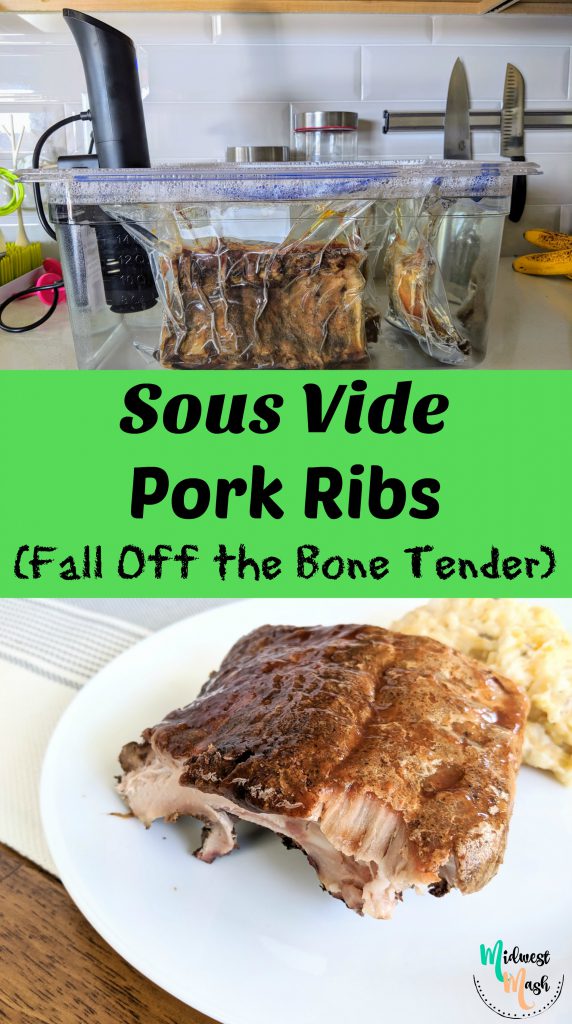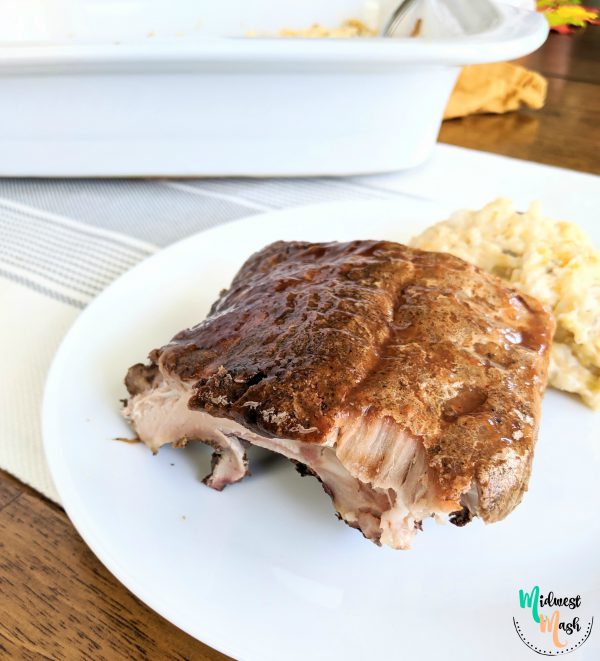 Prepare sous vide and set temperature to 145 degrees.

Cut rack/s of ribs in half and trim of excess fat. Apply Butt Rub generously to meaty side.

Place half racks of ribs into individual gallon sized storage bags (or vacuum seal if you have one), get all of the air out of each bag, seal it, and then place that bag into another gallon bag. Release all of the air from the second bag and seal also. Your ribs are ready to be placed in the sous vide.

Once the sous vide is up to temperature, place the bags of meat in the water, making sure that the bags aren't touching (as much as possible) and that they aren't touching the sous vide itself. If you are having trouble getting them to stay submerged, I have placed spoons or heavier utensils between the two layers of bags so they will sink. You can also try magnets by placing a magnet in between the layers of bags and setting the sous vide container on a cookie sheet (the magnets will be drawn to the cookie sheet).

Let the ribs cook in the sous vide for 67 hours. During the final 5 hours of cooking (hours 67-72) turn up the temperature on the sous vide to 155 degrees. No need to remove the ribs while you are turning up the temperature.

When the ribs have been in for 72 hours, carefully remove them. Place them on a cookie sheet, meat side up. Brush with barbecue sauce if desired and place under the broiler of your oven for 5-8 minutes or until the outside is caramelized.

Serve with a wet wipe and enjoy!
You may need to add some water to the sous vide container every day to keep the level above the "minimum" line on the sous vide.