'Tis the season for party appetizers! Pretzels can seem like a labor of love but these bites are totally worth it (and totally freezable)!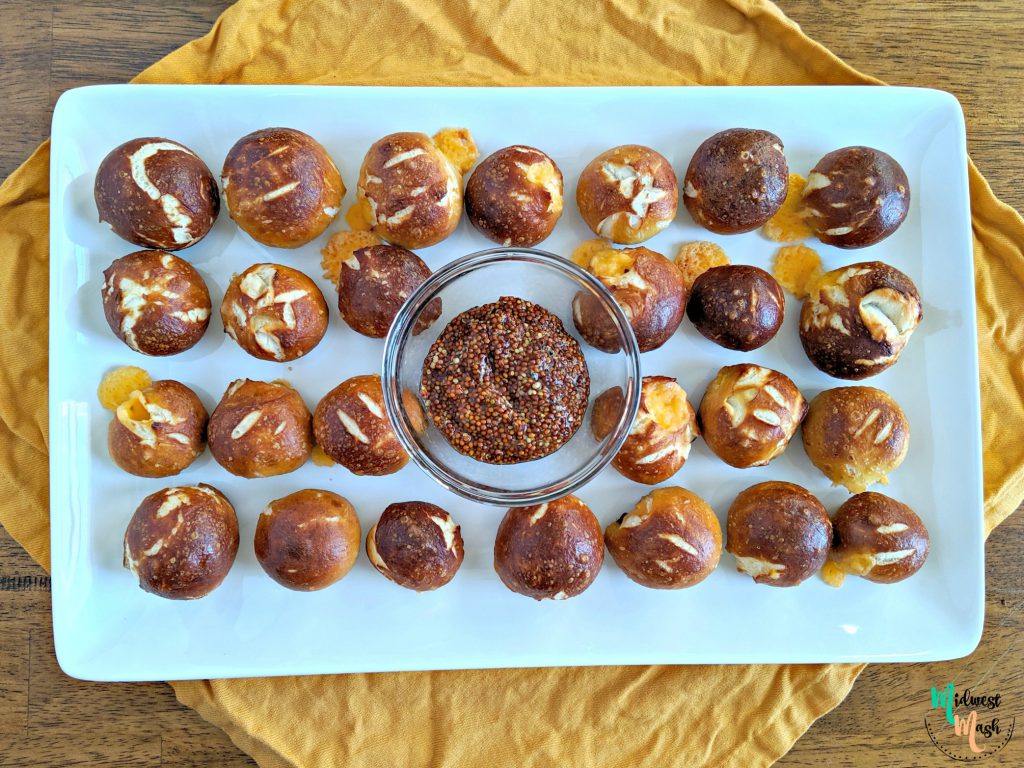 My husband is a bread fanatic, so just the mention of me making pretzels gets me some brownie points. Not to mention, my toddler is also just as happy eating bread for supper. I can't take the credit for the pretzel basics, but Alton Brown can! Get the pretzel dough recipe here. I just jazzed them up with some filling, and made them party friendly!
Skip the hassle of twisting and twirling a pretzel and make these easy stuffed bites instead. Honestly, I have yet to figure out a way to keep them from oozing out cheese, but the crispy cheese wafer has become my favorite part. This recipe makes 60 ping pong ball size bites (or more if you want them smaller), and you can freeze them (score!). Pop them back in a low heat oven or in the microwave to get them ready for guests (or just dinner in our case).
This recipe calls for weighing your butter and flour. I do recommend doing this as it is more accurate than measuring in cups, but if you do not have a kitchen scale, 22 ounces of flour is equivalent to about 2 1/2 – 3 cups – you will have to slowly add this and keep an eye on the texture of your dough to know when to stop adding. I've had my scale for awhile now, so I can't find a link to it (I use mine very frequently), but here's a very reasonable priced one and Amazon's #1 best seller for kitchen scales: Click Here ➡️ GreaterGoods Digital Food Kitchen Scale, Multifunction Scale Measures in Grams and Ounces (Grey)
Have fun and happy pretzel-ing! As always, if you give this a go, give me a tag on Instagram @midwest.mash 🍽.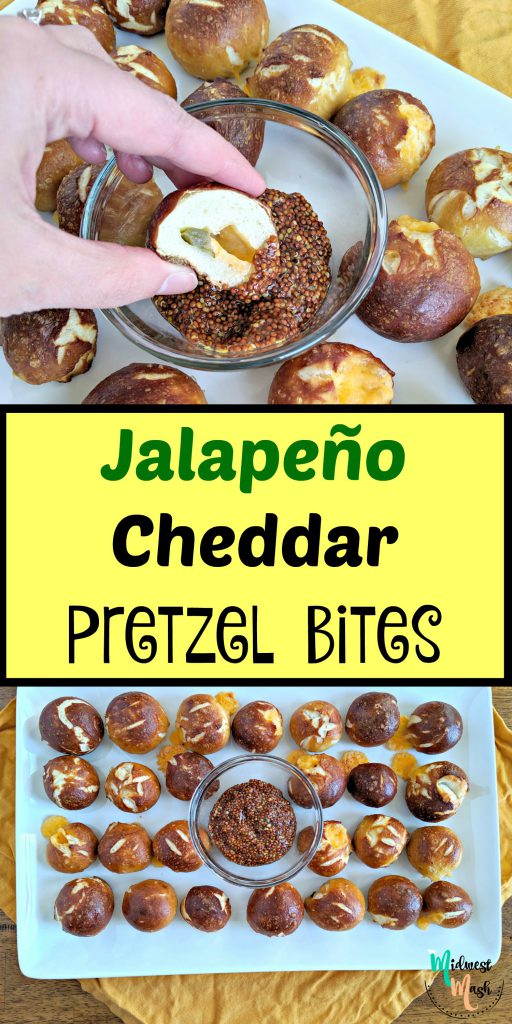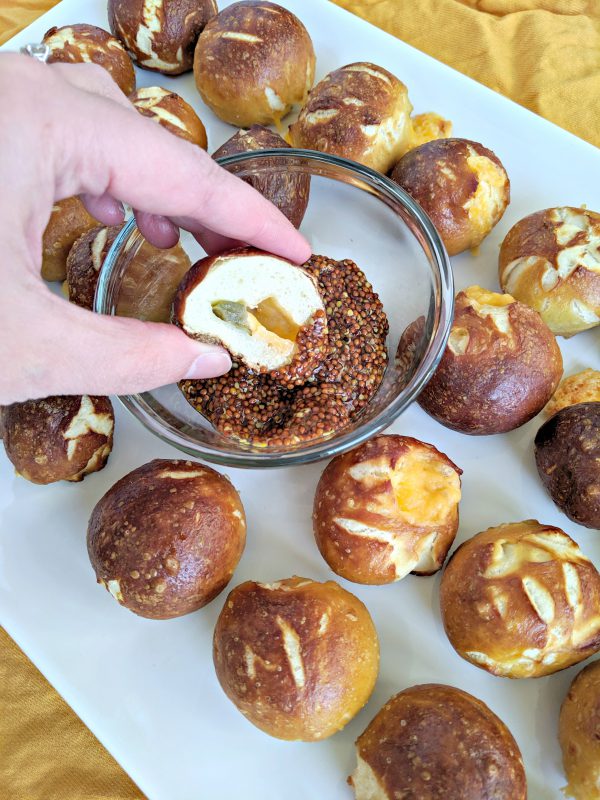 | | |
| --- | --- |
| | |
In a mixer with the dough hook on, pour in 1 1/2 cups warm water then add the sugar, 2 tsp salt, and yeast package. Let stand for 5 minutes or until yeast in foamy.

Add the melted butter to the yeast mixture and turn the mixer to low speed. Gradually add your 22 ounces of flour and dough should form a ball. Turn mixer up to medium speed and knead for 5-7 minutes.

Wipe out the mixer bowl, grease with vegetable oil, and return the dough to the bowl. Set in a warm place to rise for 1 hour.

Prep your filling ingredients by cutting each slice of jalapeño in half and cubing your cheese (they should be roughly the same size).

Preheat oven to 450 degrees and spray 2 baking sheets with cooking spray.

In a large pot, stir together the 10 cups of water and 2/3 cup of baking soda. Bring to a rolling boil.

Divide your dough into 8 sections. Divide each of those sections one at a time into 7-8 small balls. Wrap a jalapeño slice and piece of cheese in each ball, sealing it the best you can. When you have one section done, drop each filled ball into the boiling water for 30 seconds. Remove and place on a baking sheet. Once your sheet is full (usually about 25-30 bites), mix together the egg yolk + 1 Tbsp water and brush the top of each bite with this. Sprinkle each bite with coarse salt.

Bake for 10-12 minutes or until deep golden brown.

Recommend serving with a grainy mustard or cheese sauce.
If you would like to prepare these ahead of time and freeze them, just let them cool and pop them in a freezer bag. To reheat: microwave for 20-30 seconds or put in a low heat oven (~300-325 degrees) for 10-15 minutes watching carefully so they don't brown any further.