Looking for a fun treat for your Halloween party? Or just a cutesy snack for your kids to celebrate Halloween? (Or let's be honest – a treat just for you!) This is your winner right here – chocolate, cookies, and a cheesecake layer!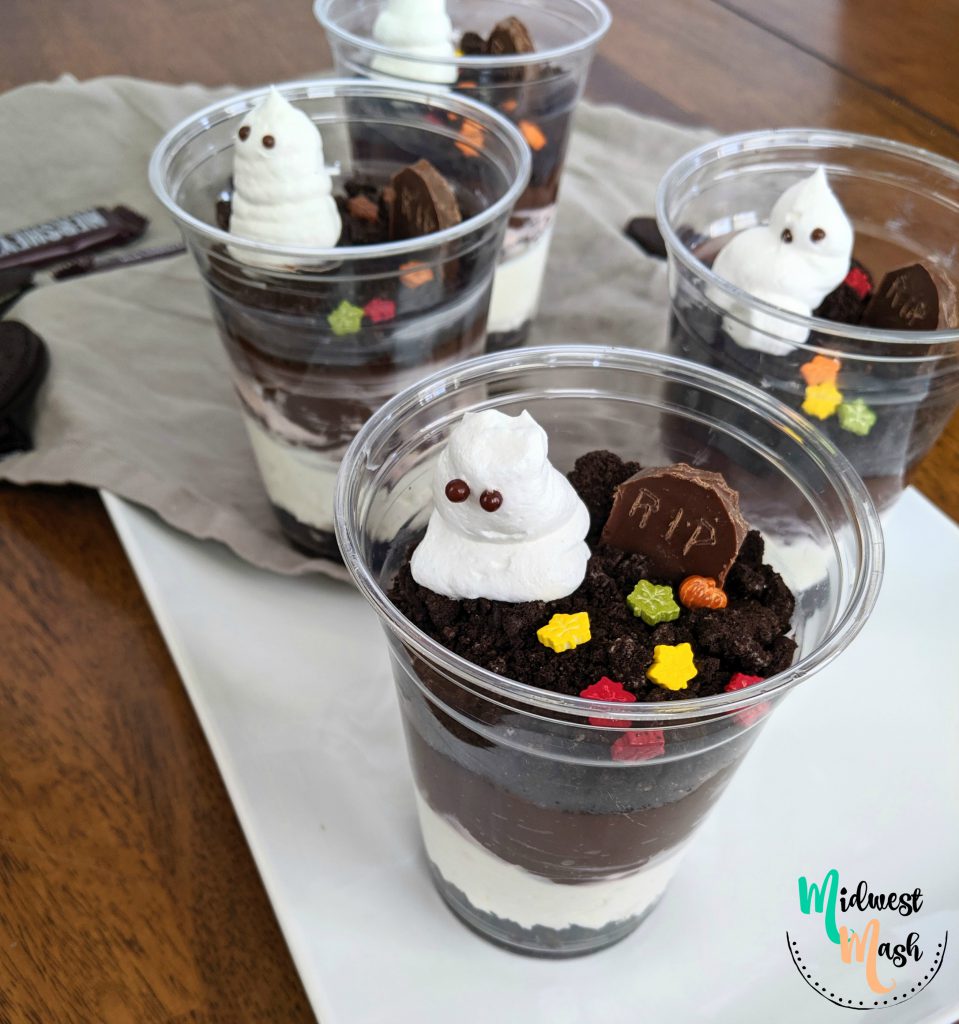 Remember the days when you could actually make homemade treats to bring to school on your birthday? Sigh. Well, since I have an October birthday, my mom always made "boo" cups for mine! It was such a fun treat, and it was a nice break from cupcakes and cookies.
I've upped the ante with this elevated version of them by adding a luscious no bake cheesecake layer. To be honest, I would recommend making these in a clear punch cup instead of the regular cup I used for the pictures. I had to use a full size cup because 1 – I thought I had punch cups but didn't (of course) and 2 – the day I made them we had a snowstorm so a trip to the store with 2 kids was out of the question. If you do end up in the same boat I was, I recommend sharing because these are RICH. Incredibly delicious, but rich.
Anyway, these are fool proof, and you can whip them up in about 30 minutes from start to assembly completion. Crushed cookies -> cheesecake layer -> chocolate pudding -> more crushed cookies -> decorations.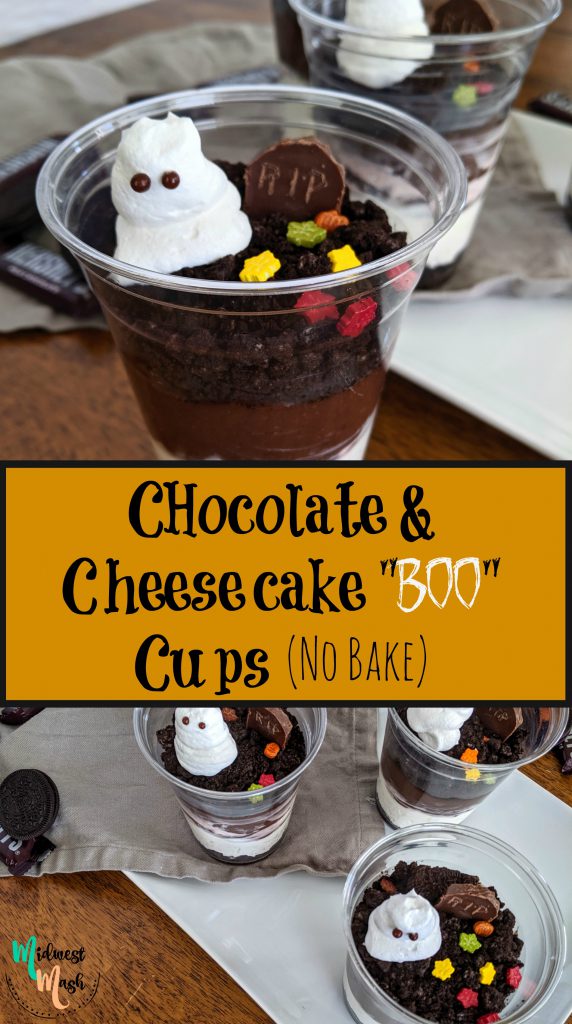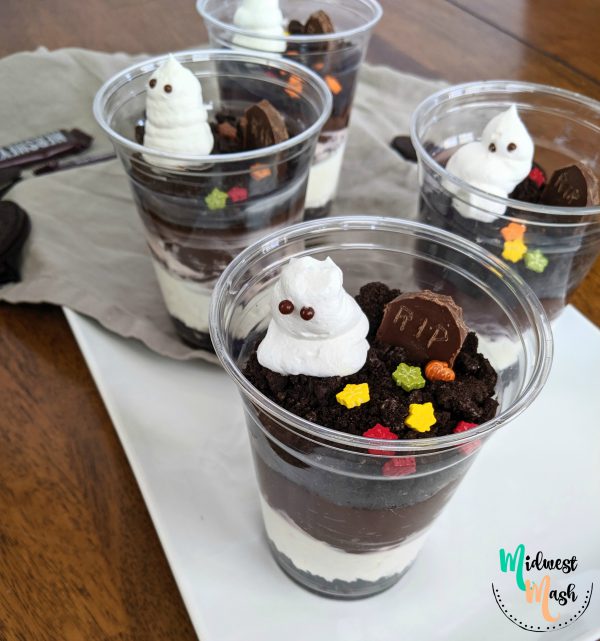 | | |
| --- | --- |
| | |
Crush Oreo cookies in a gallon bag with a rolling pin. Set aside.

With a hand mixer, whip together the cream cheese, sugar, and vanilla until smooth. By hand, gently fold in the whipped topping until combined - make sure not to over mix. Set aside.

With a hand mixer or whisk, mix together the milk and pudding packet until combined and smooth. Set in refrigerator to set for a few minutes.

For construction: Set out 8 punch cups. Put 1 Tbsp of crushed cookies in the bottom of each cup. Then spoon in the cream cheese mixture evenly into each up - start with a big spoonful in each and then distribute what you have left in the bowl. Then top the cheesecake mixture with a layer of pudding (about 1/4 cup in each). Then add 1 heaping Tbsp of crushed cookies on top of the pudding. *As you add each layer, use a spoon to flatten it out so you get a pretty layered effect from the outside.

For decorations: Put about 1 cup of whipped topping into a sandwich bag and then cut off the corner to make it a piping bag. Swirl a ghost onto each cup. I used sprinkles for the ghost's eyes but you could also use mini chocolate chips. For additional decorations, I used 2 bars of a mini Hershey's bar to make a gravestone. You can really use any sprinkles, candy, etc that you want! I found some cute leaf sprinkles on clearance at Michael's that I sprinkled on top too.
You can easily double or triple this recipe if you need to feed a larger crowd. You could probably also find even smaller cups to make this recipe go farther!
Give it a try and tag me @midwest.mash on Instagram.