Looking for a weeknight side dish that is healthy and kid approved? This is your answer! My toddler loves this roasted broccoli because it has just the right amount of seasoning, and it is steamed prior to roasting making it soft enough for him to eat. Every time I make it, I find myself snacking on it while I am finishing preparing supper – I never thought I would say I was voluntarily snacking on broccoli but it. is. so. darn. good.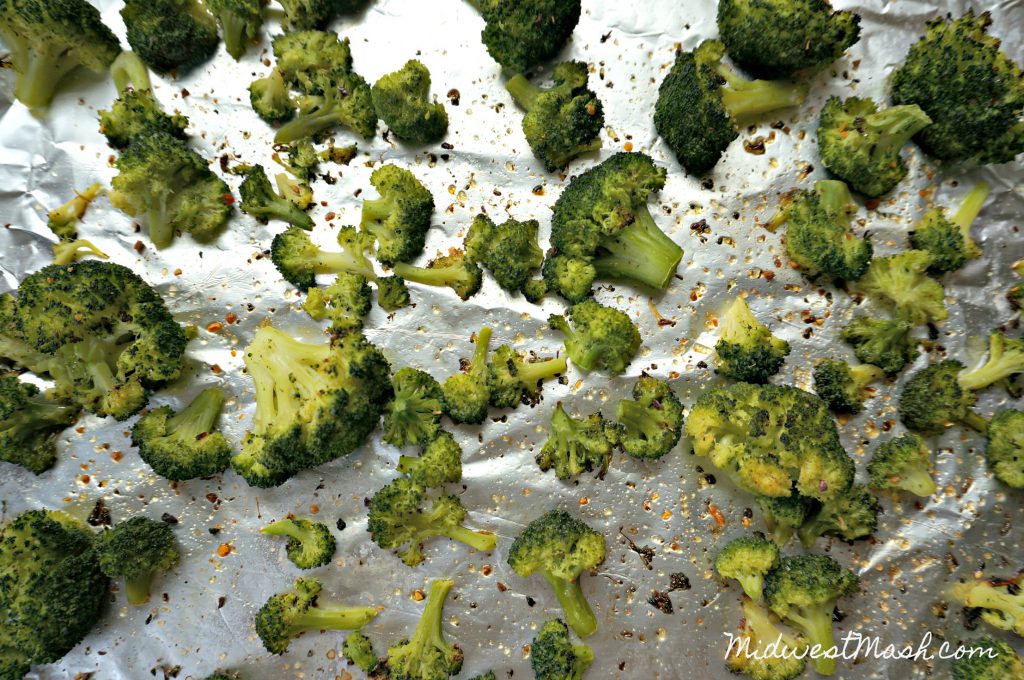 I am sitting here on this lovely 72 degree day with abundant sunshine streaming in my windows dreaming of my broccoli plants growing in my garden this summer so I can make this recipe over and over and over again. My toddler went through a period of liking no vegetables – none! He would eat every single fruit on the planet but as soon as a vegetable touched his plate, it went directly to the floor to the dog. UNTIL one day we were at my husband's work for lunch and I thought "I should see if he will eat some veggies since I didn't personally cook them", so I gave him some roasted broccoli. I looked back over at him, and all of it was gone! I immediately looked to the floor assuming that it would all be there, but no, he ate every single piece. He was even pointing at my plate asking for more. From then on I have taken full advantage of this broccoli love, and I have been roasting broccoli at least twice a week. This is by far the best and easiest way I have found to roast it because 1) I usually use frozen broccoli because that's what I have on hand, 2) I steam it first to make it soft enough for my toddler, and 3) I use steak seasoning to season it because then I don't have to get out multiple seasoning jars or mince garlic. Voila!
Sidenote: I have also made this many times from fresh broccoli following the same instructions and it turned out almost identical! If you are a crisp and crunchy roasted broccoli lover, you can definitely skip the steaming step, but if you are feeding small children, I would highly suggest steaming first.
This broccoli gets a lovely char on the side touching the foil, and it is delicious. I have added it to my Creamy Parmesan Orzo and the combination of flavors is perfection!
Enjoy! ♥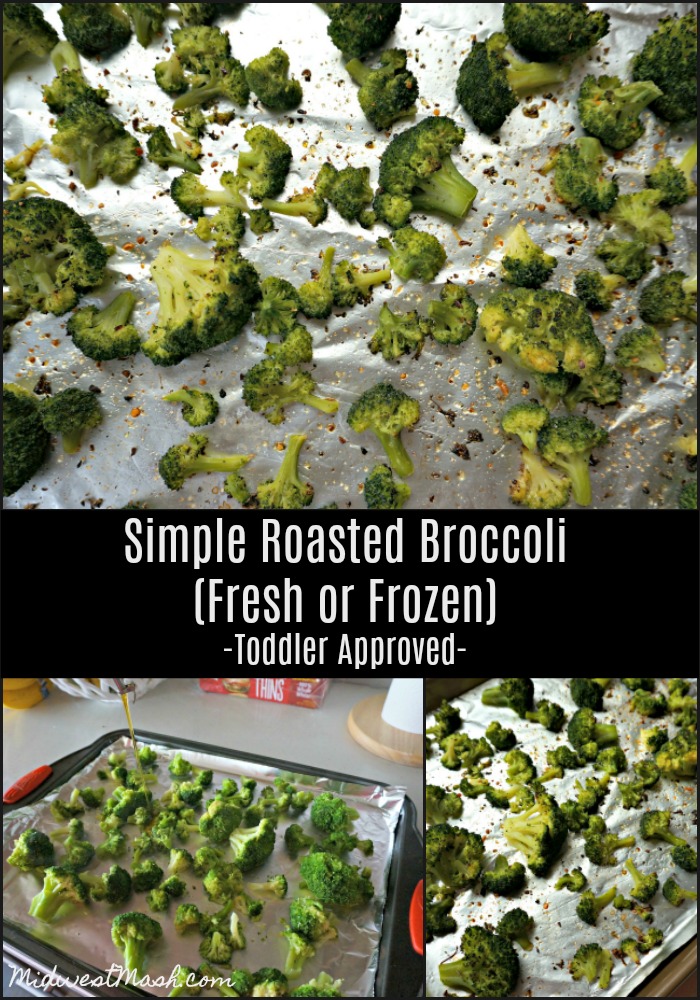 Preheat oven to 400 degrees. Line a cookie sheet with aluminum foil (dull side up).

Steam broccoli on stove top for 10 minutes. If you are using frozen, you can steam it directly from the frozen state, no need to defrost. If you do not have a stove top steamer, you can also do this step in the microwave - about 10 minutes on steam setting or until it is barely fork tender.

Drizzle 1 Tbsp olive oil onto prepared cookie sheet. Evenly spread steamed broccoli onto it. Drizzle with additional 1 Tbsp olive oil.

Sprinkle on steak seasoning as desired.

Roast at 400 degrees for 15 minutes. Then, turn on broiler and broil for additional 3 minutes or until the ends of the florets begin to char. Remove from oven and enjoy!
If you are using fresh broccoli, follow the same instructions!
I have used many different types of steak seasoning and they all turned out great, so feel free to use your favorite!
If you make this, please comment or rate on Pinterest and tag me in your story on Instagram (@midwest.mash) ♥