I started making this side dish about 4 years ago, and it has been in weekly rotation at my house ever since. My favorite thing about this orzo is that it pretends to be a risotto (with pasta of course) but is wayyyy less maintenance. Also, my one year old loves it – WIN!
As a Mom, one of my biggest goals is to create those things that my kids will look back on one day and immediately think of me. As I type that, it sounds a little bit selfish, but I want my kids to have fond memories of their childhood. Many of those warm feelings for me come from food – my grandma's cinnamon rolls and sugar cookies, my mom's runzas and ham balls, my grandma's love of strawberry shortcake and how I tried to make it one time and accidentally used way too much salt. It seems that it's those recipes that never taste quite as good when you make them yourself. I'm still trying to find "those recipes" of my own, and I think in time they will come naturally. For now, this orzo is probably one of them for my husband as he literally asks me to make this every week.
So go on, give this a try tonight and reminisce about all of those recipes that bring you warm feelings in your family.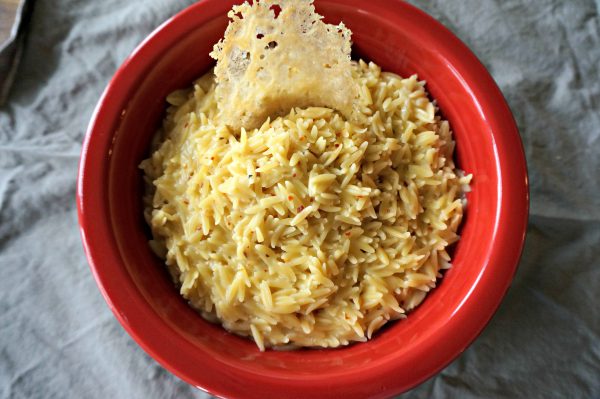 | | |
| --- | --- |
| | |
In a medium saucepan, melt the butter then add the garlic. Heat for 30-60 seconds.

Add the orzo and toast (stirring frequently) until some pieces just start to turn light brown.

Pour in 2 cups of the chicken broth and let simmer down until almost completely absorbed. Add in 1/2 cup of chicken broth at a time until the orzo is done (you'll have to taste it). Add an additional 1/4 cup of broth and let it heat up.

Stir in red pepper flakes and parmesan cheese. Stir until cheese is incorporated (it should melt quickly) and the orzo is a creamy consistency.
You made need more or less chicken broth depending on how quickly it absorbs.
Freshly grated parmesan works the best, but you can also use parmesan out of the jar (green Kraft container).
You can easily make this into a full meal by adding chicken and/or broccoli.