Looking to up your "after school treat" game? Or just want something simple that looks fancy to take to your next bake sale? This is the recipe for you. Elevate your rice crispy treats by adding a luscious layer of marshmallow creme and drizzling on some chocolate – yup, that's all you have to do to make a gooey, rich treat from a box of cereal.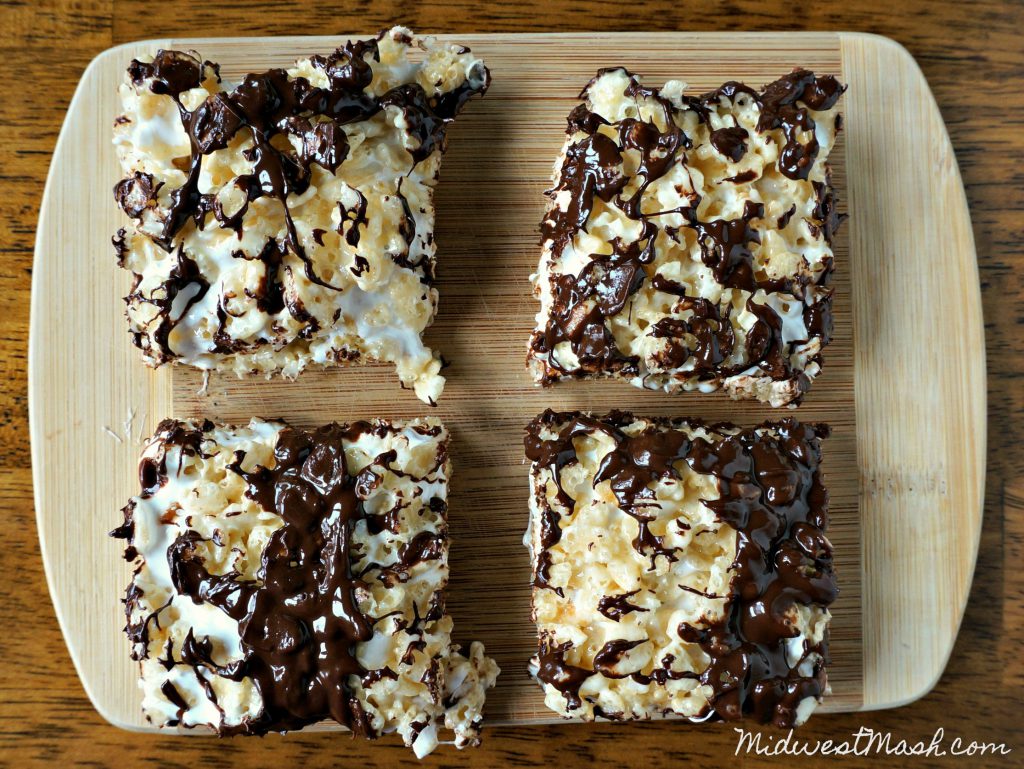 I grew up making and eating Rice Krispies treats from the recipe on the box, and they are still great and nostalgic for me, but once you make something a million times you get a little bit bored. I've tried changing the recipe many different ways – adding different cereals, tossing in some candy, drizzling caramel – but nothing really stuck out, until this one! The joy of rice crispy treats is the gooey marshmallow, so why take away from that flavor? Instead I decided to DOUBLE it. Yes, the marshmallow creme from your childhood is the "it" factor in this recipe. These get a thumbs up from my toddler too (in moderation, because hello, lots of sugar). Side note: we have a 6 week old baby so these sugary treats didn't last long in our house – working on eating healthier in upcoming blog posts. Time to start saying good-bye to the pregnancy chub (as much as I love wearing exercise leggings or maternity pants everyday it would be nice to look halfway like a casually dressed adult sometimes).
Enjoy! ♥

Melt butter over low heat in a large pot

Add marshmallows and stir until melted

Remove from heat and stir in cereal until evenly coated

Spread half of the cereal mixture into the bottom of a 13 x 9 inch cake pan

Bear with me during this next part: Either spread butter onto the back of a spoon OR spread butter onto the tips of your fingers (my choice). Then dump entire container of marshmallow fluff onto the first layer of cereal and use your buttery fingers or spoon to evenly spread it out.

Top marshmallow fluff layer with remaining cereal mixture - again use a buttered spoon or fingers to spread evenly. Trust me, a little butter will save you loads of frustration!

If desired - melt 1/4 cup of chocolate chips in microwave for 20-30 seconds at a time until smooth. Drizzle or spread over treats.

Let the bars set for a a little while and then cut into pieces. Store at room temp in covered container.
I always butter the inside of my pan before adding any cereal and then you can easily flip it out onto a cutting board to cut!