On the road again, I just can't wait to get on the road again – but really, I can wait. Just thinking about sitting in a car for 9+ hours with your "might start having a tantrum any time" child is enough to give you cold sweats, but with a little preparation and advice you can do it!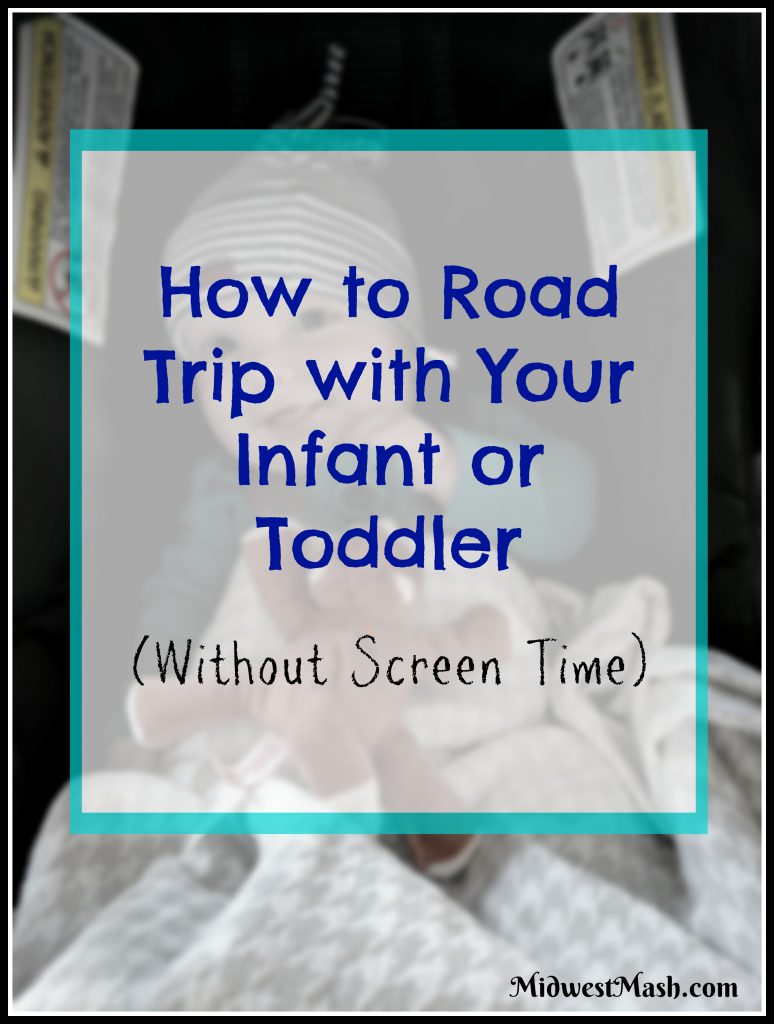 When my husband and I moved to Colorado we knew that we would be spending a considerable amount of hours in a car traveling back to the Midwest to see family. Once we decided to start a family, those journeys instantly changed – it now takes more stops, more food, more entertaining, less listening to podcasts together, more one of us driving/one of us in the backseat with the child, etc. Needless to say, we have made more 9-12 hour road trips in the last 2.5 years (1.5 years with a child) that I can even remember so although I am not an expert, I do have some advice if you would like it.
1 → Make sure your carseat is comfortable for your little one. Adjust the straps as needed. Double check that it is level. Align the mirrors before you leave so you are 100% sure you can see your child. Take a test drive during the time of day you will be traveling and in the direction you will be traveling to see if the sun is shining on your child's face (I 100% wish I would've known to do this before our first 4-5 trips – unnecessary stops to try to hang up a jacket or blanket to block the sun were a complete nuisance!). Take inventory of the vents – you don't want cold or hot air blowing on your child's face the whole trip!
2 → Invest in a portable sound machine – you may not think you need it, but taking naps in the car is not always easy for infants so something soothing is often necessary to reach a deep sleep. I didn't need to use one with my first son because he was a champ in the car, but so far my second babe is having a little bit harder of a time falling to sleep in his carseat so I will definitely jump on this advice when we make the first trek to Iowa with the 2 kids.
3 → Plan your stops ahead of time. This can be challenging if you aren't sure what's along your route, but do your best to stop ONLY when you need to feed a child or change a diaper. Feed right before you leave which gives you 2-4 hours of drive time before an infant will need to eat (in most cases). Pump during drive time (if you're the passenger of course). Never, I repeat never give a young infant a bottle while still in the car seat – not safe! Compound your stops – gas, food, bathroom break, diaper changes, feedings, toddler food, dog potty breaks, etc ALL IN ONE STOP. Yes, it will be a lengthy stop, but you will only have to exit the highway once and everyone will be happy and ready to roll again for another 2-4 hour block. We have managed to get a 9.5 hour trip down to 3 stops (and one is to grab a quick breakfast (<10 minutes) without the toddler even getting out of his seat). Sorry adults, you might have to hold it occasionally. Try to keep nap times as normal as possible – including length; you will be thankful you did this when you get ready to put your child down for the night.
4 → Snacks, snacks, snacks. Once your child is old enough to safely eat snacks while in his carseat, stock up! My son is 1.5 years old and we load a reusable shopping bag with Plum packets, applesauce packets, Cheerios, Goldfish, bananas, and freeze dried fruit. A hangry kid = a grumpy mama. We would not survive without these Munchkin cups. Take a lunchbox with milk – I usually just fill a coffee tumbler with milk and dump it into a sippy cup as needed on the road.
5 → Make the toys you bring seem new. The week or two before you go, hide a few toys from your child so that when the trip rolls around they will be excited to see their toy again. Another great piece of advice – borrow toys and books from friends. Your child will think it is a brand new thing and it will automatically be twice as entertaining as his or her own stuff. I pack a Thirty-One bag full of toys and books and set it right beside the carseat. My toddler is old enough to reach in and grab a few things, plus it is easy access for me to reach back and hand him something. Not only does it keep things organized in the car, but you can easily take toys into grandma and grandpa's if you need to because they are all in one bag instead of being strewn about the van. This was a favorite toy for us from about 8-14 months.
These are really the five things that have made our trips way less stressful and therefore shorter. I can honestly say I have only used screen time once with my son during our road trips, and it was because he just wasn't having the car anymore during the last 45 minutes of our trip, and THAT'S OKAY. You can't and shouldn't expect children to love being in a vehicle for 9+ hours every time so do what you have to do mamas, but if you try to implement some of the things I recommended above, I promise you will want to shove your child at grandma a little bit less when you arrive.