It's May! And it's rainy. I guess it doesn't matter if May is "in like a lion". The motto for May in Colorado is "I do what I want". Snow, rain, hail, 90 degrees, we saw it all last year. I'm looking forward to having a garden and being somewhat self sufficient with produce (as soon as our backyard is no longer just dirt – the joys of new construction). I started tomatoes from seeds indoors but now they are looking so wimpy – any guru gardeners out there??
On another note, this post is all about using those leftovers. YES! Have you made my Crock Pot Pulled Pork recently and got sick and tired of sandwiches by day 4? (me! me!) Don't worry, I've got your back! Costco recently got me again! They had Pillsbury crescent rolls on sale for < $1 a tube (steal!) but did I really need 40 crescent rolls? Sigh. Probably not. It gave me the perfect excuse to continue experimenting with this recipe until I got it just right though. Five ingredients and 20 minutes will get you a fun dinner on the table. Kids will love it because it looks cool and your husband/wife/SO will appreciate it because it looks like you put effort into dinner (shh don't tell). Have at it!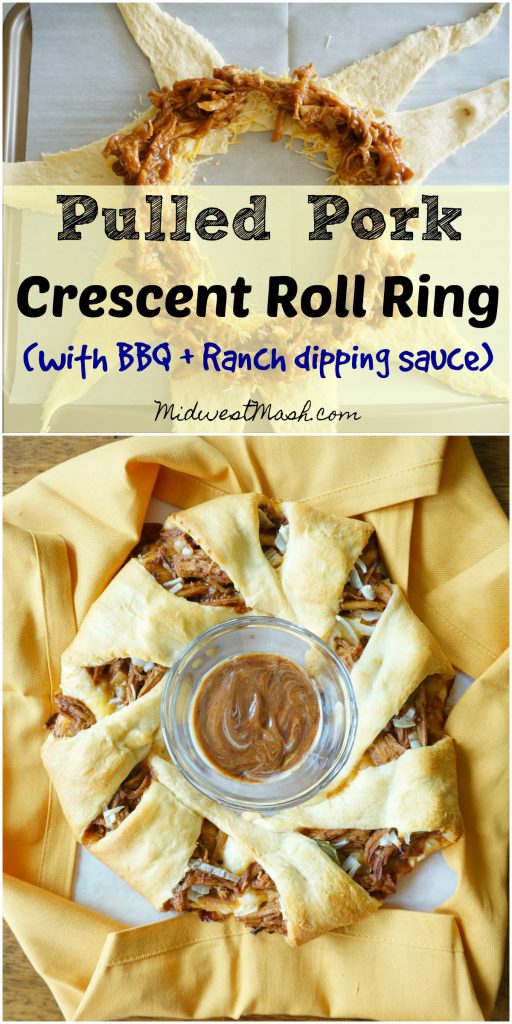 Preheat oven to 375 degrees (350 degrees for dark or nonstick pans).

Open crescent rolls and place in a circle with overlapping corners (should look like a sun when you are done).

Spread the cheese around the base of the crescent rolls in an even circle.

Then add the pulled pork the same way (no need to heat the pork up first).

Then sprinkle onions over the pork followed by one slice of jalapeno at the center of each triangle base.

Fold the point of each triangle over the base and attach it to the base of the triangle next to it. It will look like a pinwheel when you are done.

Bake in oven for 20 minutes or until crescent rolls just start to turn golden brown. I baked mine on parchment paper to save with clean up.

To make the dipping sauce: equal parts BBQ sauce mixed with equal parts ranch dressing! That's it! Cut into slices, dip, and enjoy!
Get the recipe for Crock Pot Pulled Pork here.