Happy Spring! Let's take a moment to forget about the < 40 degree weather and the snow that fell this morning. I'm going to look at pictures of gardens, flowers, and baby animals on Pinterest to remain in denial about the current lack of Spring outside. Are you with me? Mmmmkay.
I recently came across an interesting Instagram post about how people really just want the recipes and don't care about your recent trip to the mountains or how your baby did the cutest thing the other day when they go to your blog page. I don't entirely agree with that but I can see both sides. I feel like half of my readers are people who I have known forever who genuinely are interested in what is going on in my life, especially since we moved. The other half probably does just want the recipe because they came across the post on Instagram or Pinterest. That being said, I've decided to write recipe posts and life posts separately on bigger topics. I am still going to include personal tidbits with my recipes because that is the whole concept of my blog.  (If you would like to read my first life post – tips for traveling without your infant click on Oh Baby in the menu above or go here)
This is hands down my favorite banana bread recipe because 1- it's easy and 2 – I have tweaked it hundreds of times and it comes out great every time. I can't not make it with chocolate chips so if you're not into that, sorry not sorry. I make this at least once a month and I will continue to do so because I. LOVE. IT. and I like to pretend it's a lil' bit healthy (notice the giant slab of butter).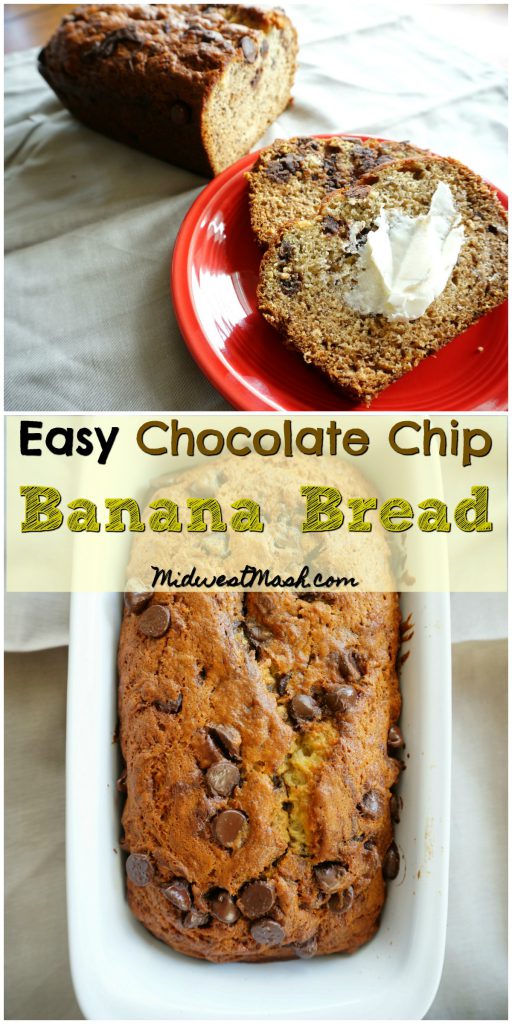 Preheat oven to 350 degrees and grease a loaf pan.

Smash bananas in a large bowl (I use a fork). Add melted butter and stir.

Mix in the baking soda and salt. Add in the beaten egg followed by the sugar and vanilla extract.

Finally, stir in the flour.

Pour your batter into the loaf pan. Sprinkle chocolate chips on TOP and use a butter knife to swirl the chocolate chips into the top 1/4 of the batter. THIS IS VERY IMPORTANT so the chips don't sink and stick to the bottom of the pan.

Bake for 50-60 minutes or until a butter knife comes out mostly clean. Note: a glass pan will need a few minutes longer than a metal pan.

Let cool in the pan. Or eat warm with some melted butter mmmmm.
Halfway through cooling I transfer the bread to a piece of wax paper and let it cool on its side so it doesn't sink too much.
Enjoy!