I can't believe it's only a week before Thanksgiving. Is it just me or does time continually get faster as you get older, especially when you have kids ?! (Sorry for the sentimental blubbery and cliche statements). I'm feeling a little emotional these days and trying to savor these last few months with one kid – that's right, I'm pregnant! Super exciting, super exhausting, super duper didn't feel like cooking for about 4 months, which explains questions I have been getting about 'Are you still writing your blog?'. Oops, yes! Just hard to keep up with a cooking blog when the only thing entering and staying in my stomach there for awhile was Ramen and watermelon popsicles.
Anyway….whether you are hosting, gathering elsewhere, or just having an intimate family meal with you and yours, this stuffing recipe is great to toss together as you will more than likely have all the ingredients on hand. I don't know about you, but I used to be intimidated by making stuffing. I don't know if it's because there are so so SO many variations of it, and in all honesty sometimes it just doesn't taste great for whatever reason, but I decided this year I was going to tackle it in a way that I wouldn't mind re-creating any time of the year. (Also, I had a loaf of homemade white bread that desperately needed using before I had to sadly and guiltily toss it).
Give this a go on the big day, you won't regret it. ♥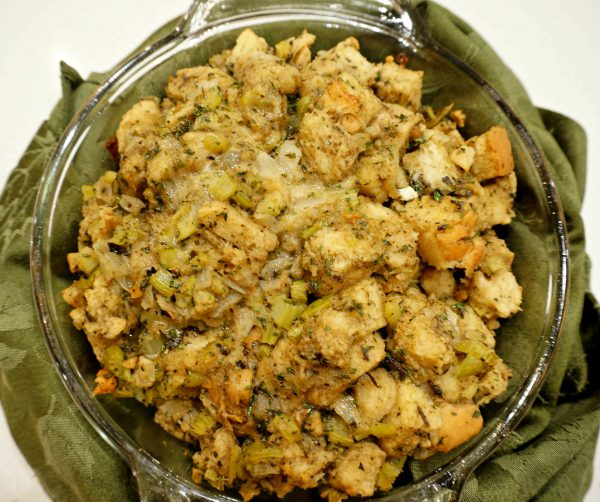 | | |
| --- | --- |
| | |
Cut bread into 1" cubes and let dry out on a baking sheet overnight. If you didn't have time to do this the day before you can also place the baking sheet in a 250 degree oven until the bread starts to dry out (will vary depending on bread, check on it every 5-10 minutes).

Preheat oven to 350 degrees.

Melt butter in a saucepan over medium heat. Add onions and celery and cook down for 10 minutes or until softened.

Place dried bread cubes into a large bowl and pour melted butter with onions and celery over it. Stir together well.

Add the sage, thyme, parsley, salt, pepper, and celery salt. Stir to combine.

Pour 1 1/4 cups of chicken broth over the bread mixture and mix together well.

Whisk together the 2 eggs with 1 1/4 cups of chicken broth. Pour over the bread mixture and again mix well. It will start to get mushy at this point and that's okay! Continue to add additional chicken broth 1/4 cup at a time until all the bread is saturated.

Place into a greased casserole dish. Cover and cook for 30 minutes. Uncover then cook for an additional 10 minutes to get a nice crisp on top.

For the final touch, melt 3 Tbsp butter in the microwave. Stir in the additional 1/4 tsp of sage, thyme, and parsley. Drizzle over the top. Dig in!
The amount of chicken broth needed will vary between 2-3 cups depending on how long your bread was allowed to dry out and what type of bread you used. I used homemade white bread and I used more toward the 2 3/4 cup end, but if you use store bought sliced bread it won't take as much.
You can omit the final topping of butter if you're worried about calories 😉