There has been a drastic change in our lives since the last time I posted – we welcomed our son (surprise! although I had a feeling it was a boy) on June 22! He is wonderful, and I remember reading all of the cliches about motherhood prior to actually becoming a mother without thinking twice about them, but now I actually get a little teary-eyed thinking about "how fast they grow" and how "he's the center of my world" and "I don't know what life was like before him". It is truly hard to imagine not being a mom now that I have been one for a month. Don't get me wrong, life is not sugar coated all of the time. We have had our fair share of sleepless nights, difficulties with breastfeeding, crying bouts that you think will never end, blowout diapers, and across room pees that could land in the record books. Now I know why my parents always joked that I was the guinea pig of the family since I was the oldest.
I am exclusively breastfeeding, and it has been a roller coaster ride from the beginning. The only advice I can give to new mothers is that if it is important to you, don't give up. It won't be a walk in the park (unless you are one of the lucky ducks), and there will be many times where formula sounds much nicer (like when the mere thought of your baby latching on actually makes your boobs hurt). My husband and I have transitioned to a one bottle a day routine at the recommendation of our pediatrician to get us a little more sleep at night since our little guy has a hard time breaking through the 2-3 hour barrier. I know everyone's family dynamic is different but here is the schedule that has been working well for us: I feed the baby in the evening and then we put him down. He has been sleeping for 4-5 hours at a time now (Hallelujah!). When he wakes up for the first time, my husband changes his diaper and feeds him a bottle that I pumped earlier in the day/week. I get to sleep lie in bed and hope the ounces in the bottle are enough through this feeding. After that, the babe usually sleeps in 1.5-2 hour increments, and I am in charge of the changings/feedings the rest of the night so my hubby can sleep and feel rested for work. It has been working out well, minus a few hiccups when the first round of sleep wasn't as long as anticipated, but overall we each get sleep in 5-7 hour bouts which is WONDERFUL!
Back to my point, since I am exclusively breastfeeding, and my supply isn't always top notch I have been trying to eat a hardy breakfast to start the day off right. My favorite thing lately because 1) – I can prepare it the night before and 2) – it's easy to eat while breastfeeding – is overnight oats. I have been eating these in spurts since graduate school, but lately I have found it fun to experiment with flavors (and sneak in a little chocolate at breakfast). Here's a quick recipe for them. You can add ingredients as you wish, just keep the oatmeal:milk ratio the same.
Sorry for the rambling today – I've spent a lot of hours the past 5 weeks with an infant and a dog, so blogging feels like I am communicating with adults. You're a trooper if you stuck with me until now. Stay tuned for some of my "Weekend Winners" aka favorite things in my upcoming post; including baby products that I give two thumbs up.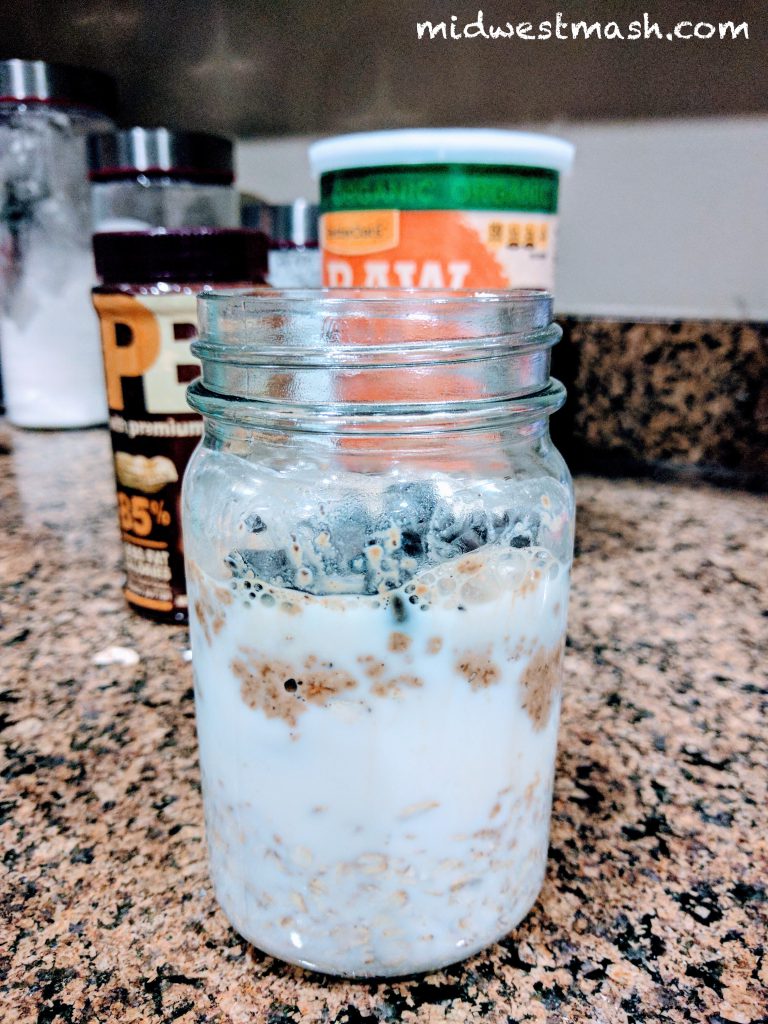 Add everything to a mason jar or any other container that you can add a lid to. Mix together, place in refrigerator overnight. Enjoy in the AM!
This recipe is so versatile. All you really need is the oatmeal and milk to begin with, and you can personalize it from there. It is doable with any type of milk as well - vanilla soymilk is great with this! My other favorite variation is the same as above except add Butterfinger baking bits instead of chocolate chips, and add pecans or almonds instead of walnuts. All of you mamas out there can also add Brewer's yeast or ground flax seed for a little boost in your supply. Have fun and enjoy!
Seriously though, this is a quicker breakfast than a bowl of cereal - and so much better for you (minus the chocolate).