Here we are at week 38 already. As many times as I try to will this baby out of me each day, I would still be totally surprised if it actually happened today, tomorrow, or even in two weeks! I was having this discussion with my husband the other day – when do you actually feel like a mom? I mean, obviously I love this little "it" that I am growing, but it 100% has not hit me yet that I am his or her Mom. Does this happen when I go into labor? Hold the baby for the first time? Bring it home to be totally reliant on me and my husband? It's a funny thing to think about.
While I lie in bed at night between bathroom trips and rolling back and forth like a whale, I ponder all of these crazy questions, and I also think about how I am going to politely fend off all comments tomorrow at work regarding my pregnancy – like I've had to every week for the past month it seems like: Yup I am still here. – No, I am not past my due date (and on that note, yes, I still have until June 24). – I know, I feel as big as I look. – No, I am not having twins. – No, they have not told me my baby weighs more than 10 pounds, actually it was in the 53rd percentile at our last ultrasound. – I know I look tired, thank you (I am tired! You try getting up 5 times during the night to go to the bathroom and then carry around a bowling ball all day while doing physical therapy on people!) – No, I'm not worried about going into labor at work (at least I wasn't until you said that). Of course I respond to each and every comment with a smile and a self-reminder that thankfully pregnancy is only for a finite amount of time.
I have been trying to do last minute preparations around the house "just in case" this babe decides to debut early. I guess maybe I'm nesting? I was originally a little naive and didn't think I would do freezer meals because "I could make quick meals after the baby is here". Okay, okay. I apologize to all of you out there who are already moms because you probably just rolled your eyes and laughed at me a little, and I'm sure I deserve it. I think around 30 weeks it hit me that, yeah, I'm going to have a baby attached to me (literally) every 2 hours for the first few months of life, not to mention if I think I feel like a zombie now, it's only going to get worse with less sleep! Therefore, freezer meal prep began. I made 5 different meals this weekend and last, but I am going to share my chicken burritos with you for now because they are super easy and very versatile!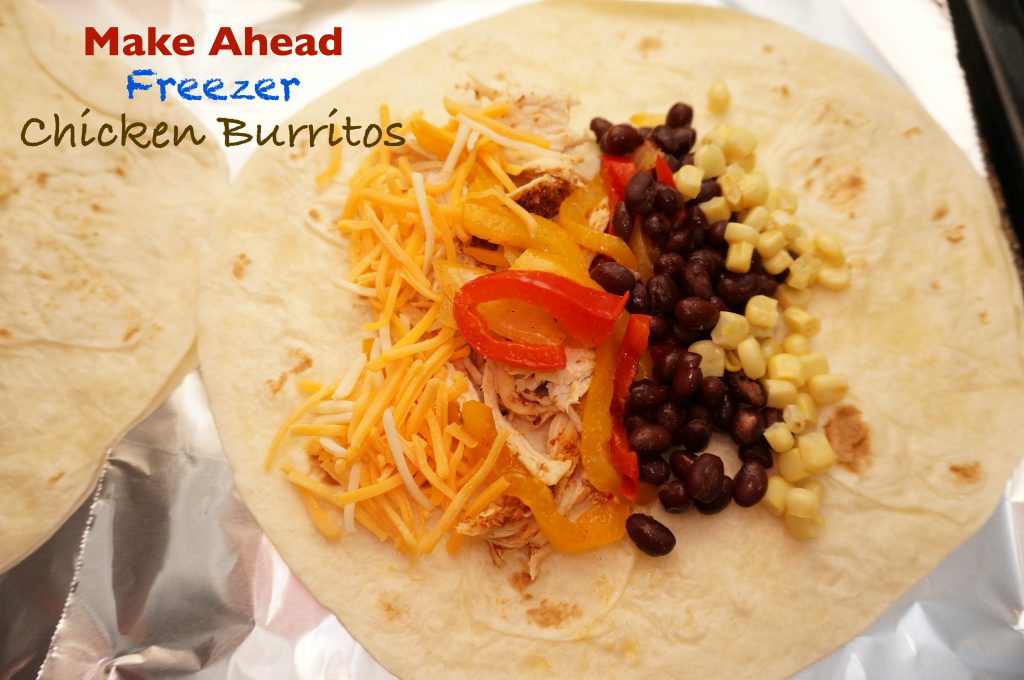 Season chicken breasts as desired (I recommend either taco seasoning, Tony Chachere's, or a mix of cumin/chili powder/paprika). Cook in 350 degree oven until center of chicken reaches 165 degrees. You can also cook stove top. Once cooled, shred chicken.

Saute bell peppers in 1-2 Tbsp of olive oil until tender but not mushy (you want them to hold up in the freezer!).

Prep all other ingredients and get ready in assembly line format. I know it seems like a silly step, but I promise it will make final burrito-making quicker.

Lay out a few pieces of square aluminum foil at a time and place a tortilla shell on top. Add ingredients to the shells as desired - I recommend about 1/4 c chicken, 1/4 c peppers and 2 Tbps of all other ingredients for a full but not stuffed shell.

Roll tightly in shell and then tightly wrap aluminum foil around the burrito, making sure there are no open areas. (I have also read that you can wrap in plastic wrap before the foil for better freezer preservation but I have not personally tried this)

Add as many as you want to a freezer gallon bag or other storage container. Label with date and any final preparation instructions then pop in freezer. DONE!

Once you are ready to cook, you have many options - you can simply take out of foil, cover with a paper towel and microwave for 1.5-2 minutes; you can make enchiladas by popping a few in a square baking dish and pouring enchilada sauce over - cook at 375 degrees for 20-30 minutes; you can create smothered burritos by heating in microwave or oven and then topping with queso, sour cream, or salsa.
These are so easy to add or subtract ingredients based on your needs! You can make with beef or even make vegetarian. If you are breastfeeding, you can easily eliminate any ingredients your baby might not like (such as beans or any spicy seasoning). You could even mix and match your batches of burritos - just make sure to label!
For final prep, I do recommend adding some sort of topping. They are good plain, but they are just that, a little plain. Enchilada style would be great if you have a few extra minutes, but a dollop of sour cream or a spoonful of salsa after heating would also do the trick.
Enjoy and happy eating/prepping!