Happy May and welcome to Spring! Kind of. Let's forget the fact that it snowed 8″ last weekend in Boulder. Ew! May has been a quick and wonderful month, and I am now somehow in my 9th month of pregnancy. There are so many new feelings with a first pregnancy, and I can honestly say that each one surprises me. I'm pulling out the honesty card here, and I would like to discuss stretch marks. These little things had thankfully stayed away from my growing belly for 8.5 whole months and then BAM, welcome to 35 weeks last Saturday and my skin feels like it might get to a translucent state by the time I deliver. I had mentally prepared myself for a change of appearance of my (previously imperfect anyway) stomach, but I somehow missed the memo on the itching and literal burning pain that accompanies such a quick expansion of your belly. At least I know the little babe is growing!
On another note, my sister and her friends were in town for her bachelorette party this past weekend. Woot woot! (Yup, I just said that without shame) Don't worry, there wasn't any late night "woot"-ing, boy part shaped things, or hangovers. We stuck with more low key, but still super fun, things like brunching, brewery drinking, hiking, and painting. If you have never done one of those 'wine and paint' things, I highly recommend – you don't have to be even remotely good at art, I swear! At work, even my stick figures leave something to be desired, but the paintings at the classes leave enough room for error that everyone's piece turned out great!
Today, I thought I'd leave you with a quick weeknight meal. These days, I appreciate the simplicity of a < 10 minute prep, set it and forget it kind of meal. Trying to get in all of the needed nutrients for growing a human can be tricky some days, but this recipes covers a lot of the bases – peppers are loaded with vitamins and the salmon is packed with Omega 3s (watch your weekly mercury intake though pregnant mamas!). I used entirely too many peppers because I needed to get rid of some in the fridge before they went bad, but you can feel free to take it back a notch.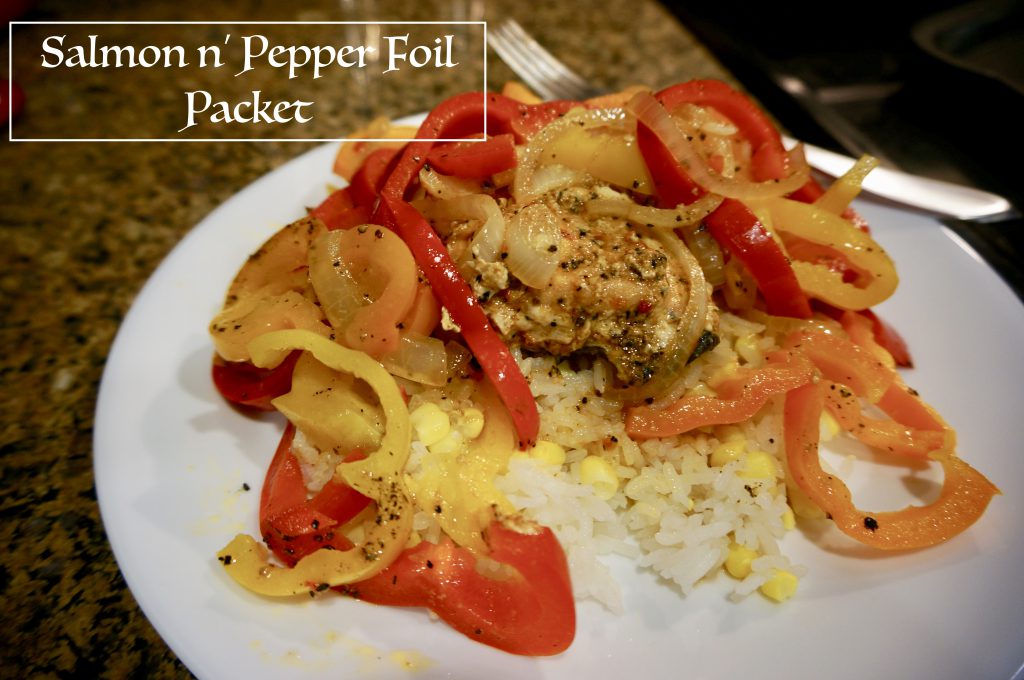 Thaw frozen salmon according to package instructions. I used pre-marinated for simplicity but you could season it your self with Cajun seasoning or even use fresh salmon.

Slice peppers and onion into thin slices.

Place salmon pieces on individual pieces of aluminum foil. Top each with half of the peppers and onions.

Drizzle 1-2 tsp olive oil over each packet.

Seal packets by folding over and rolling up the seams so there are no holes.

Bake for 20 minutes at 425 degrees or until salmon is done.

Meanwhile, put rice, appropriate amount of water, and Cajun seasoning in the rice cooker. Set it and forget it.

Go put your feet up until both timers go off, then scoop rice onto plate and top with contents of a foil packet. Enjoy!