I haven't written since October…OCTOBER! Holy man, I didn't realize it had been that long, but a lot has changed around here since then, and for 3 of those months I was not very good friends with food. The biggest life change we have going on is…dun dun da DA…we're having a baby! Scheduled arrival is the end of June, but I've been told that your first babe has a mind of his or her own when it comes to arrival and frequently likes to stay snuggled inside for a little longer than expected. For all of you previously or currently pregnant mamas out there who have dealt with morning ALL DAY sickness, I can totally sympathize now. How the heck did you maintain a job with that happening?? I'm definitely grateful that I was still on the job hunt during that period. Needless to say, cooking was the last thing on my mind until about the end of November when I actually felt like a semi normal person again.
Another life change is that I finally entered the working world again a few months ago. My first Colorado gig, and so far so good. However, being in my third trimester and working full time leaves me little desire to stand over a stove for more than 30 minutes in the evenings which brings us to the star of this show, er, post: chicken tortilla soup. Yeah, yeah I know there are a million recipes out here for it, but it is so versatile, I thought I'd throw in my two cents (and some tips to make it super simple). I know it's getting out of the "soup weather" season thankfully, but in my defense it did snow 5 inches here the other day (let's omit the forecast of 71 degrees for tomorrow!). 
Rotisserie chicken. There you go. The best time saver for this recipe. If you take anything away from this post, it should be to buy a $4.99 rotisserie chicken from Costco on the weekend – hello 2-3 meals at least! Throw in some veggies you have waiting in the fridge, a can of black beans, salsa, and some chicken broth and you are ready to roll. The best thing about this recipe is that you don't really have to follow a recipe! I do appreciate you taking the time to read MY recipe though to get you started.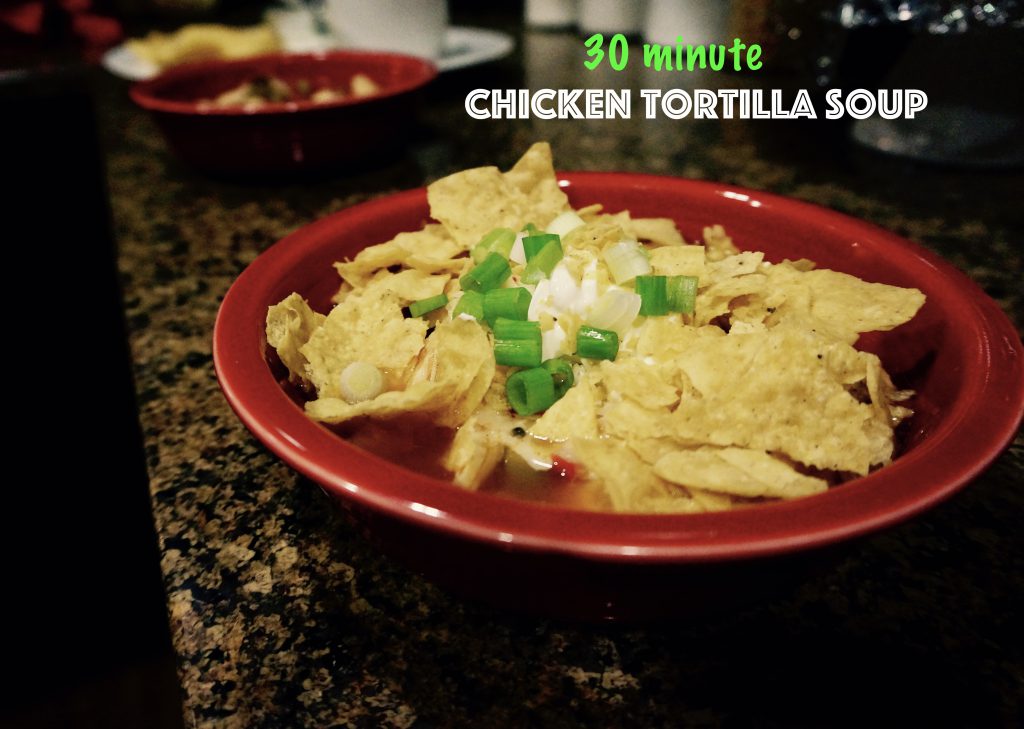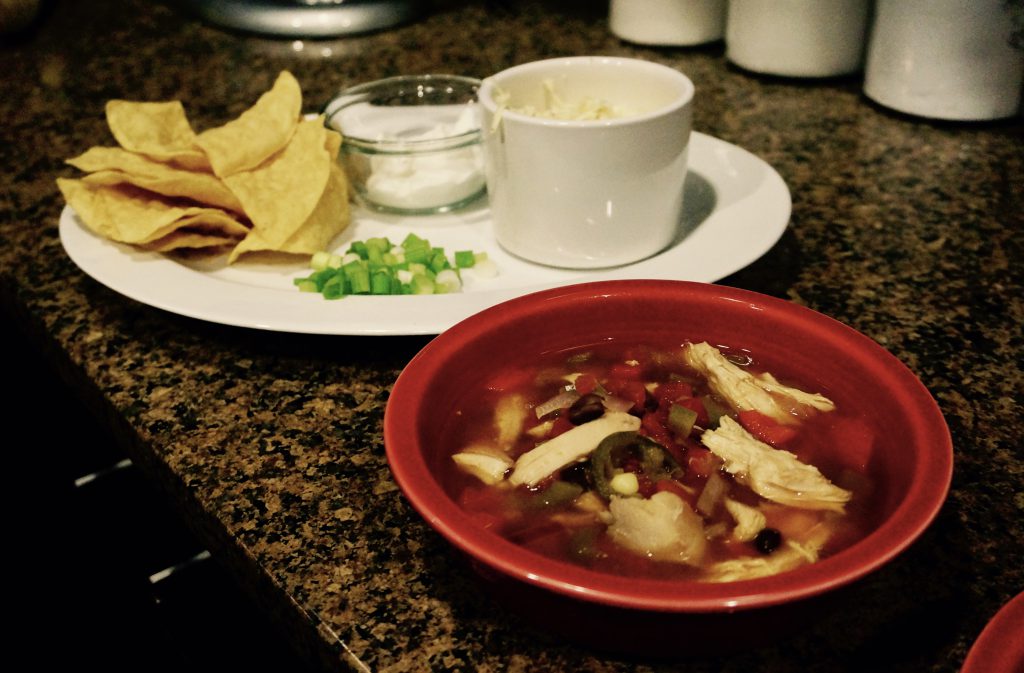 Dice peppers and onion. Add corn and veggies to soup pot with olive oil over medium heat. Saute until slightly tender.

Add chicken, salsa, and black beans to the pot. Stir and add spices and garlic.

Cook ingredients for 1-2 minutes and then add chicken broth (I used the full 6 cups for volume's sake).

Cover and simmer for 10-15 minutes, stirring occasionally (to smell the amazing aroma!)

Done! Dish up into bowls and add your desired toppings. I used sour cream, shredded cheese, green onion, and tortilla chips for creaminess, crunch, and a little extra flavor.
Add or subtract veggies as desired, just remember that they all add flavor!
If you don't use a rotisserie chicken, you can cook up a couple chicken breasts and shred them.
For milder palates, take out the jalapenos and chili powder.