If you are tired of the same old same old mashed potatoes, then these are for you! A comfort food you didn't even know you needed, until now. Perfectly creamy, buttery, and garlicky 👌🏻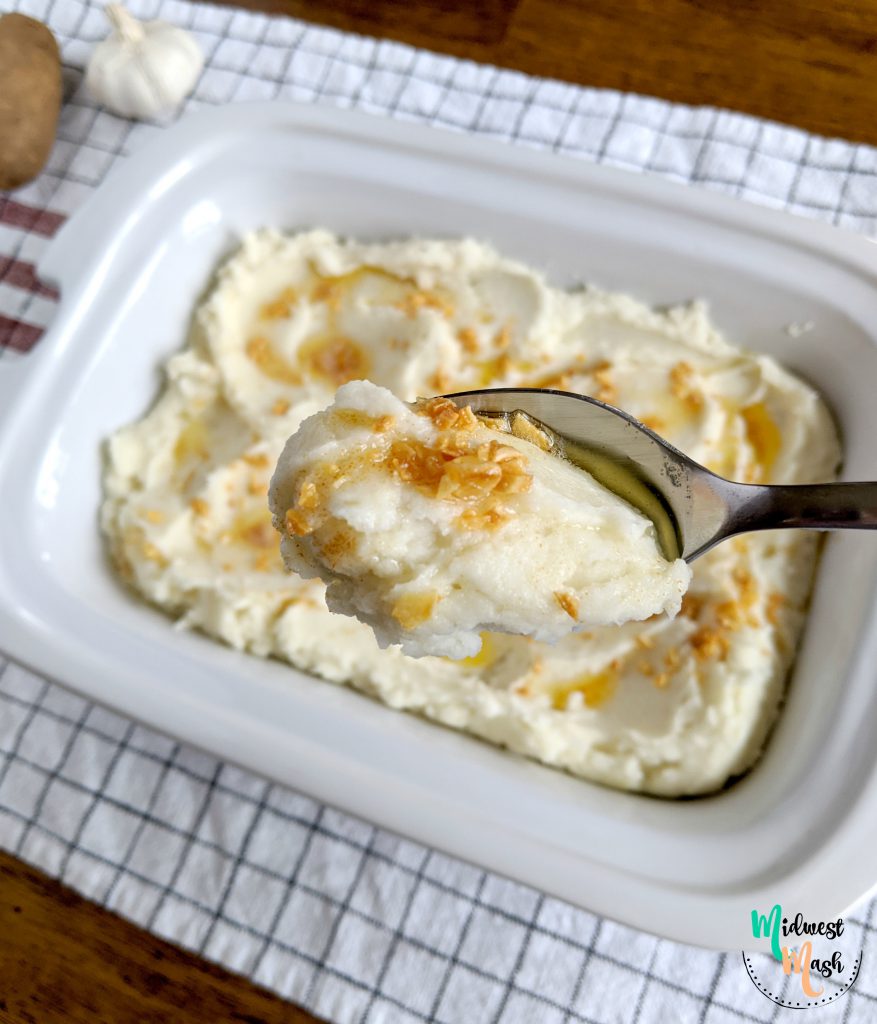 I have made mashed potatoes the same way for as long as I can remember. Potatoes + milk + butter – mash, mash, mash. There's nothing wrong with that at all. It serves it's purpose, especially when served with a nice gravy. Buuuut, there's always room for an upgrade, right?
Not only does it smell heavenly while the garlic is browning in the butter on your stovetop, but getting those little crunchy bits when you take a bite of potato is on a whole other level. I skipped the milk in the potatoes and went straight for the heavy cream and sour cream to really give these a creamy finish: cream + cream = creamy – who knew?!
It really doesn't take ANY extra time to make these either. I made my garlic butter while the potatoes were boiling. Want to make these a little bit ahead of time? Do it! I made the batch pictured above in the afternoon and then tossed them in my casserole Crock Pot on warm for a couple of hours before supper. I've also made them just ahead of my other supper components and threw them in a 300 degree oven for 20-30 minutes. I actually loved that way because the garlic on top got even crispier.
Give this one a try next time you are having guests over. Maybe you can mix up your Easter dinner this year and surprise everyone! And by everyone I mean you and your kids because at this rate we will all probably still be doing the responsible thing and participating in social distancing.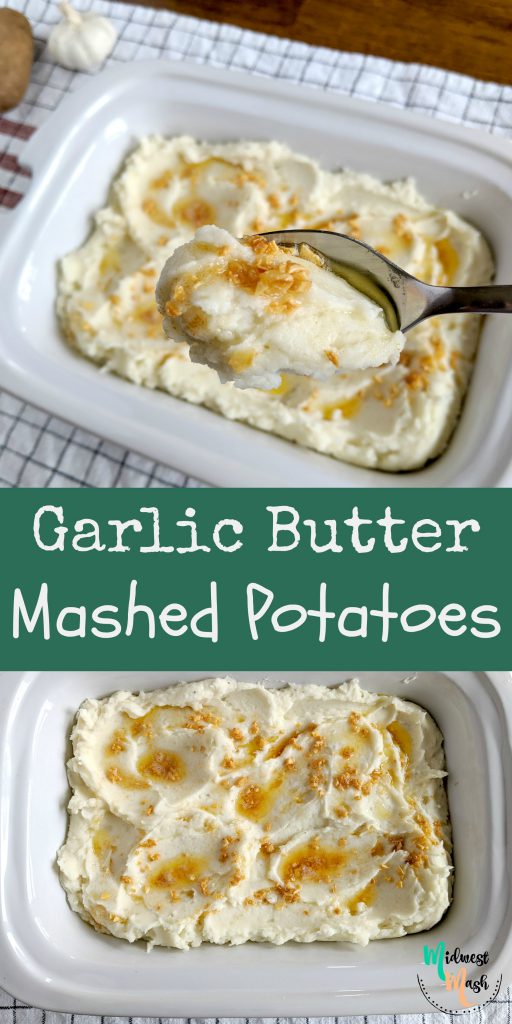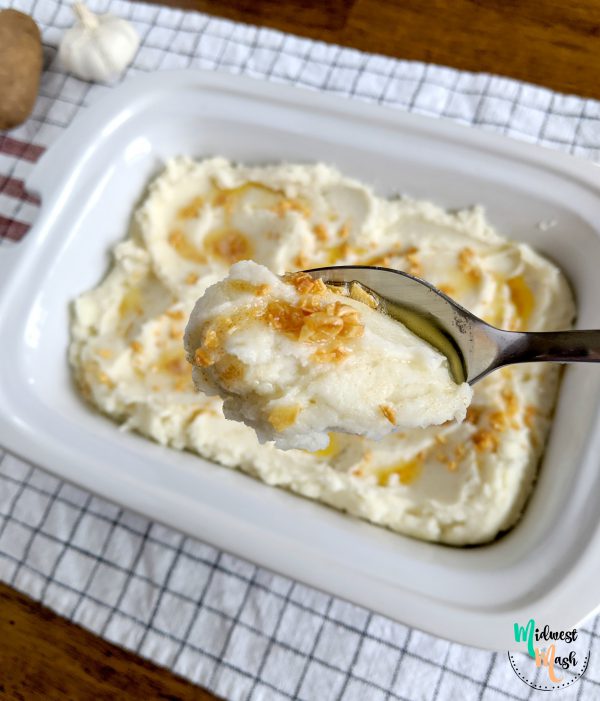 | | |
| --- | --- |
| | |
Weigh out 3 pounds of potatoes then peel them completely. Cube into 1" pieces (roughyly). Place in a large soup pot and cover with water. Boil until potatoes are tender (about 12-15 minutes).

While potatoes are boiling, make the garlic butter by mincing garlic first. Melt the 4 Tbsp of butter in a small skillet and add the garlic. Heat over medium-low heat until garlic JUST starts to turn golden brown - remove from heat immediately. NOTE: Once the butter starts to bubble, this won't take very long at all so watch is closely.

Once the potatoes are done, drain them and transfer them to a large bowl.

Add the remaining 3 Tbsp butter to the potatoes and mash them by hand for about a minute or until most of the big chunks are gone.

Then add in the sour cream and heavy cream and mix with a hand mixer on medium until smooth - it's okay if there are a few small chunks. Spoon in half of the garlic butter mixture and continue mixing on medium for another 30-60 seconds. Taste it and add salt and pepper to your taste.

Once you have your seasonings where you want them, transfer potatoes to a serving dish or oven safe casserole dish. Drizzle the remaining garlic butter over the top. If you aren't serving immediately, place them in a 300 degree oven for 20-30 minutes.