Before anything else, preparation is the key to success.


Alexander Graham Bell
We are living in unprecedented times. I watch the news, and I wonder if I accidentally switched it over to a Netflix show about pandemics instead (side note: that show is actually very good but hits a little too close to home right now). It seems like in the blink of an eye everything became overwhelming and scary. I think last weekend was the first wave of complete panic around here. Stores were bombarded, schools and businesses were closing, and people made final decisions to cancel travel plans. We all started serious social distancing.

So, here we are on day 5 for us without going anywhere unnecessary. I have to admit, I was feeling okay about everything until the last day or so. I started watching too much news and following too many threads on Facebook (don't do this). I began to realize the longevity of the situation as states around the country closed schools for the rest of the school year. I've been okay with being home with my kids the past week, but I wasn't thinking about next week or next month when we haven't been to any of our favorite places or played with friends or even picked out new books at the library for days on end. That thought is overwhelming.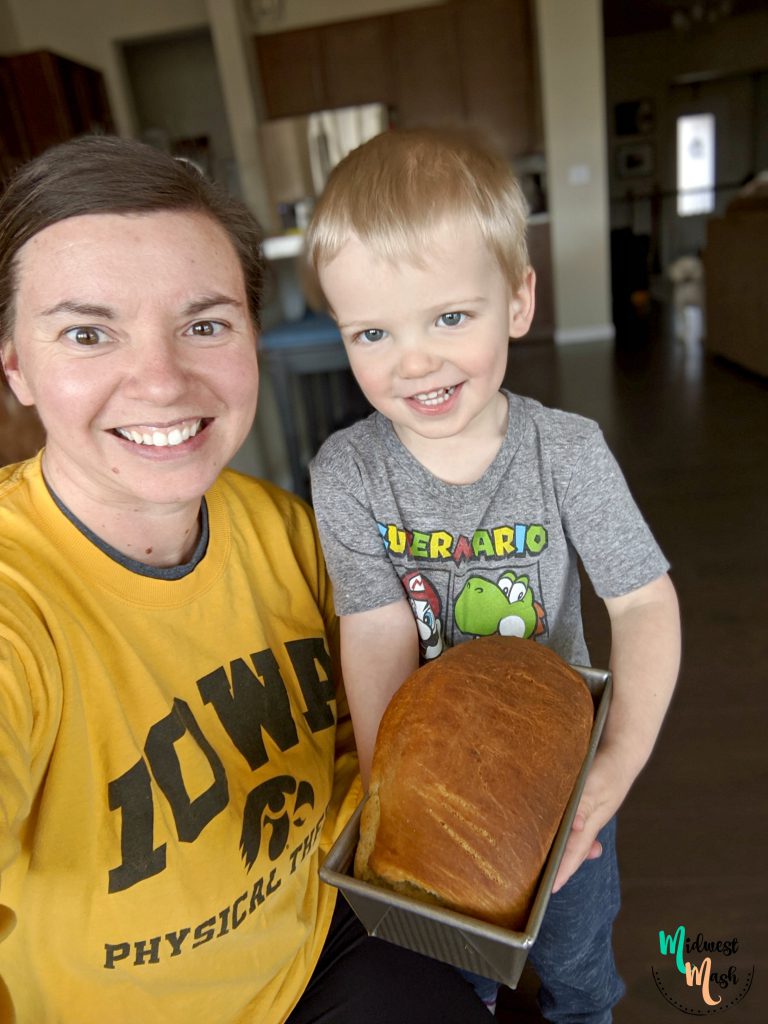 I snap out of it by grounding myself with things we CAN do. R and I made bread the other day. We ran around the backyard and hit a baseball. We go on a hike or a walk in the fresh air every day. My husband pointed out to me last night as we walked around our neighborhood that a lot of good could come of this. We saw more neighbors outside yesterday than I have in the entire 2 ½ years we have lived here, and we have gone for a walk every single evening since we moved in. People were friendly (from 6 feet away) and chipper. I saw so many people with camping chairs on their driveway or front porch that I have honest to goodness never seen before. I pray that once this is all over we can still have that here because it's so comforting to realize that you do have a community around you that doesn't just exist in a Facebook group or in a car driving by.

We live in a world where most conversations begin with "I've just been so busy." Now, overnight, we aren't anymore. The 5 baseball practices that take up your evenings every week – cancelled. That dance recital the first Saturday of every month – cancelled. The PTA meeting that you didn't really want to go to but you felt like you should – you're off the hook. We get a refresh. We get to stop feeling obligated to things for a while and just enjoy being a family. If that is not a blessing in disguise I don't know what is. 

I do understand that there are absolutely negatives in this situation too. I pray for the health of my family and friends every day as well as for the healthcare workers who don't get to work from home. I feel forever grateful that I have the opportunity to be a stay at home mom because otherwise I would be right there with the other healthcare professionals facing this head on every day. I feel for the parents who can't work from home and don't have childcare options since school is on hold. I feel for the people who have lost income because of this. I feel for the people, myself included, who aren't going to get to see family for an indeterminate amount of time because of all of the uncertainties attached to the current status of the country. And, I feel for all of you who are trying to find a new normal through all of this. But we can do it. For the health of ourselves and for the health of others, we can do this. We are going to gain a whole new appreciation for little things in life, and we get to show our kids how to handle tough situations with grace and strength.

Be confident that you are doing the most you can do right now for you and your family. Find a source of information that you trust, and follow their recommendations. Then let go and let God because lying in bed overanalyzing everything every night won't solve anything (talking to myself here too). Reach out to friends and family for support because we are all in the same crazy boat. I hope you all find some positivity in this situation, and when this is all over we have found a new appreciation for one another. 💕