An explosion of flavors tossed together in one skillet. Only 3 main ingredients. That's a weeknight winner in my book, or an easy weekend meal to give you more time to relax.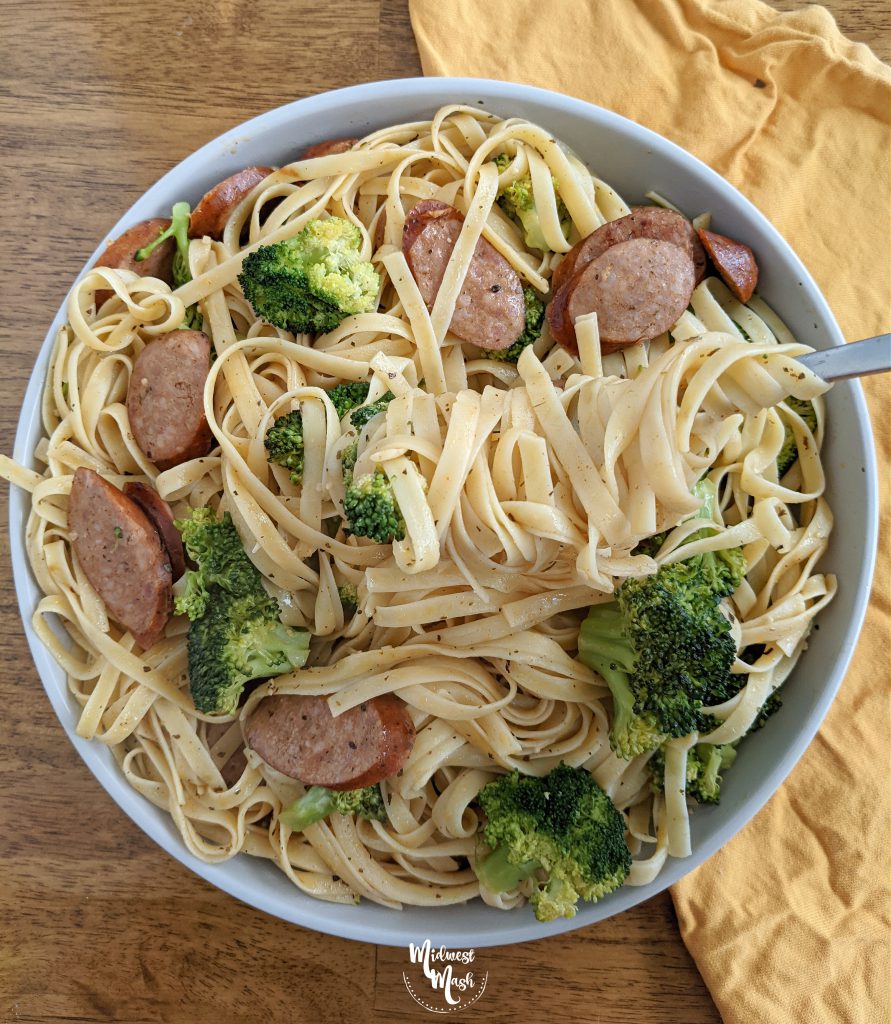 Are you in a pasta rut? I get stuck on the Italian merry-go-round with carbs where the only novel thing I can think to make requires a tomato sauce, alfredo, or excess cheese. It gets monotonous, right? Not to mention, bath night is a given for my toddlers when any sort of saucy noodle is involved, so we try not to make that a nightly event.
What's the alternative you might ask? Well, this cajun skillet pasta is the perfect antidote to those rich sauce-laden noodles. With only 3 – yes 3 – main ingredients, it comes together in a snap, and the sauce is a quick combo of seasoning, broth, butter, and olive oil. The more I write about this recipe, the more I realize that this pandemic has made me a slightly lazy cook. But, hey, if I can come up with delicious, EASY recipes, I'm not going to say that is a negative thing.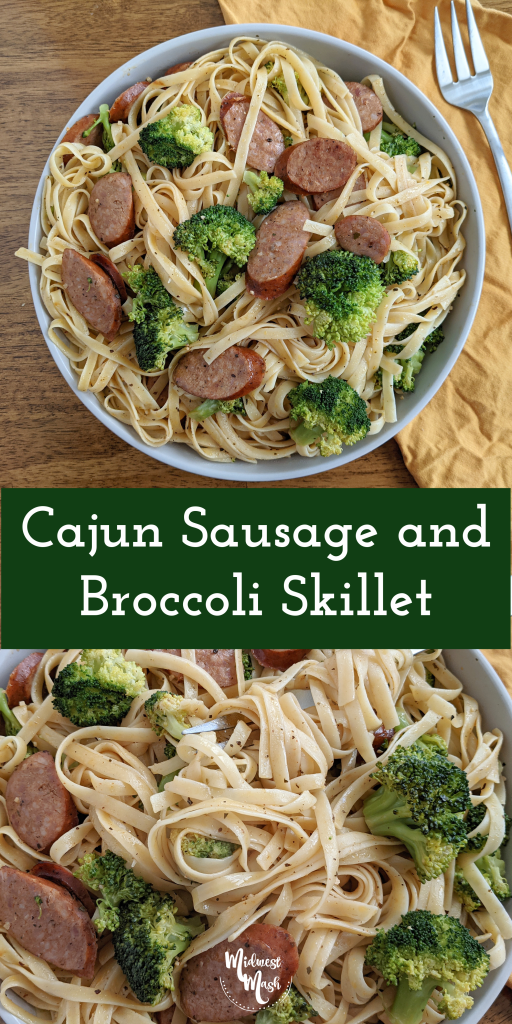 As always, if you make a Midwest Mash recipe, I would love to see it on Instagram (@midwest.mash), and let me know what you think in the comments below. Find more of my recipes in on easy place on Pinterest (Midwest Mash).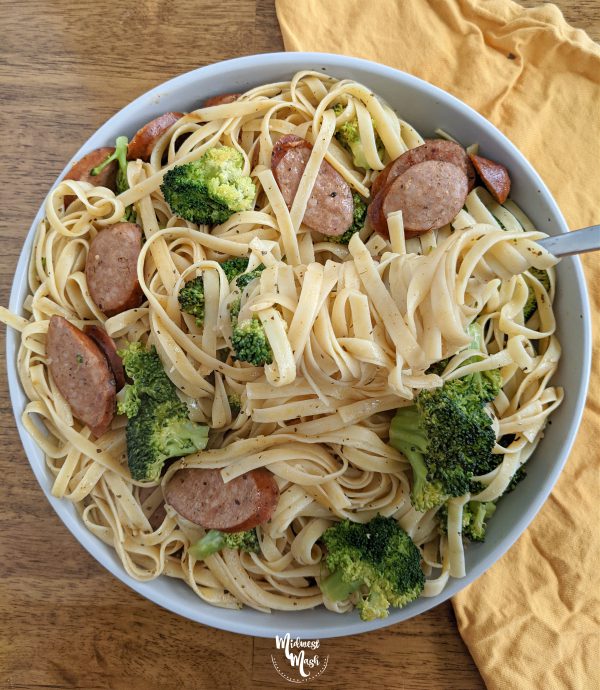 | | |
| --- | --- |
| | |
Preparation: Slice sausage into bite-size pieces. Chop broccoli crowns into medium florets. Bring pasta water to a boil, a tsp of salt added.

In a large skillet, bring a swirl of olive oil to medium heat. Add sliced sausage and cook until just starting to brown around the edges. Remove from the pan to a plate.

To the same skillet, now add your raw broccoli plus 1/4 cup water. Cover and steam fro 7-8 minutes.

While the broccoli is steaming, add your pasta to the boiling water to cook.

Once the broccoli has steamed for 7-8 minutes, remove the lid and allow any remaining liquid in the pan to evaporate by continuing to cook over medium-low heat. Remove broccoli from the pan. (You can just transfer it to the same place you put the sausage to save on dishes!)

Continuing in the same skillet, add the garlic, 2 Tbsp butter, 1 Tbsp olive oil, and 2.5 Tbsp cajun seasoning. Let cook for about 1 minute and then pour in 1/3 cup chicken broth. Simmer for 5-6 minutes or until slightly reduced. This is your sauce.

Once the pasta is cooked, immediately add it to the skillet with your sauce. Stir to coat the noodles while adding in 1 Tbsp olive oil and 1/3 cup pasta water (the water you just cooked your noodles in). Give it a taste. If it needs a little more seasoning, sprinkle on 1/2 Tbsp more cajun seasoning.

Toss in the broccoli and sausage, squirt on the juice of 1/2 a lemon, and serve!
You can find cajun seasoning in the spice section of your grocery store. (Look in alphabetical order with all other seasonings.) 
I used Zatarain's Cajun Style Smoked Sausage this time, but any sausage link will do, even a turkey kielbasa.