I don't know about you, but I completely dislike prepping a million things for one meal. That's why this is perfect! It's meat, veggies, beans, and seasoning all in one – the perfect topping for nachos, burrito bowls, or taco filling! Throw in some quick and easy homemade guacamole, and you have a fiesta.
This is probably deja vu from my other blog posts, but I LOVE nachos. On one of my dates with my husband when we were newly dating, I downed a plate of waffle fry nachos (not in a cute way). Not my proudest moment, but hey, at least he learned my favorite food. The thing I don't like about nachos? Assembling 500 different toppings, and then spending 30 minutes trying to put my nachos together. Instead of doing that, I decided that the perfect solution is making a mostly all-in-one topping. Ground beef, peppers, onions, beans, corn, chipotle, and seasoning all in one pan. Toss on your nachos with some cheese and bam! Nachos!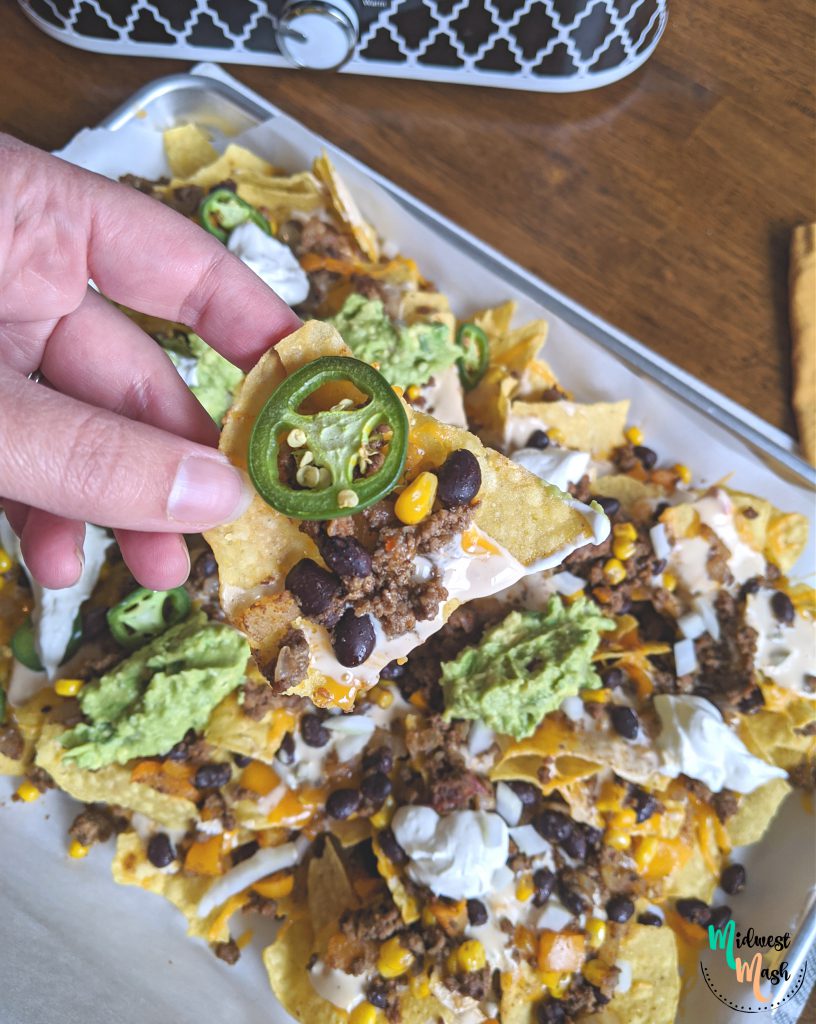 You can stop right there if you want, but we like guacamole and sour cream on all the nachos we eat. I'm going to go on a tangent for a second. We have been exclusively doing grocery pick-up since March which leaves something to be desired for produce, and every single time I order avocados they are in "must use right now or not at all" status. I can't tell you how many times I've had guacamole and chips for lunch because I knew my avocados wouldn't make it one more second. End of tangent.
That being said, I have the perfect recipe for guacamole for when you only have 3 minutes to throw it together with one kid hanging on your leg, and one kid crying on the floor because you wouldn't let him use the avocado pit as a ball. Simple. quick. Yummy. There's nothing special about it to be honest, but my one year old will eat it by the handful (unfortunately).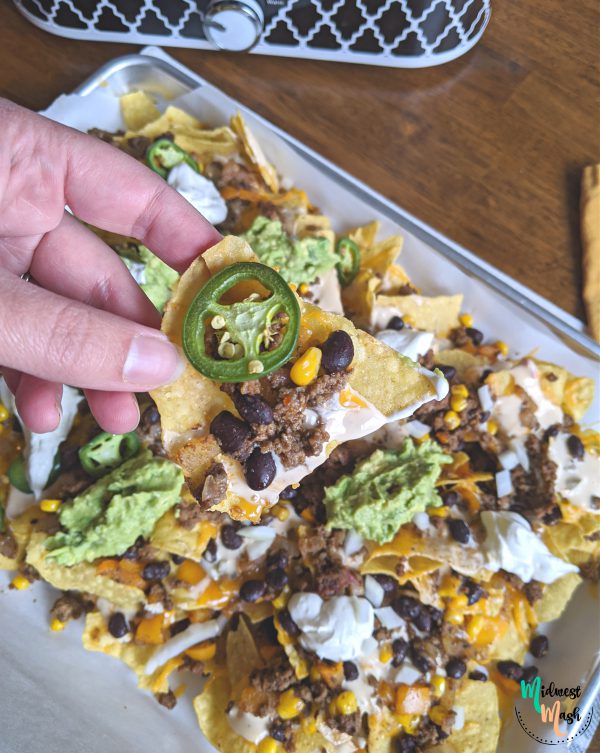 | | |
| --- | --- |
| | |
In a large skillet, brown ground beef with pepper, onion, and garlic. Drain excess grease.

Put in a Crock Pot and stir in beans, corn, chipotle sauce, seasoning, and water.

Cook on high for 2-3 hours.
Remove pit from avocados, scoop out and place in a medium bowl. Use a pastry blender to mash avocados.

Mince onion and chop cilantro. Add to the avocados. Mash again with pastry blender.

Squeeze in juice of one lime, stir and then add salt to taste.

If you don't use all of your guacamole, place one of the pits back in the bowl with the leftover guac and then cover ALL of the surface with plastic wrap to avoid browning.
To make your nachos: Preheat oven to 350 degrees. Line a large cookie sheet with parchment paper.

Make one thin layer of tortilla chips on the sheet pan. Cover the chips with all-in-one topping and cheese. Make another layer of chips then top those with all-in-one topping and more cheese.

Bake for 7-10 minutes or until cheese melted. Remove from oven and dollop on sour cream and guacamole. Serve!
This topping would be GREAT for burrito bowls or tacos as well. I love the versatility!
I used green onion this last time to make my guacamole because the onions I had at home were part of the recall, and to be honest, it was great!
Let me know if you make it by tagging me on instagram @midwest.mash!