All right guys, I threw this meal together the other night because I had veggies and sausage I needed to use but I didn't want to make a pizza crust. It ended up being a weeknight winner for sure! My husband liked it, my toddler liked it, and I only used one pan. PLUS, it's a 30 minute meal!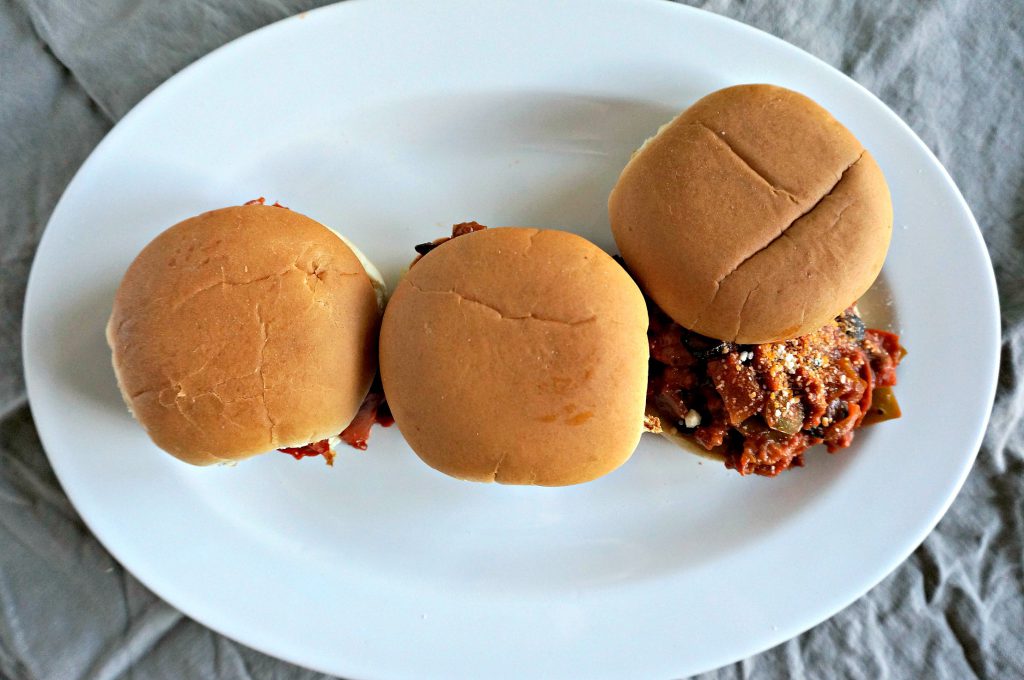 We grill a lot during the summer, so I usually buy a package of hamburger buns when I make a grocery run. Every time though, I end up feeling like I'm in the scene from Father of the Bride where he gets arrested for tearing open the package of buns because in my head I'm thinking, "We're only going to use 4 of these buns but they only come in a package of 8. Why can't they make half packages?" In the end, I end up with 4 extra buns that just sit on my counter waiting to either get moldy or for me to get creative. This week they won because these Supreme Pizza Sloppy Joes made them useful.
One pan. 30 Minutes. Any pizza "toppings" you want. Your family will love this because they can choose what they want in it. I used sausage, pepperoni, green pepper, onion, and olives but it would also be good with ground beef or mushrooms. Want to know the secret to sending this recipe over the flavor edge? Melt some butter with garlic, brush it on the buns and throw them under the broiler for a few minutes! You're pretty much getting garlic bread and pizza in one sandwich. (Thank goodness, because I forgot to make a side dish when I made these for my family.)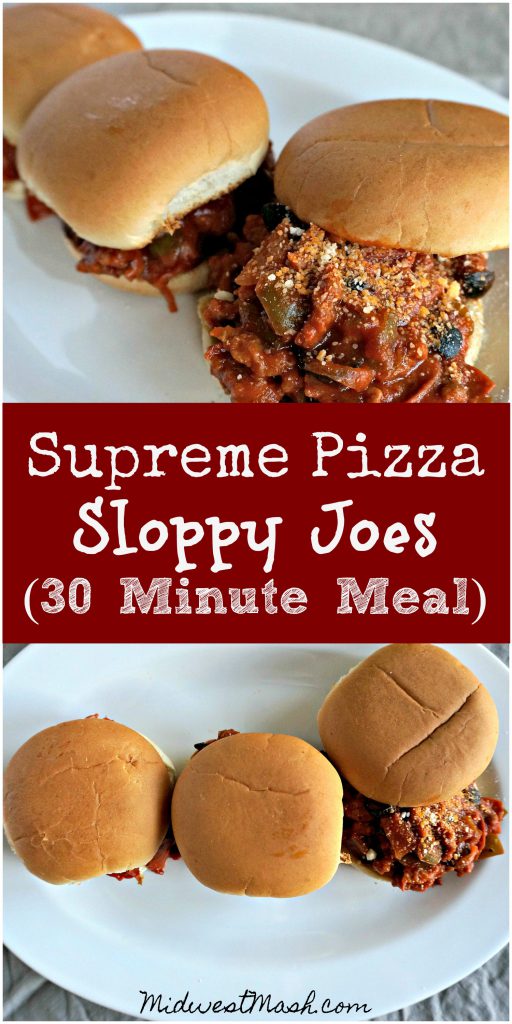 Brown sausage in a large skillet. When almost cooked, add in onion and green pepper. Cover and cook until veggies tender, stirring frequently.

Stir in pepperoni and olives. Pour in spaghetti sauce and bring to a simmer. Add seasoning, salt, and pepper. Simmer for 3-4 minutes.

Stir in cheese until well combined.

If desired, brush some melted butter with garlic on buns and broil for 3-4 minutes.

Scoop meat mixture onto buns, sprinkle with parmesan cheese and enjoy!