This is one of those recipes that will take you back to your youth (if you're from the Midwest anyway). Every potluck had at least one of these on the spread, and I think 75% of the time I went to one of my friend's houses this was on the menu. Salty, sweet, and fruity, it is sure to be a hit!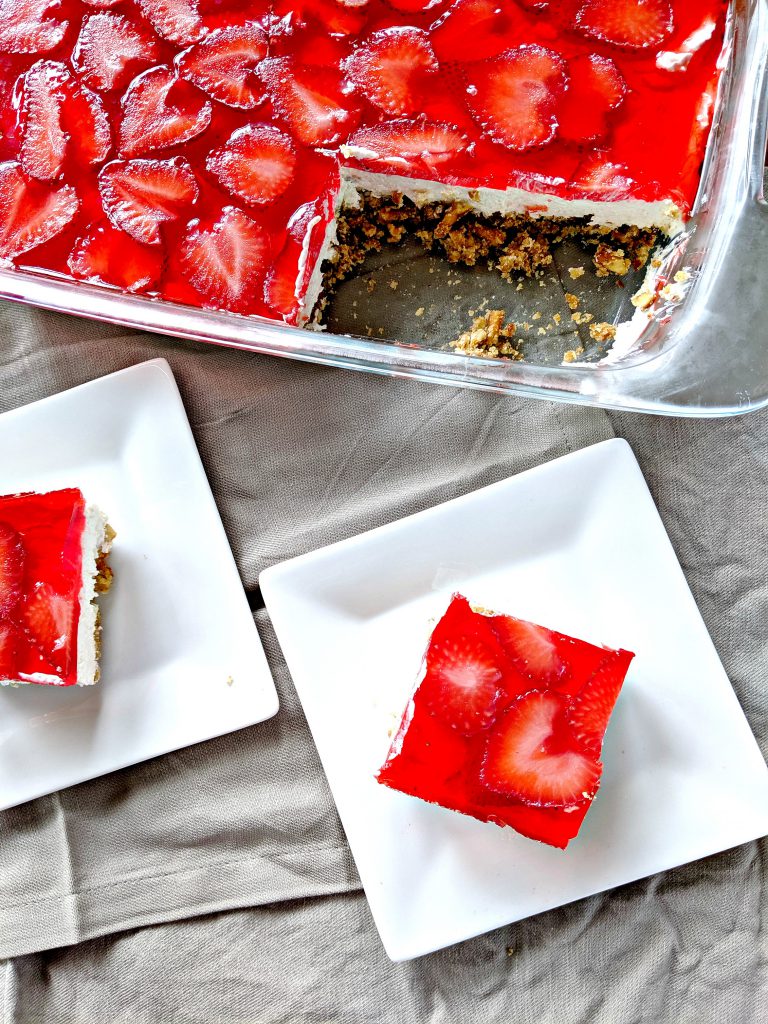 Why is this called a salad? There is nothing that resembles a salad on that plate, and the only way you could convince me it is healthy is if you showed me a picture of it from above where you only see the strawberries. I hadn't made this recipe in a really long time, but I was recently thumbing through an old church cookbook and I came across it. It immediately took me back to my junior high days and I just had to make it. Jotting down the ingredients, I saw that the filling alone had 1 cup of sugar – 1 cup! Since I knew my toddler would inevitably eat some of this if I had it on my plate, I decided to take the sugar down a notch and the cheesecake taste up a notch (what can I say, I'm a cheesecake junky), and I promise you, you won't miss the 1/2 cup of sugar I omitted.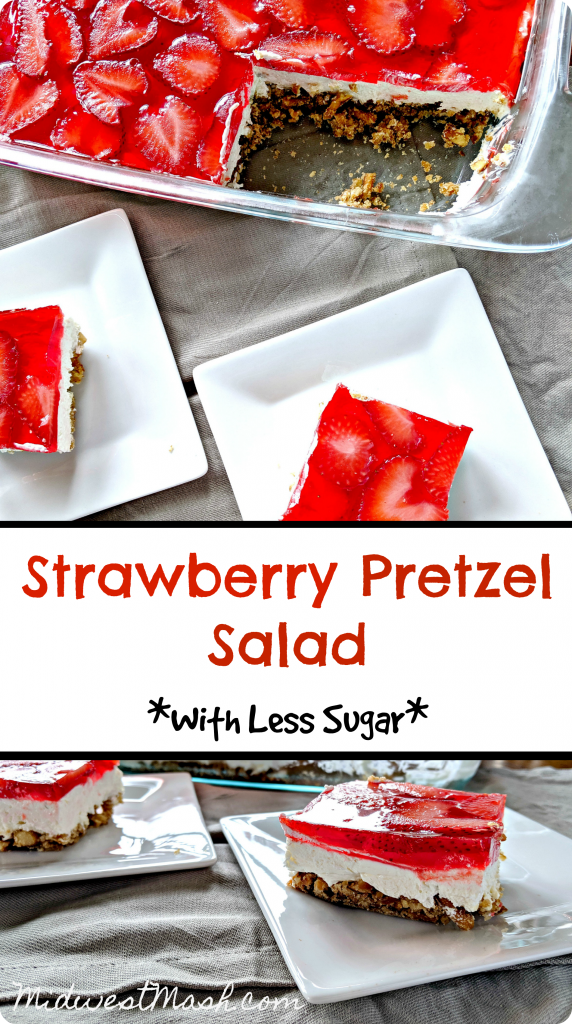 The original recipe called for frozen strawberries, but it's summer so why not use fresh! Plus, if you were really ambitious you could arrange them in a pretty pattern. This recipe would also be really good with blueberries and blueberry jell-o (although, it wouldn't be strawberry pretzel salad then would it?) Enjoy and let me know what you think!

Preheat oven to 400 degrees.

Crush pretzels as finely as possible - use a food processor or do it the old fashioned way with a gallon bag and rolling pin.

Mix together the crushed pretzels, melted butter, and 3 Tbsp sugar. Spread this mixture into the bottom of a 9x13 pan and press down gently. Bake for 10 minutes or until set. Remove from oven and set aside to cool completely.

Once crust is completely cooled, mix together the cream cheese, 1/2 cup of sugar, and vanilla. Then incorporate the whipped topping but don't over mix.

Spread cream cheese mixture onto the pretzel layer, making sure to get it all the way to the edges and form a seal with the pan (so when you pour the jell-o on later it won't leak down to the bottom of the pan). Cool in refrigerator for at least 30 minutes.

While the middle layer is cooling, mix the boiling water and jell-o packets together. Stir well then let cool to room temperature.

Thinly slice your strawberries. Once cream cheese layer is cooled, arrange strawberries on top as desired. Pour the completely cooled jell-o on top of the strawberries and immediately put in refrigerator until jell-o is set.
I recommend eating within a day or two of making or else the pretzel layer will start to get soggy!