There's nothing better than a hearty on-the-go breakfast packed with all of your savory breakfast favorites – potatoes, sausage/bacon, cream cheese, and eggs! Eat them hot or make them ahead of time to pop in the microwave.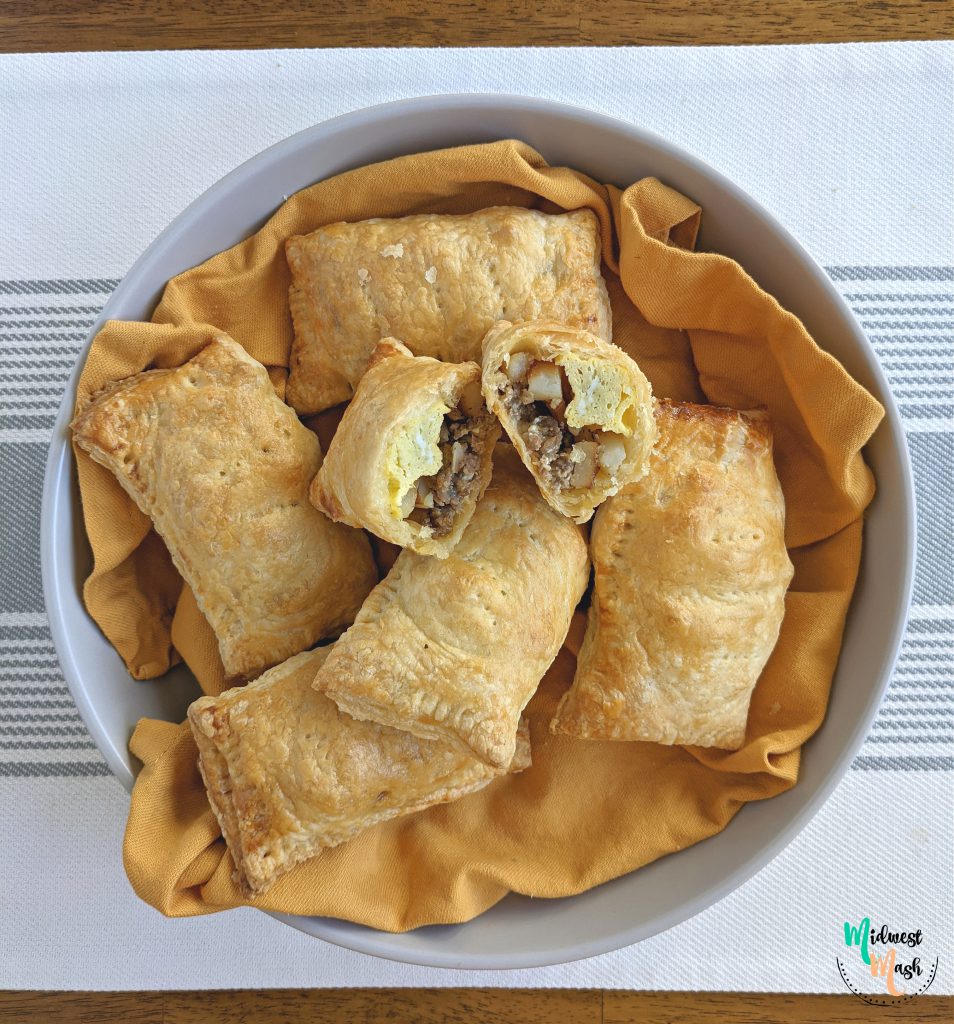 Have you guys ever had a Toaster Scrambles? I hate to admit this, but I kind of love them; mainly because they are extra cheesy. Anyway, they aren't exactly healthy, and there is probably less than 2 tablespoons of filling in them. Therefore, I decided to try to recreate the idea but better! My version has tons of filling, and it gets the cheesiness from flavored cream cheese – my favorite type: garden vegetable.
I know that even when kids are doing school at home, breakfast can be a battle, so these can be made ahead of time to pop in the refrigerator or freezer until you are ready to heat them up. I will note that they are best fresh because the puff pastry gets a slightly chewy texture when reheated (still good, just different than fresh). Also, I used one sheet of puff pastry to make these six, but you can easily double or triple the recipe to put a whole batch in the freezer for when you need them. Side note: these would be a great "take to a neighbor, new mom, friend, etc. food".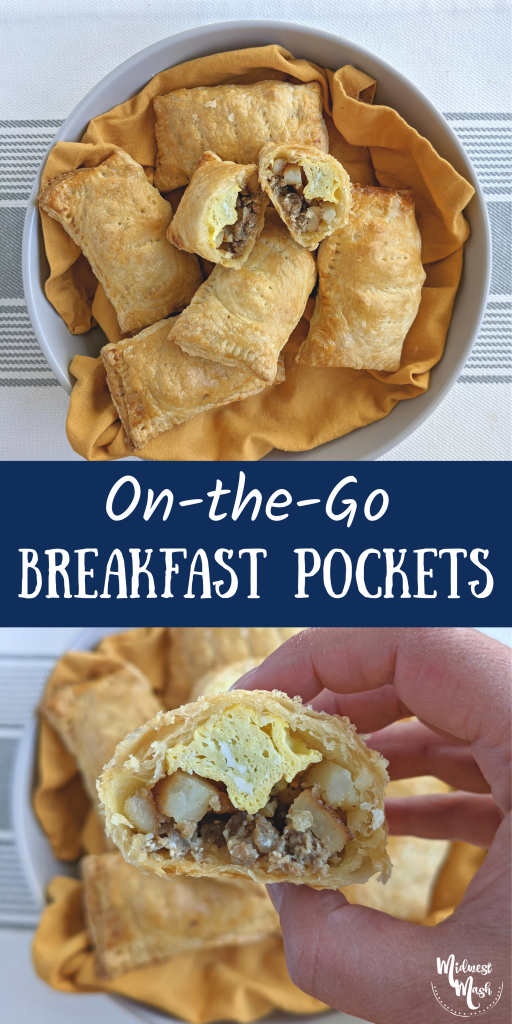 Ready to give them a try? Here's what you need: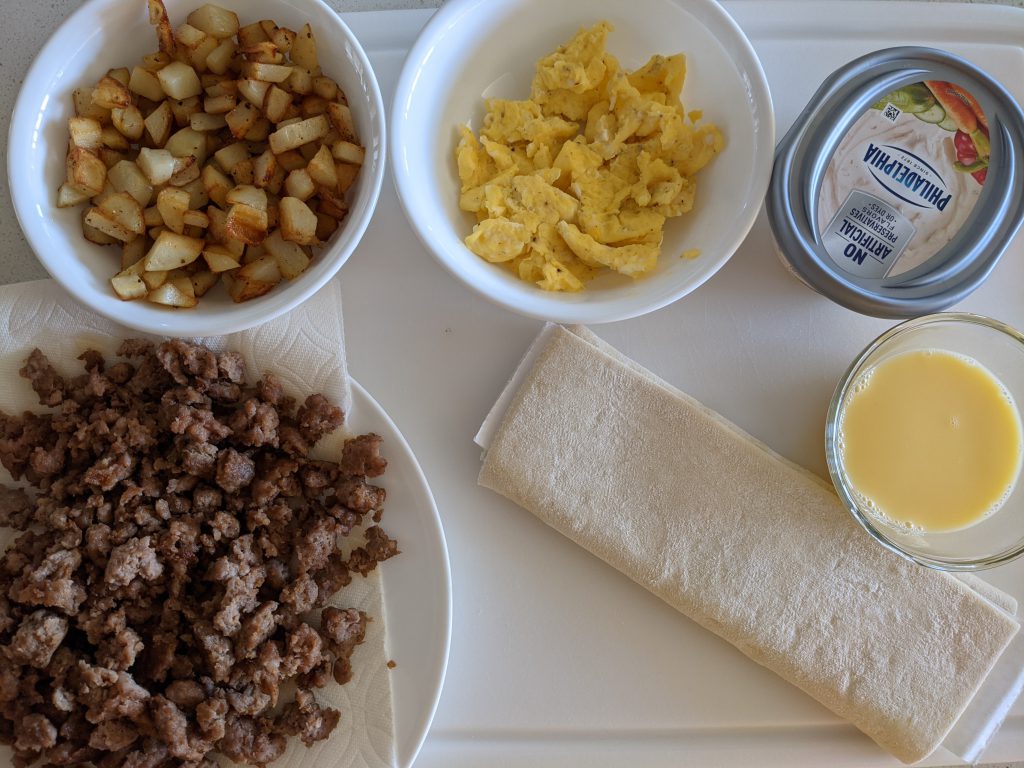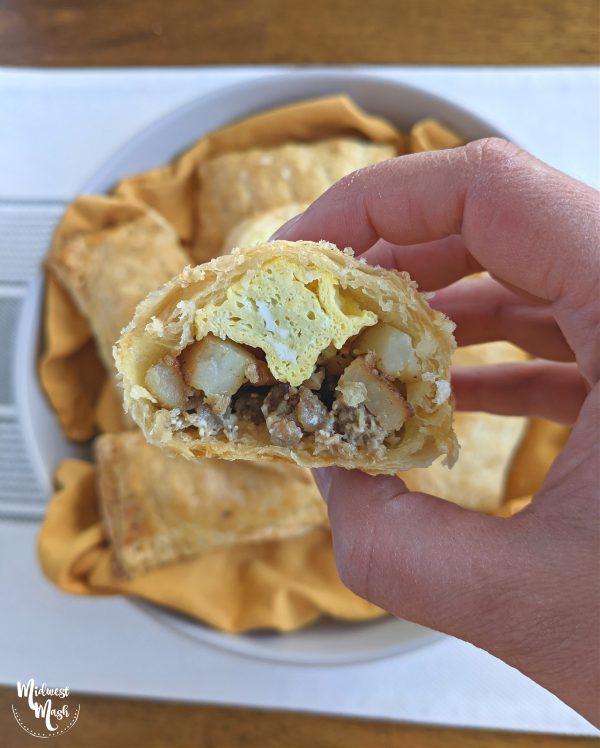 | | |
| --- | --- |
| | |
Preheat oven to 400 degrees.

Cook pork sausage or bacon (whichever you want to use).

Dice potatoes and saute in olive oil and 1 Tbsp butter until fork tender. Season generously with salt and pepper.

Scramble eggs, and set aside about 1/4 of the mixture to use as an egg wash later. Cook remaining scrambled eggs.

Lay out the thawed puff pastry and roll it out to about 14" x 13". Cut it into six equal rectangles.

One by one repeat the following steps: brush the edge of the rectangle with egg wash, on one side spread 1 Tbsp of cream cheese, top with about 1-2 Tbsp each of meat, eggs, and potatoes.

Fold the other half of the pastry over, and crimp the edges closed with a fork. Poke a few holes in the top, transfer to a sheet pan and brush top completely with egg wash. Repeat with remaining 5 rectangles.

Bake for 24-26 minutes or until evenly brown on top.
Like I said above, you can substitute the sausage for bacon. Place one piece of bacon, broken into pieces instead of the sausage.