I have a lot of random thoughts for blog posts throughout the week, and most do not make it to my blog, so I thought I would start a fun series where I can ramble on about those as well as share some of my favorite things!
Thought of the Week: Does anyone else have a "thinking spot" or a creativity zone? I sometimes get completely stuck on thinking of recipes or post ideas, and I didn't think I had any specific place that triggered my thought process, but I do! For me, it's the shower. Super weird, and I didn't even realize my brain worked so well there but it is insane. I don't know if it's because all other noise is drowned out by the sound of the shower, or if it's because my kids have gone to bed and I can put my mom cap away for a few minutes. Last night, I think I wrote two entire blog posts in my head as well as creating a recipe and listing 10 things I needed to get done the next day all during a 15 minute shower. To be honest, I felt a little bit exhausted when I was done. It's kind of like waking up from a dream though because as soon as I got dressed I almost completely forgot everything I was thinking about. Ugh. Someone give me a transcribing system for my shower please! The memory wipe is probably good sometimes though because often, my brain doesn't reach a creative level, it just stays on an overthinking level. The other night I stood there thinking about something my husband did that bothered me, and I left my shower completely irritated at him for something that was old news! And obviously had no idea why I came back into the living room annoyed! Reason #174 why I'm not a perfect person. Whoops! 🤷🏻‍♀️
Anyway, I would be interested to know if you guys have a spot that gets your brain grooving?
Activity of the Week: We try to do at least one, preferably more activities outside of the house every week. I have a 2.5 year old and a 1 year old, so if we haven't left the house by Friday, Lord help me. This week, we were loving on the local libraries. We went to a toddler story time at the Louisville library on Wednesday which both of my boys really liked. It used to be "too old" for my littlest one, but since he is more mobile and loves to explore now, he is very into it. Plus, give him a scarf or shaker egg and he is set. We went to the Lafayette library this morning to play and return some books. Fridays are their day off from story time, so it's a nice day to let the kids play in the kid area and find books to check out. I usually help my toddler pick out books, but today I let him pick his own. We came home with a Santa book. What can I say, the kid loves Christmas.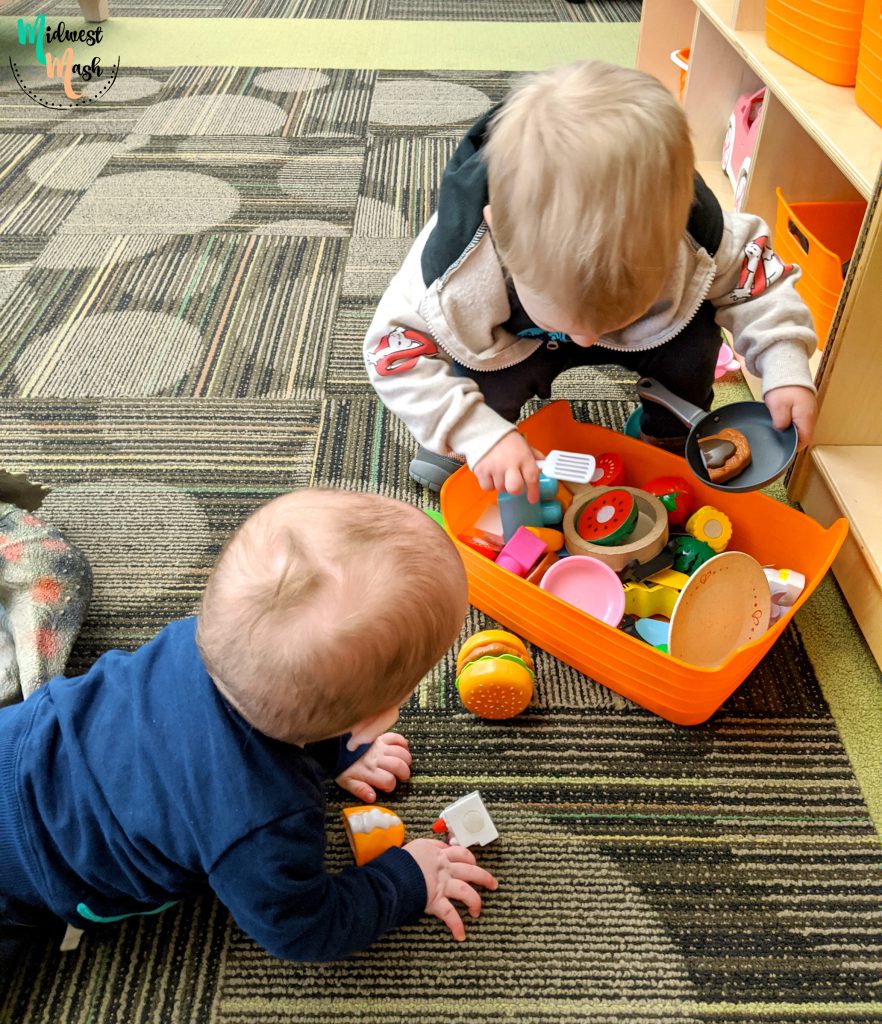 I used to go to baby story time EVERY week with my oldest, but since my youngest was born it has been hard to find an appropriate one for both of their ages. I'm so happy that they both liked the toddler one, and it is very accepting of siblings that might be a hair too young. I love our local libraries. It's a free place to go to play or learn, and I think the whole process of going into a public place, playing with other kids, helping check out books, and interacting with librarians is SO educational for them.
Favorite Thing of the Week: This isn't just a favorite of mine for the week, but really a favorite for the entire winter season. My friends in my mom group and I were just talking about how much we love cowl neck sweaters, so I thought I would share one of my favorites. Maybe you can even snag it on sale since for the clothing world, the winter season is winding down.
I love Loft sweaters. They always seems to fit me right, hide my post baby belly, and the fabric on this sweater feels like you are getting a hug. I have this one in green, and I have other sweaters from there in this tan color. Would highly recommend both. (I get no kickback from posting this, I just wanted to share one of my favorite clothing items that makes me feel comfortable and confident!)
Thanks for tagging along with my ramblings today. It was nice to share some of my weekly thoughts with you! 💕