Looking for a weeknight dessert? Or something to impress your better half? These hand pies (with shortcuts!) give you the indulgence and zest of a lemon-y cheesecake with the simplicity and mess-free nature of a hand pie. Give them a try – you won't be disappointed ♥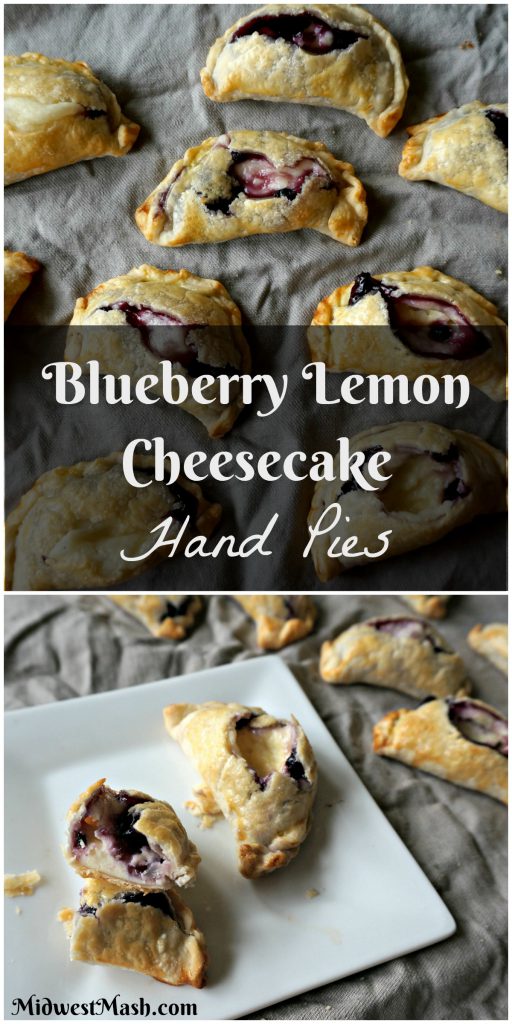 Every year I struggle with a Valentine's Day gift for my husband. We've never treated it as a "gift" holiday, but more of a thoughtful gesture day. My husband knows the way to my heart is chocolate, and I usually make something for him or get him his favorite beer – although now that he has beer on tap at work, that doesn't feel very special anymore.
Since he loves pie, and I could do without it I decided to go the route of handheld pies for Valentine's Day – that way he could enjoy it and I wouldn't have half a pie left over to go to waste. These would freeze great too for a treat now and then. To be honest, they always look a little more "rustic" than I expect but I've learned to appreciate it because, really, look at them – you can see right into the luscious swirls of cheesecake and blueberry.
To simplify this recipe, I used store bought Pillsbury pie crust and canned pie filling. Sorry, not sorry, but I don't feel like standing over a hot stove to make homemade pie filling when I'm 37 weeks pregnant. Maybe next time. Enjoy! Let me know what you think in the comments below ↓ or if you make them tag me on instagram @midwest.mash

Preheat oven to 400 degrees.

In a small bowl cream together the cream cheese, sugar, vanilla, and lemon zest. It will be a little bit tough to work with at first but it is best if the cream cheese is cold to start.

Lay out the pie crust (you will only need one of the two in the package) on a light dusting of flour. Roll out about 1" to make the dough easier to work with.

Use a circle cookie cutter of ~6" diameter to cut the dough into circles.

Put 1 tsp of the cream cheese mixture and 1 tsp of pie filling on each circle. Fold the circle in half over the filling and press the edges tightly closed. Then roll up the edges for an extra seal.

Place pies on a lightly sprayed cookie sheet. Cut a small slit in the top of each pie.

Scramble the egg in a bowl and then egg wash the top of each pie. Sprinkle each pie with a bit of sugar, and then bake in the oven for 15 minutes. Do not be alarmed if the tops start to crack.
Since you are only using one of the two pie crusts in the package, you could double the recipe for the cream cheese mixture to make 16 instead of 8 hand pies. Otherwise, save the crust and make a yummy pot pie!
These would also be good with cherry or strawberry pie filling if you don't love blueberry ♥